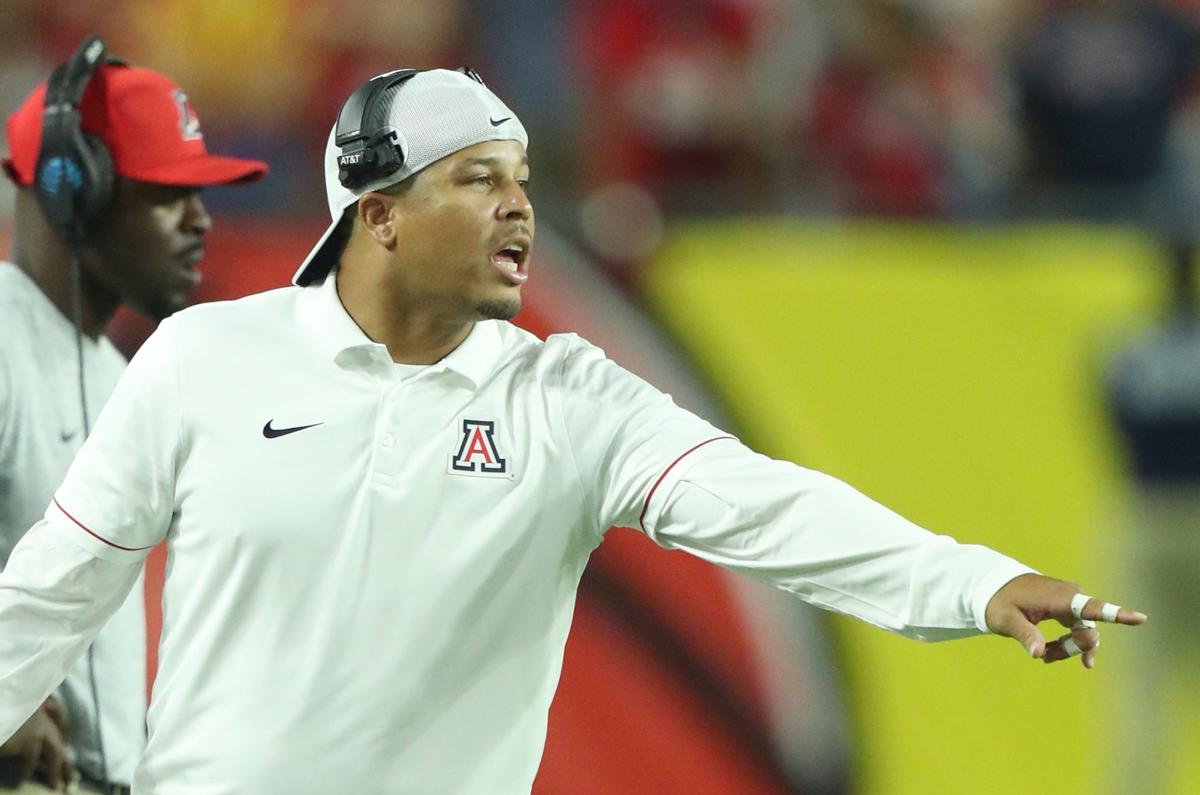 Mike Riley describes new assistant Donté Williams as a coach full of energy and expertise who he also expects to be "a dynamic addition" as a recruiter.
No wonder the Huskers are so eager to put the 34-year-old Williams to work immediately.
"Nebraska got the guy who I think is the second- or maybe third-best recruiter on the West Coast," said Ryan Bartow, national recruiting insider for 247Sports. "The guy is that good at talent acquisition."
After spending the past year at Arizona, Williams is expected to coach Nebraska's cornerbacks and sub-package specialists (nickel and dime personnel), as well as have involvement in pass-defense coordination.
The Huskers threw some extra coin his way to help bring him aboard. He's expected to make $400,000 his first year, with the salary escalating to $425,000 in 2018. According to the Arizona Daily Star, he was making $215,000 this year with the Wildcats.
Greg Biggins, national recruiting analyst at Scout.com, knows full well why Williams is such a hot commodity despite having coached just one year at a Power Five program.
"He's just a cool guy. There's really no other way to say it," Biggins said. "I've heard some coaches try to talk to kids and it's painful. They try so hard to sound cool and hip and whatever. With Donté, he's just a cool dude. He's just a regular guy, he's young, he's energetic, he has a big personality. He has that going for him.
"But the biggest thing is, he really loves recruiting. He loves the chase. He enjoys that part of it. I kind of call it that 'new believer zeal.' A lot of coaches, I get it, they've been doing this for years and years. You get tired of it, having to go and basically suck up to these 17-, 18-year-old kids ... but Donté is young enough and new enough into it where he actually still enjoys it."
The addition of Williams means some tweaks to the Husker staff.
Brian Stewart, who coached cornerbacks this year and also has recruited well in California, will turn his attention now to coaching the safeties.
Defensive coordinator Mark Banker, who worked with the safeties this year, will return solely to the coordinator role. Riley has plans to divide special-teams coaching among multiple staff members.
Riley needed just eight days to fill the spot left open when he dismissed Bruce Read, who had served as special-teams coordinator and was making $450,000 a year.
Now Williams can help coach during bowl practices, which begin Friday. Just as importantly, he can get on the road recruiting for the Huskers before the next dead period begins Dec. 12.
By Monday afternoon, the coach's Twitter avatar already showed him throwing the bones. "Time to get to work!!!" he tweeted in an informative message about being cleared to recruit for Nebraska at 2:45 p.m. and heading to Omaha for a 6 p.m. flight to do just that.
Same strong recruiting presence, different logo on his polo.
"Arizona had probably their highest-ranked class in 15 or 20 years, and he's probably the No. 1 reason because of that," Bartow said. "I think the reason for Donte's success in terms of recruiting is he works at it. He outhustles and outworks his competition. … Part of his everyday regimen is making sure those kids know how much of a priority they are."
Williams was responsible for nine of the commitments in Arizona's current recruiting class.
One of those, Greg Johnson of Los Angeles, who is rated the No. 1 athlete prospect in the country by the 247Sports composite, announced his decommitment from the Wildcats on Sunday night. He's visited Nebraska before. And now he is among a group of top-notch prospects on the West Coast the Huskers hope to have increased odds of adding to this class.
Johnson is also a teammate at Hawkins High School of five-star wide receiver Joseph Lewis, who is strongly considering Nebraska.
"I can't overstate it enough, Donté is extremely tight with the Hawkins coaching staff," Biggins said.
Prior to joining Arizona's staff, Williams was at San Jose State for three seasons, serving as the program's recruiting coordinator for the final two while he coached the secondary.
"He was killing it at San Jose State, which is not normally a place you hear someone say, 'He killed it there,'" Biggins said. "But what happened was he was the first guy on a lot of guys. And then eventually the Pac-12 teams would jump on these guys late and he'd lose them. But it still showed he's a pretty good evaluator."
On the field, San Jose State was strong statistically against the pass under Williams' guidance, allowing an FBS-leading 117.8 yards per game in 2014, and finishing No. 2 in pass defense in 2015 at 153.6 yards per game.
As a recruiter, he was recognized last year by Sports Illustrated as a top-10 recruiter in college football, and named the top recruiter in the Mountain West Conference by 247Sports in 2014.
And so, Riley brought in a guy who he hopes can help net more game-changers.
"One way that you can win the West in the Big Ten is be able to recruit better, and that's what Donté is going to bring," Bartow said. "And he's going to bring it in the one area (California) that they're emphasizing that they want to get dudes out of. And that's why they gave him double the money and that's how they got him."