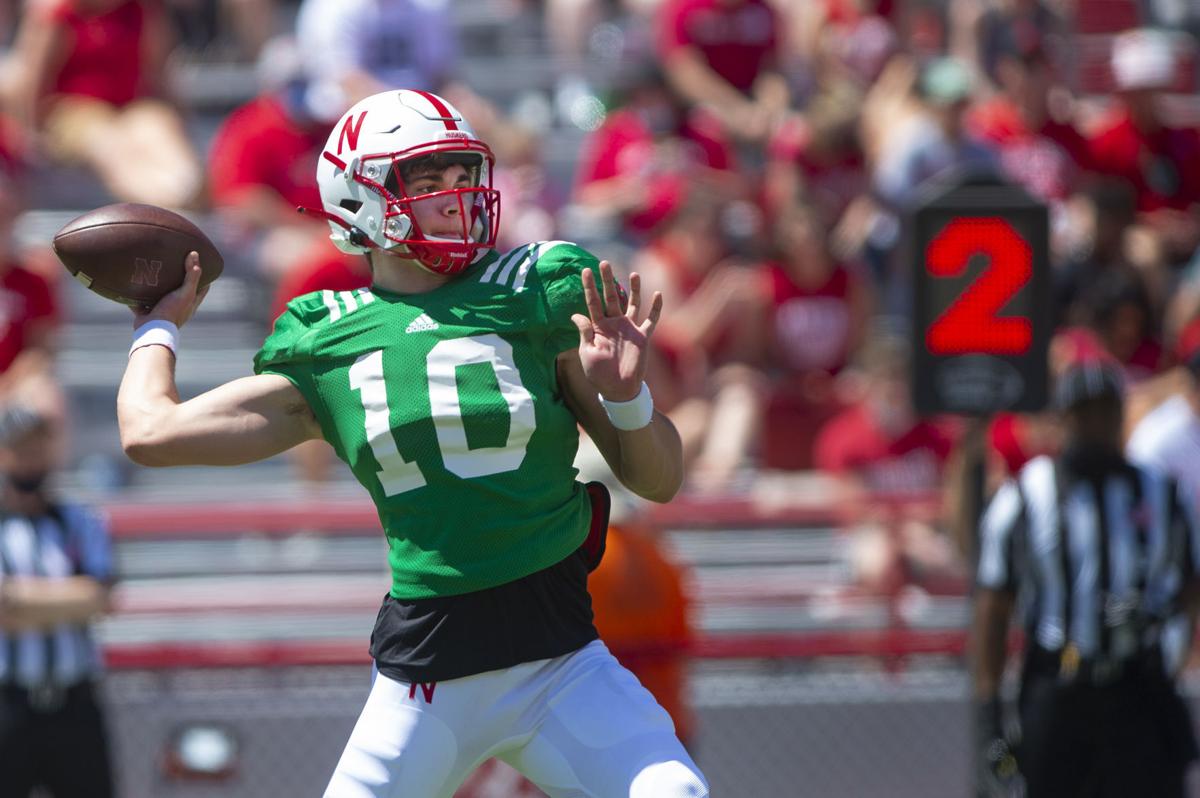 As the countdown to the beginning of Nebraska's preseason camp continues, the Journal Star is counting down its annual list of the 30 Most Intriguing Huskers.
The list, as always, is not about the 30 best players or the 30 most important players, but is based instead purely on intrigue. We'll cover breakout candidates, new faces, old heads and more. The list tends to skew toward youth and inexperience because, well, those types of players are intriguing. But there are more than a few regulars, too.
No. 21: QB Heinrich Haarberg, fr.
The entry could realistically be split between Haarberg and Logan Smothers, the freshman pair tasked with getting into game-ready form fast enough to step in should anything happen to junior Adrian Martinez this fall.
Haarberg, a 6-foot-5 freshman from Kearney Catholic who just arrived on campus in January, captured the attention of NU coaches throughout the spring and then Husker fans during the Red-White Spring Game on May 1.
His game needs a lot of refining but coach Scott Frost made it clear what he and quarterbacks coach Mario Verduzco think of Haarberg's natural ability. He  has a big arm, he can run and Frost said he made some throws in the spring where "everybody kind of turned and looked at each other."
Verduzco, too, is adamant that the mechanical work Smothers has done is going to take root and allow the 2020 freshman to unlock what the staff believes is quality arm strength.
Frost decided Nebraska didn't need to shop for a quarterback in the transfer portal because of how the young pair performed this spring. The Huskers are convinced one or both will be ready to go by the fall. Smothers is the smoother operator of the offense and Haarberg has the tantalizing tool kit.
Remember, Frost and Verduzco didn't get to see Haarberg throw in person at all before offering him a scholarship or before he signed with NU because of the coronavirus pandemic and long NCAA recruiting dead period. It's safe to say they were happy with the first impression this spring. Not only that, but Haarberg is already pushing 215-220 pounds after arriving on campus at about 200.
If Haarberg, who was preparing for a Class C-1 season a year ago at this time, can make strides in his command of the offense, he's going to make the next-man-up conversation behind Martinez very intriguing indeed.
Spring post-op: Catch up on our position-by-position look at where the Huskers stand after spring
What did we learn from the Huskers' spring? What about the things we still need to find out? Plus, a look at "stock-risers" and more.