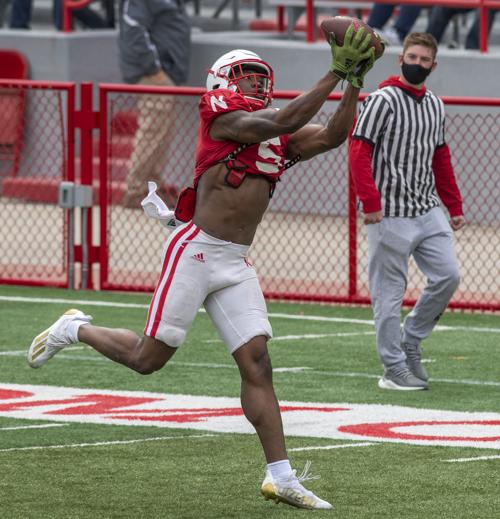 As the countdown to the beginning of Nebraska's preseason camp continues, the Journal Star is counting down its annual list of the 30 Most Intriguing Huskers.
The list, as always, is not about the 30 best players or the 30 most important players, but is based instead purely on intrigue. We'll cover breakout candidates, new faces, old heads and more. The list tends to skew toward youth and inexperience because, well, those types of players are intriguing. But there are more than a few regulars, too.
No. 2: WR Omar Manning, jr.
Omar Manning has played in one game for Nebraska and has been targeted one time, a slant against Northwestern last year that looked like a completion waiting to happen except that Adrian Martinez's pass got deflected.
Manning, though, continues to be one of the very most intriguing players on the roster.
It's been a long time since he signed his National Letter of Intent as a transfer from Kilgore (Texas) College in December 2019. Coach Scott Frost said then that Manning looked different than anybody else he'd ever coached and that he could "change" NU's offense.
Instead, he missed substantial time with injuries and for other health reasons. He got on the field the one time, then didn't again in 2020.
So, the expectations changed. Frost and wide receivers coach Matt Lubick talked about the goal being for Manning to just be present, be in attendance and work on getting better each day. So far, that's been his offseason. The 6-foot-4, 225-pound wide receiver had a productive spring. He gave a peek of his tantalizing size and skill to fans at an open practice on April 17 and again during the Red-White Spring Game on May 1. Then, by all accounts, he backed it up with a good summer in the weight room.
Which brings us to preseason camp. He came out of April as part of a potential starting trio with Oliver Martin and Samori Toure. He enters camp likely in a similar spot. What will happen from here? Nothing is certain, and most will take a relatively cautious approach when sizing up what Manning's impact will look like in 2021. But the "if" is mighty powerful in this case. The possibility is one that most fans — and certainly Nebraska's coaches — have at least considered.
At this point, intrigue is the best word to describe the picture with current Omar Manning. That will change one way or another from August 28 through Thanksgiving. A lot of people are interested to find out which direction it goes.