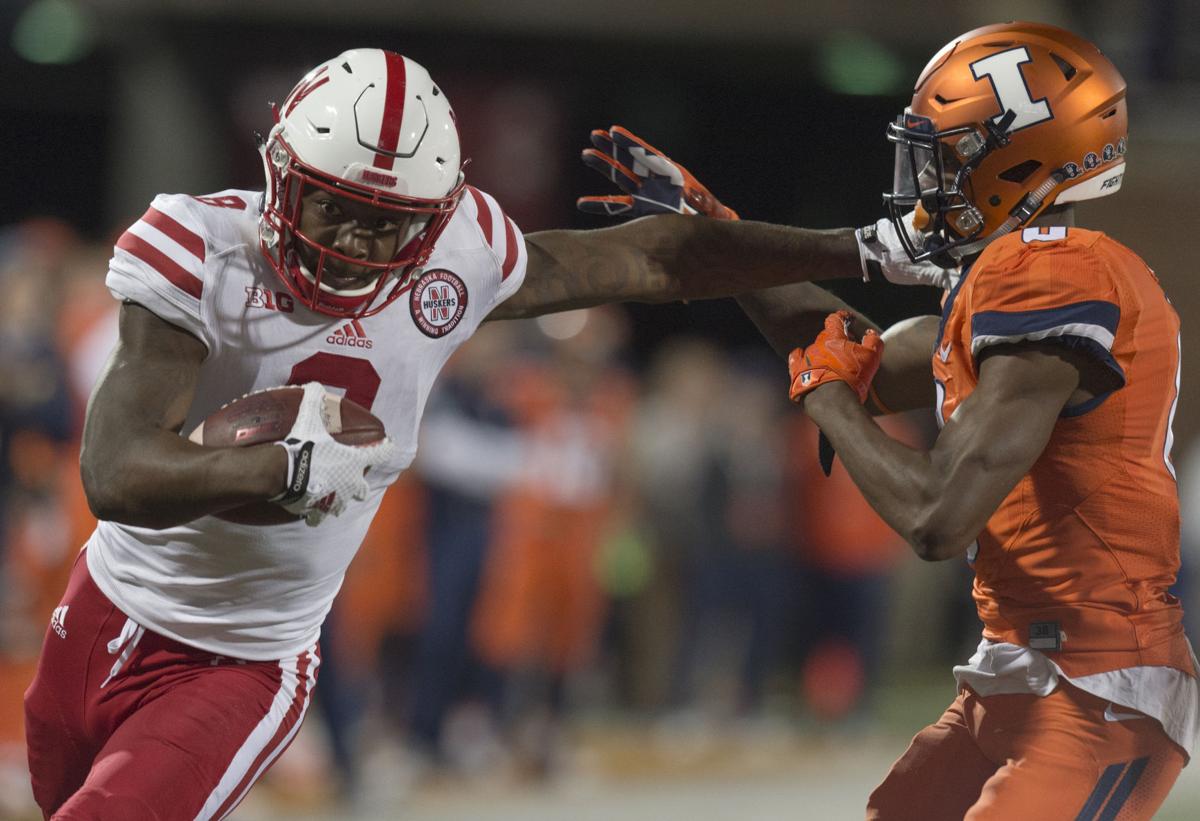 CHAMPAIGN, Ill. — Stanley Morgan, a man of many moves, calls it his go-to.
On a third-down play early in the fourth quarter, the Nebraska junior wideout ran a shallow crossing route, hauled in a pass from Tanner Lee across the middle and let his left arm and legs to do the rest.
Morgan stiff-armed Illinois defensive back Nate Hobbs near the Illini 10-yard line, tight-roped the sideline, and scored to all but seal Nebraska's 28-6 victory Friday night.
"Yeah, that's my go-to, the stiff-arm," Morgan said afterward.
The closest defender to Morgan when he made the catch was about 5 yards away, and that defender was focused on tight end Connor Ketter. Navigating toward open spots was a common theme Friday for Nebraska's wideouts, especially Morgan, who didn't play last week against Rutgers and has been battling a neck injury.
"Just fighting through it," Morgan said when he asked how he's feeling physically. "I felt all right. I felt fine enough to play."
Morgan looked just fine. He hauled in a career-high eight passes for 96 yards — both team highs.
"I thought his stiff-arm on the touchdown catch-and-run was great," NU offensive coordinator Danny Langsdorf said. "He showed his strength and his speed around the edge. I was pleased with that."
De'Mornay Pierson-El was just as effective. The senior finished with four catches for 94 yards, and his 45-yard touchdown catch on the Huskers' first drive set the tone. Pierson-El did most of the damage after making a catch, and so did Morgan.
Behind Morgan and Pierson-El, the Huskers were moving the chains. Morgan had catches of 10, 12, 13, 13, 21 and 23 yards (with a TD on the last one). Pierson-El had catches of 10, 15, 24 and the  45-yard TD.
"We feed off each other," Morgan said. "When DP makes a good play, I feed off him. If I make a play, he feeds off me. JD (Spielman) … or whoever, if you're out there and making a big play, I'm feeding off that, and I love it."
There were a few drops, but otherwise Langsdorf said he was happy with how the receivers played. He even noted the receivers' blocking on run and pass plays.
The Husker receivers found a lot of success against Illinois' zone coverage. Why were the wideouts so successful in getting open?
"Weeks of film, and finding out where the open spots (were)," Morgan said. "Execute, and just dominating that part of that defense that was open."
Nebraska's wideouts combined for 13 of the team's 15 catches (for 199 yards). Against Rutgers last week, the wideouts combined for nine passes for 135 yards. Morgan's return played a big part in the spike in the numbers Friday.
"It's a big difference," Langsdorf said. "You're taking about a No. 1 receiver on your team, and anytime you're not playing full-strength, it's going to affect you a little bit. Stanley is a top guy for us, so when we have him in there, it's definitely a help for the whole offense."
Morgan has caught at least five passes in each of the four games he's played this year, and has had at least 94 receiving yards in all four contests.