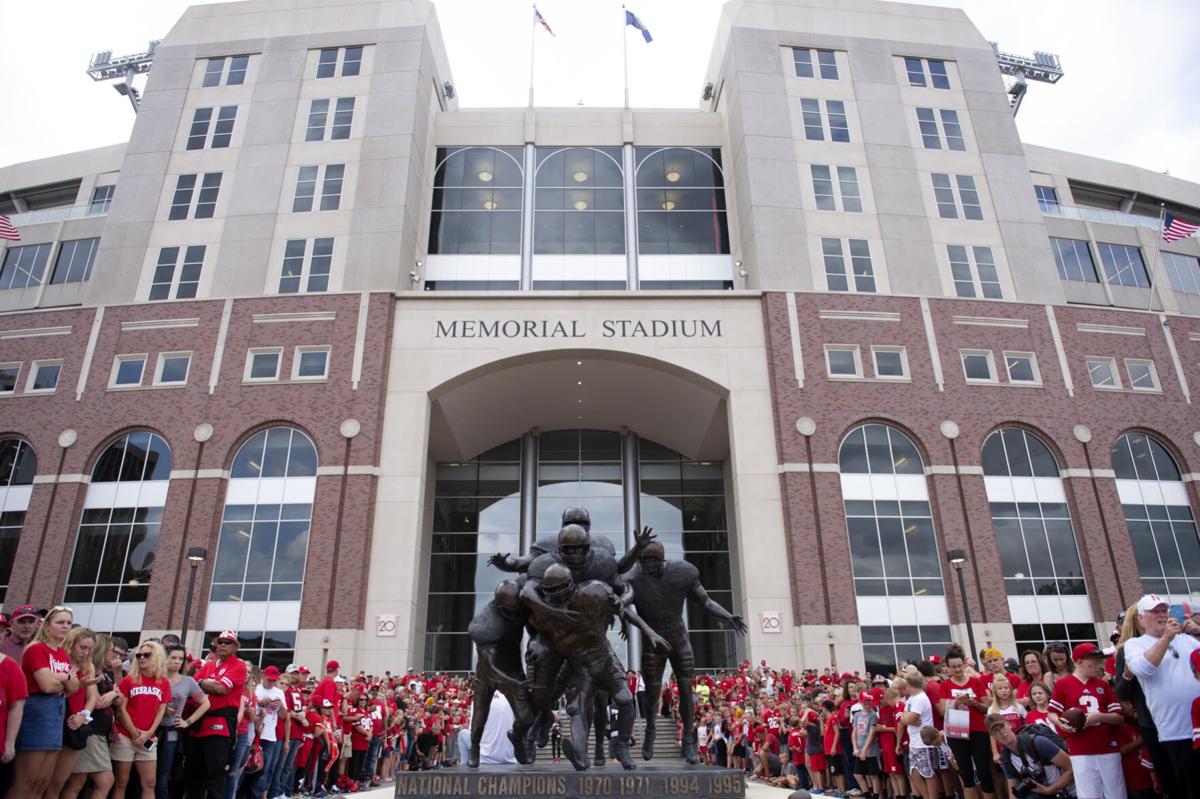 The financial impact of the coronavirus pandemic has hit different businesses, different families and different industries at different times over the past five months, and the toll will certainly continue well into the foreseeable future. 
For the University of Nebraska athletic department, the grim picture began to crystallize last week with the Big Ten's postponement of the fall football season. The projected revenue hit for the NU athletic department is north of $100 million, its leader Bill Moos reiterated in a wide-ranging, hourlong interview with the Journal Star on Thursday afternoon.
Moos confirmed that at this point he does not foresee any of the school's 24 varsity sports being cut. Of course, that equation changes if the pandemic affects revenues for more than the next few months. Even so, the department is likely to see major impacts on staffing levels and a variety of other cost-cutting measures begin to be put in place soon, perhaps as early as the end of this week. 
"We have to be fiscally responsible and we need to protect as much of our reserve as we can," Moos said. "However, it was designed for a rainy day, and it's as rainy as I've ever seen it." 
These are difficult days even for an enterprise such as NU athletics, which had one of the finest pictures of health even among a landscape of power conference programs flush with capital as little as six months ago. 
The pandemic has swiftly and ruthlessly changed that conversation, however, as television inventory disappears with the cancellation and postponement of events, the lack of tickets and concessions to sell and the effects felt on the donor base, as well. 
Moos complimented Husker fans and said that in a survey that closes Friday sent to football season ticket holders, somewhere around 20% opted to simply convert their ticket deposits into full donations and roughly 60% opted to have their payments rolled over to 2021, meaning only about 20% asked for full refunds. 
"Our fans, I can't say enough about them," Moos said. "They're hungry for Husker football, but they're also very understanding. There are a good many who have said, 'Just keep our ticket money, just keep the donor seating money. You need the help more than ever. Don't refund it.'" 
Still, the crater left by the postponement of football season will be felt across the 300-plus employee department. In June, NU eliminated 17 full-time positions and enacted a 10% budget decrease for the 2021 fiscal year, which began July 1. That, Moos said recently, was anticipating a $12-15 million hit. Now, the number is expected to be more than six times that high. 
"We've got this (football training facility project) out here, we've got all these things, but we have to be cautious," said Moos. "I can't run this athletic department business as usual when we're going to lose $100 million." 
Speaking of the football facility, Moos said the design phase is still ongoing, but the beginning of construction will remain "paused." When might it start? "Later rather than sooner," Moos said. It could potentially begin over the winter, but a one-year delay is also possible. That's because the track team needs a place to work out and the original plan — construction was set to begin in June — allowed enough time for a track to be built on Innovation Campus by the spring. It's possible NU will try to follow the same schedule, but just pushed back by a year. 
That could hardly have been imagined back in late September when the project was first announced. In a refrain heard and felt by many around the country and around the world in recent months, Moos shook his head as he considered how thoroughly the pandemic has altered the picture. 
"Hell, I've been in this for 40 years and I've been an AD for 28, and the job is just different," Moos said. "I think I made 290 public appearances the first 20 months, and they weren't all in Lincoln and Omaha. You'd get in the car and go to Scottsbluff and Valentine and Alliance. I love doing that. 
"I haven't had a coat and tie on since March. But (in recent months) the job consists of the Big Ten stuff, two hours every morning, and then trying to navigate this thing." 
Moos said a year ago right about now, he thought the overall shape of the athletic department was on the rise. He was trying to do things to keep that good feeling by telling the entire staff that they could eat at the training table as part of his budget. He also had monthly mentor luncheons that he said drew attendees from all corners of the department, from assistant coaches to sponsorship and media employees to concessions, equipment and other areas.
"People were feeling good," Moos said. "Hey, maybe you're happy with where you're at, but if you want to grow and learn, you can. It was the highest morale this place maybe has seen since the national championships. … It was super. People were feeling good and we're getting it back and hey, all right! And then bam. All this.
"I'm working harder than I've ever worked. And I've worked hard, but this is tough." 
At first, Nebraska hoped it would have all seven home games. Then, after the league in July canceled nonconference competition, it was five. Moos said realistically he was holding out hope for 50% capacity at Memorial Stadium, but his team was modeling the financial ramifications of every conceivable scenario. 
"It's just like a piece of bread; you're pulling pieces off and pretty soon you've just got the crust left," he said.