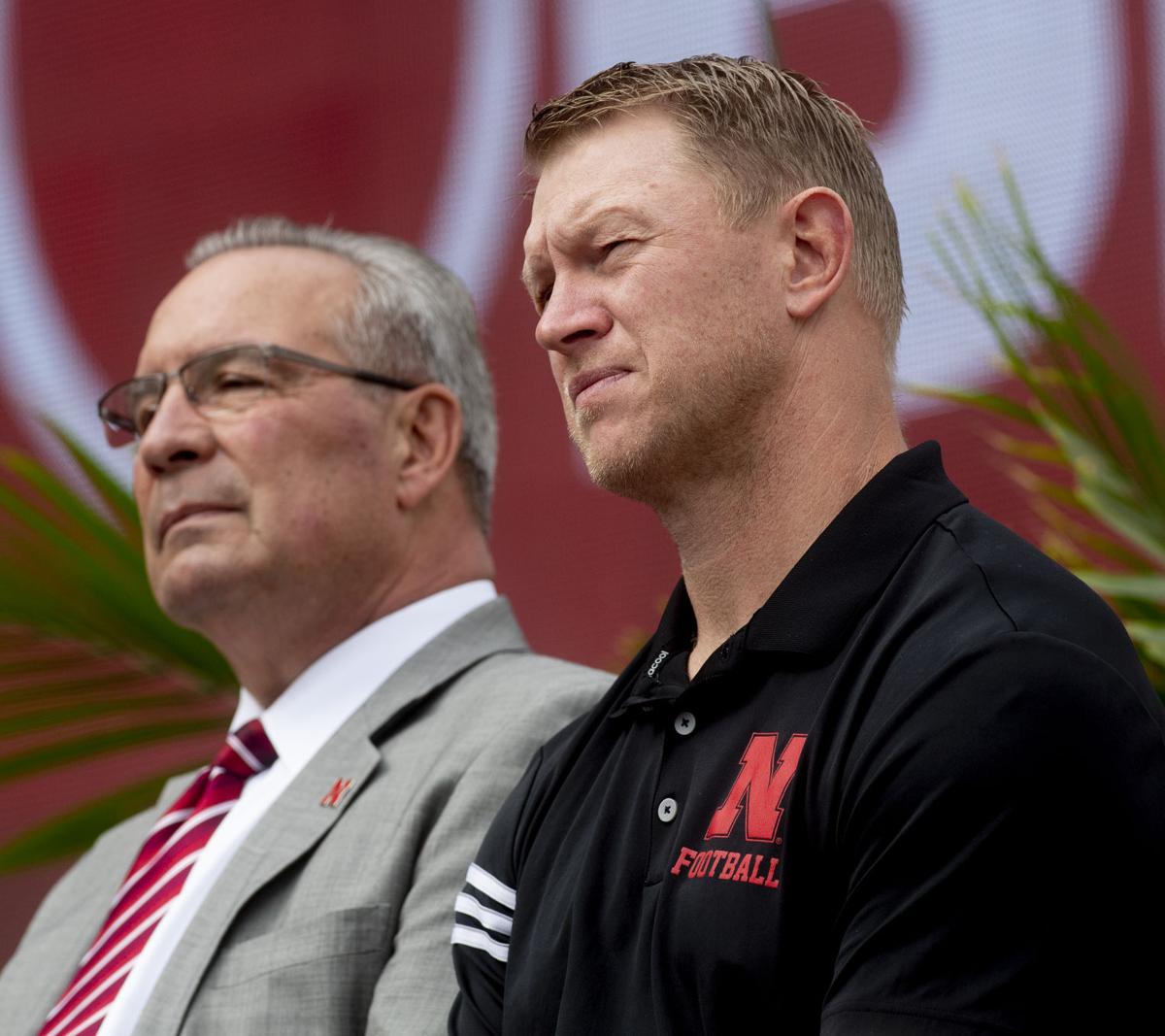 Bill Moos sounds like a guy who would have been very interested to see what Nebraska's football team would have looked like in one more game this month.
Ordinary, of course, hasn't shown itself much in 2020.
"I think we put it all together pretty well against Rutgers," he told the Journal Star on Wednesday afternoon. "Tough trip. Short week. You wonder if there's the spark left after all these months, basically since March. Cold setting. Our guys came out and I could tell that we had that spark in our eyes. Then we commit the turnovers, penalties, kind of the same thing we saw all year, but we overcame them. Our offense finally clicked. I tip my hat to the defense pretty much all year. I think we made great strides there. Offensively, we've been trying to do it since (head coach) Scott (Frost) got here and it really hasn't clicked, but we got a real good glimpse of it that last game of the season.
"That can give us a little bounce in our step going into the offseason and on into the spring."
Moos made no bones about the scoreboard in terms of Nebraska's 3-5 2020 campaign, but he said he was proud that NU got on the field at all and also that he believes even an inconsistent season will pay dividends down the line.
"To even have a chance to play a season was nearly exhausting on all involved, and so I really felt a lot of pride in regards to the players and their resolve," he said. "It was an up and down season, I think we learned a lot about ourselves. I think we've developed some leadership, from my viewpoint, in the locker room. And that is absolutely essential to having a winning program. …
"Good, strong, stable programs produce winning teams. When we evaluate this season, it was not a winning team. But it did contribute to building that strong, stable program."
A building block, then, which now has been placed as part of the foundation that Frost and company are trying to build. Moos considers himself an optimist, but doesn't typically get too far ahead of himself when it comes to expectations on the football field.
Moos, though, dialed up the conversation on that front a notch with an early look ahead to 2021. Three years of building blocks are in place. Now it's time to see the house start to come together.
"We've got a tough schedule. I mean, at Oklahoma, right now the Ireland game is still on. We've got Michigan and Ohio State, albeit at home," Moos said. "That being said, I think we're at a point where we should be in the conversation for the Big Ten West.
"And boy, it's tough enough in the Big Ten West and we've seen that all across the board, but stay healthy, get through a tough schedule and count on the defense."
Moos' eyes told him a similar story to what many Nebraska fans saw on the field this season. Defensive coordinator Erik Chinander's unit took a step forward. The offense remained inconsistent, even regressed statistically, though the prolific day against Rutgers brought NU to second in the Big Ten in rushing offense.
That and the path forward will be topics of conversation when Moos and Frost meet to fully debrief the season.
"Scott and I will sit down and have a conversation after the dust settles here. We'll talk about everything," Moos said. "The staff, the recruiting piece, the support piece, the facilities piece. … We'll go through everything. He knows that I am here to support him. The thing that I reviewed with Scott, and this is a compliment, is that he's a winner. He's never really lost, when you add them all up, until he got here.
"Every place I've gone, they were in tune to losing and you had to change the mindset. It can be stunning here, even though Scott knew he had a big challenge ahead of him, so we've got to get back into the mode that, this is Nebraska. You don't come into our house and expect anything but a fight.
"We're just getting that foundation built and now we're progressing from there. Whether it's going to fall into place next season or not, there's a reason he's got a long-term contract, because it was a project. The project isn't over."