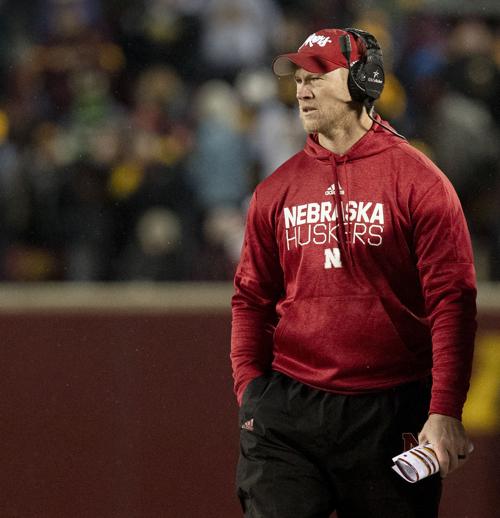 Scott Frost was preparing to take his first-year Nebraska team to Columbus, Ohio, a year ago to try and shock Ohio State when he made a prediction backed by a month's worth of swelling offensive momentum and years of hard data.
"I'd rather win a game 2-0 than lose one 61-60," Frost said ahead of the Huskers' 36-31 loss to the Buckeyes on Nov. 3, 2018. "We're going to have to score points to win games right now. That's just the way it is.
"Our defense continues to get better, too, but I don't think we're going to win any (games) 10-3 right now in the Big Ten."
Years come and go, sure, but one of the central tenets throughout Frost's 11 years as a coach at the Football Bowl Subdivision level — the connective fiber that runs from being a newly minted wide receivers coach at Oregon in 2009 all the way through the beginning stages of the second rebuilding challenge of his head coaching career at Nebraska — is points.
Frost's teams have always been able to score points. Until the past month, at least.
One quarter of a regular-season schedule doesn't mean much in the grand scheme of a career or a program's history. Heck, college teams can overcome a bad three-game stretch to have a successful season, just like a three-game hot streak isn't guaranteed to make a fall feel fulfilling if the rest of it doesn't go well.
But the numbers suggest a stark reality: Frost hasn't seen this kind of offensive struggle in his FBS coaching career.
The Huskers, after all, have scored exactly one offensive touchdown in each of their past three games — a 48-7 loss to Ohio State, a 13-10 win over Northwestern and a 34-7 loss at Minnesota.
Description: Head football coach Scott Frost talks about quarterbacks and running backs on Oct. 24, 2019.
"I think we can be a little more detailed in our route running on offense, I think the ball can come out of the quarterback's hand a little quicker, I think our offensive line needs to stay on blocks and move people a little better," Frost said Thursday. "Some of that's making sure that we continue to improve from a talent standpoint, and some of it is just technique. And we're going to do everything we can to make sure the technique's right and the guys are dialed in to what we want to do."
Recently, NU's offense has experienced tough sledding. The Huskers are averaging 283 yards per game and 4.4 per play the past three games, which ranks No. 126 and No. 125, respectively, out of 130 Division I teams.
Frost has never coached an offense that's gone three straight games of scoring one touchdown. In fact, in nine seasons (120 games) as an assistant, coordinator and head coach before arriving at Nebraska, Frost had been a part of only four games total in which his team's offense failed to register multiple touchdowns.
You have free articles remaining.
Two of those games came in 2016, his first season as a head coach at Central Florida. The Knights lost three straight to end that year and had one offensive score in two of them, including a 31-13 Cure Bowl loss to Arkansas State. The next year, of course, UCF went 13-0, led the nation in scoring at 48.2 points per game and scored at least 31 every time it took the field.
In 19 games at Nebraska, the Huskers have failed to generate multiple offensive touchdowns five times. In 2018, NU scored just once late against Michigan in an early season blowout loss, then recorded a memorable 9-6 win over Michigan State, the first NU win without a touchdown since 1937 and the lowest winning score of Frost's FBS coaching career.
Obviously, though, that's not a typical winning formula for a head coach who has long been considered among the brightest offensive minds in the game.
This fall, the Huskers are averaging three offensive touchdowns a game, down from 3.67 a year ago and severely down from Frost's career average of 4.97.
Parker Gabriel gives insights on quarterbacks and an update on the game against Indiana after practice on Oct. 24, 2019.
Pick a malady and Nebraska has dealt with it this year. Inconsistent line play, an injury to starting quarterback Adrian Martinez, penalties, turnovers, a lack of a deep threat at receiver and more have all conspired to make this the rockiest stretch of offensive football in Frost's career.
But this, Frost says, is no time to start over.
"We're going to score points. That needs to be the expectation, and we're not going to change our identity," he said. "The identity that our kids know works when we do things the right way, and we've just got to keep working and keep getting better.
"But the kids know who we are and what we're all about, and we're going to go out and do the best we can."
For the Huskers, that means navigating without sophomore running back Maurice Washington, who is on hiatus from the team with no known timetable for return. That means potentially playing without freshman Wan'Dale Robinson, who was injured against Minnesota. Perhaps without a quarterback or two, too.
Head football coach Scott Frost talks status updates on Oct. 24, 2019
It means attempting to begin a turn upward and out of a multiweek offensive slump and toward what Frost and Nebraska believe this offense can still look like in 2019.
"I felt like maybe we were a little timid, we weren't the most physical team on the field at Minnesota," tight end Austin Allen said this week. "I think that started shifting gears last week, going good-on-good (at practice). Just come off the ball firing on all cylinders and I think that's going to carry into this week into Indiana."