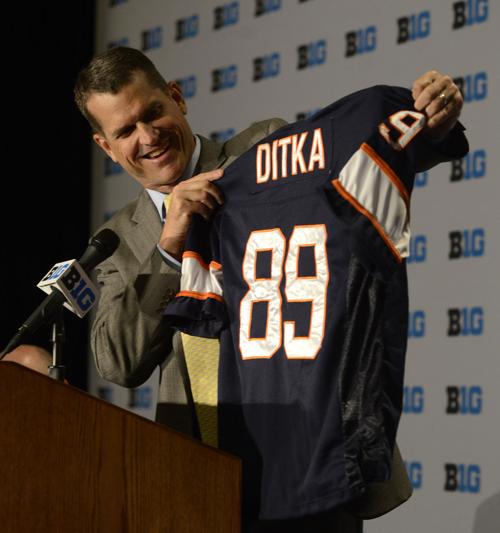 CHICAGO — Day 2 brought Harbaugh hysteria, but also some Jerry Kill, a dose of James Franklin, and of course Mike Riley wants an In-N-Out in Lincoln pronto.
We'll cover Nebraska thoroughly in our other stories, but here's a quick rundown about what was said by  coaches and players of the other six schools that met with the media Friday at Big Ten Media Days.
Newsy: Michigan coach Jim Harbaugh was asked whether he'll have a unique reference for rival Ohio State. The first-year coach said he refers to the Buckeyes as "Ohio State." Former Michigan coach Brady Hoke ruffled feathers at times by not referring to OSU by its full name, instead calling it "Ohio."
Quotable: "If we could do it the way Bo (Schembechler) did it, that would be something to aspire to," Harbaugh said. "Not a day goes by really where I don't think about Coach Schembechler from the time I leave my house to go to the office — I live about five houses away from where Bo lived. And no matter which way I take to work, whether it's Devonshire or Geddes or Stadium, I'll often think, 'Well, Bo probably took this right onto Washtenaw or took this left onto Hill. I know he took this left onto State Street.'"
Observed: You can say you're not interested in Harbaugh, but we think you're lying. He's a magnet. You're drawn to his oddness, wondering what he might do next. He was fully engaged Friday, and even brought along a Mike Ditka jersey, which he proudly held up. He was asked if it was autographed. He wasn't sure and began checking it to see. At one point during his 15-minute appearance in the main ballroom, he asked longtime Columbus (Ohio) Dispatch beat writer Tim May how long he's worked there. "Since 1977," May said. Before you knew it, Harbaugh and May were having a one-on-one conversation in front of a few hundred people and TV viewers about the old Big Ten skywriter's tour. Harbaugh was supposed to be the star of this event, and he was. When Rutgers coach Kyle Flood came up to speak after him, Harbaugh had almost as many reporters listening to him in the hall as Flood had while on the main stage.
Newsy: Kill, the Gophers' fifth-year coach, said he's been seizure-free for more than a year and a half. He's dealt with seizures for the past several years, with some occurring during games. "I feel great," he said. "I don't know, what else can I say? But, yes, I'm doing good." Great to hear.
Quotable: Regarding Minnesota's season opener against second-ranked TCU in Minneapolis, Kill said: "I think it's really made our offseason more productive, more intense, because we're starting off with a great team. But we look forward to the challenge. We know their program well. We didn't play very well a year ago (a 30-7 road loss). And our kids know that. And so I think that's a great game for us to open up and see where we're at. We're going to bring in a little bit of snow, some artificial stuff in there, and see how they handle it."
Observed: A mere four reporters interviewing Kill outside the main interview area — a very small number compared with most of the coaches. The reason, in part: Harbaugh was in the big interview room in front of hundreds of reporters. 
Newsy: The big news in preseason camp will be a three-man quarterback battle pitting senior Zack Oliver, sophomore Matt Alviti and redshirt freshman Clayton Thorson. Coach Pat Fitzgerald said nobody gained a clear upper hand in spring drills. "Did (offensive coordinator) Mick McCall and I want to have that separation happen? Yeah, we would have loved to have it happen," Fitzgerald said. However, "We'd rather have it happen organically than to force something. And at this point, we're not ready to inject and be forceful, because all three guys have had a good summer from a leadership standpoint."
Quotable: Asked if there's been an interesting rivalry brewing with Nebraska, Fitzgerald said, "We're 1-2, so I wouldn't call that interesting (the Wildcats are actually 1-3 against the Huskers since 2011, but two of the games were decided by a total of four points). I'd probably call that disappointing from our perspective. And I'll go back to the relationship I've had with Bo (Pelini) and his staff. Those were, I mean, backyard street-fight games that we've been in."
Observed: OK, it's more like "felt" than "observed." Fitzgerald has been the golden-boy coach of the Big Ten many years, until back-to-back 5-7 finishes in 2013 and 2014, which have put a little more pressure on him than usual. Media members this year clearly were much more enamored with Harbaugh. In fact, Fitzgerald acknowledged an awkward silence between questions, wondering aloud if writers were still typing what Harbaugh had to say earlier in the session.
Newsy: Everyone talks about quarterback Christian Hackenberg, but Penn State will go only as far as its offensive line, which struggled mightily a year ago, takes it. Franklin is hoping his team can stay healthier, and also maybe get some added depth from grad transfer Kevin Reihner, who was at Stanford. "Last year our left tackle would go down. We'd move our right tackle to left tackle. Our center would go to right tackle, and the backup center would come in," Franklin said. "Hopefully, we'll be in a position this year where if we do have some bumps and bruises, the backup could slide in and it's just interchanging one spot."
Quotable: Franklin, formerly at Vanderbilt, was asked what he thought about Auburn coach Gus Malzahn's comments that the SEC teams beat each other up and wear down. Franklin was diplomatic about it. "I think there's some valid points. I think you could make the same argument that the Big Ten, we play nine conference games (starting in 2016) and do not play FCS programs. The Big Ten scheduling model is taking care of strength of schedule for us. But I think it's an interesting argument. Eight games in the SEC and playing FCS, or nine games in the Big Ten and not playing FCS. I have tremendous respect for the SEC, but I've also for the Big Ten."
Observed: Franklin is a smooth communicator. You can see why he's so successful on the recruiting trail. Entering Year 2 at Penn State, he wasn't quite the attraction as a year ago, however. And for a coach who has been very good at getting his program attention, it's still a mystery why he didn't bring Hackenberg along on this trip.
Newsy: Like Northwestern, Purdue has a three-way battle for the starting quarterback job, with junior Austin Appleby, redshirt freshman David Blough and true freshman Elijah Sindelar. Coach Darrell Hazell wouldn't put a timetable on when coaches will decide. But he emphasized two areas: Which one can best take care of the ball? And which one can best execute "makeable plays. When we find that guy, we'll be off and running," Hazell said.
Quotable: Nebraska travels to Purdue on Oct. 31. Husker fans might remember that the Boilermakers pulled to 28-14 with 10 minutes left in last year's game. "I thought our guys played really well," Hazell said. "What killed us was our special teams. We had two punts blocked and shanked another one and still, even after all that happened, we were in a pretty good position going into the fourth quarter. We kind of ran out of gas and didn't make enough plays."
Observed: If Kill feels bad that only a few reporters huddled around him, he can commiserate with Hazell, who also had only a handful — essentially one reporter for each game he's won in three seasons at Purdue (he's 4-20).
Newsy: The Scarlet Knights have a new offensive coordinator, with Ralph Friedgen stepping down after one year in the role. The new man in charge of the offense is Ben McDaniels, who previously was the team's wide receivers coach. "Ben was the guy speaking directly to the quarterback during the season, so he was the conduit for Coach Friedgen up in the box," Flood said. "Certainly was a great line of communication. And the ability to keep Ralph Friedgen on our staff to me was very important." Friedgen is a special assistant to Flood.
Quotable: There's no question, Flood said, that kids are giving Rutgers more attention in recruiting now that the team is in the Big Ten. "I think when you attach yourself to a brand like the Big Ten and you play in what we believe is the premiere athletic, academic conference in the country and in the most competitive division in all of college football, if you're recruiting the right kind of players, they want to play that kind of football," Flood said. "And I really believe there's no doubt it's elevated our recruiting over the last two years."
Observed: Let this not be taken as snark, just what was, but it was hard not to notice Flood had only three reporters around him at the podium at one point. Compare that to Mike Riley or Franklin, for instance, who might have about 25 people leaning over each other to try to ask a question.