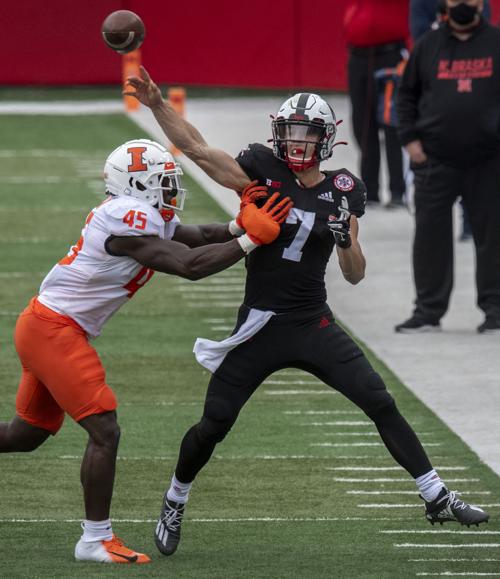 The fickle nature of playing quarterback at Nebraska has become very clear over the past to the main characters involved in that weekly saga in North Stadium.
Luke McCaffrey, one week after replacing a struggling Adrian Martinez behind center and leading the Huskers to their first win, on Saturday found himself on the other side of calls for the backup to come into the game and create a spark as NU once again struggled to find any kind of consistency.
The redshirt freshman finished 15-of-26 passing for 134 yards, carried the ball a whopping 26 times for 122 yards, scored two touchdowns and threw three interceptions.
Nebraska's struggles certainly aren't contained to one position, and NU coach Scott Frost said as much after the game.
But they're magnified at quarterback, where the playmaking and bravado that defined Frost's offenses at Central Florida and Oregon have disappeared over nine losses in Nebraska's past 12 games.
"Consistency of execution. We've got to be able to throw the ball down the field. I have to look at the tape, but I feel like we had some guys running open downfield," Frost said when asked what's holding NU's offense back. "Whether it's protection or vision, or just trusting it and throwing them on time, we've got to be a better football team at throwing the ball down the field. That's kind of how this offense is built, it always has been, and we're not good enough at it right now."
Be it lack of open receivers, lack of protection or lack of trust in just letting the ball go, McCaffrey ran the ball a whopping 20 times in the first half while going 7-of-16 through the air for 70 yards and a pair of interceptions.
"I don't want him running that much," Frost said. "I want him to run when it's there. We're going to design a few things for him in the games; there's going to be some other times where the read dictates that (the QB) run it. Quite a few of those are happening on pass plays where maybe we need to protect better or get the ball off on time."
Martinez pulled on his helmet on the sideline just before Illinois punter Blake Hayes glitched his way to a 14-yard run on fourth-and-8 on Illinois' opening drive of the second half that eventually ended in a field goal. After that, McCaffrey was back at the controls, taking NU on a six-play, 75-yard drive to make it 31-17.
Martinez played Nebraska's final series, going 3-for-4 for 43 yards and a touchdown.
They weren't all his fault, but McCaffrey was still credited with four turnovers, including the bizarre first play of the game that appeared to be, at the most, an illegal forward pass that was instead ruled a fumble and not reviewed.
"The No. 1 thing is you can't turn the ball over," McCaffrey said. "And I did that too many times today, and that's probably a big reason the scoreboard looked like it did."
Both Frost and McCaffrey said the first play, no matter the result, came because McCaffrey tried to do too much out of one of Nebraska's base sets.
That could have stemmed from a poor week of practice during which McCaffrey admitted he didn't have the right attitude.
"We addressed it, we discussed it, but we really didn't change it too much," McCaffrey said. "Again, me specifically is the target to blame. The attention to detail and the energy that I brought to practice showed up in the game."
For the present time, Nebraska doesn't so much appear to have a quarterback controversy as it does a quarterback issue.
"I'll be honest, just like I always say, at every position, whichever guys gives us the best chance, that's who we're going to go with," Frost said.