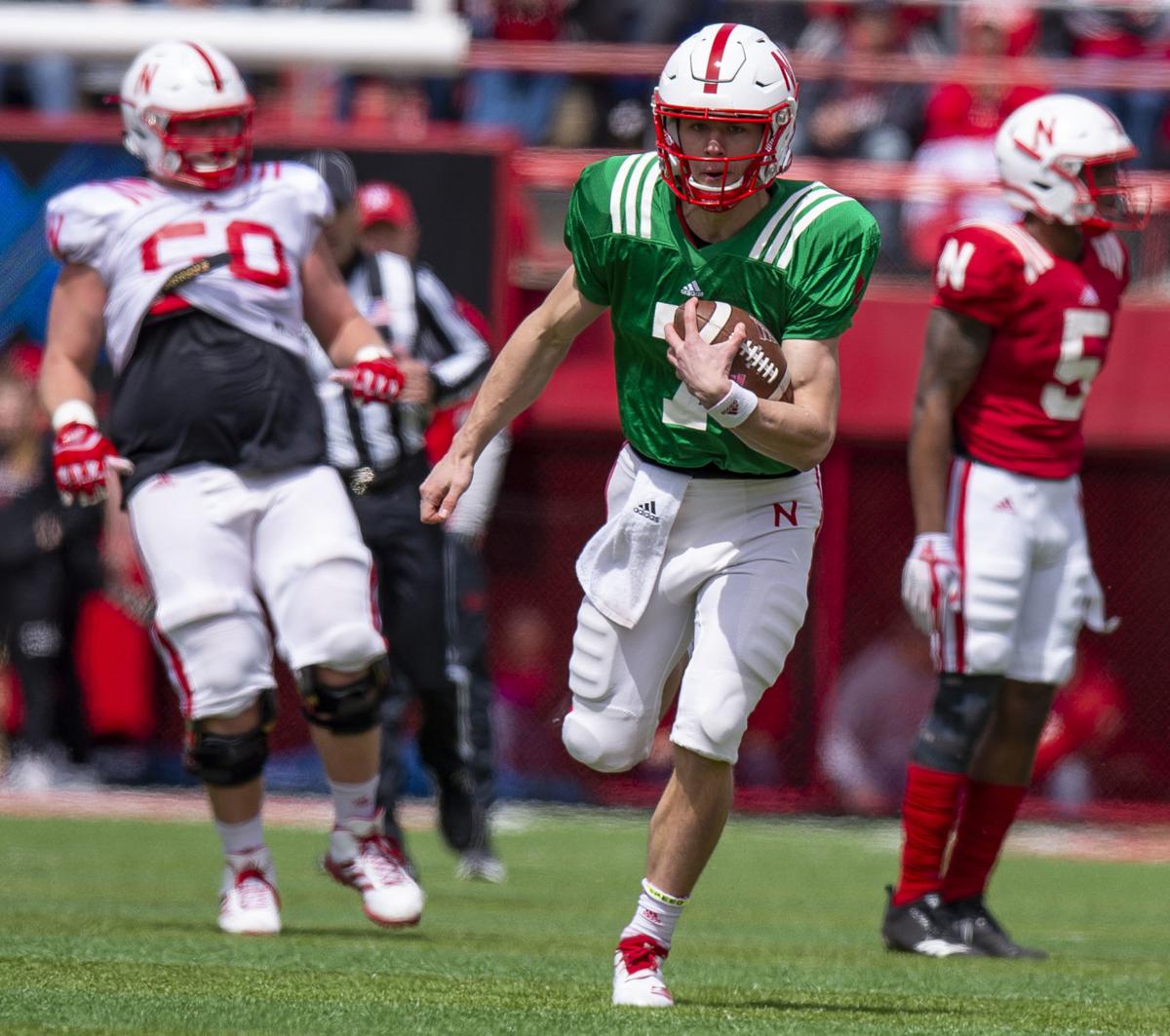 For Luke McCaffrey, it all happened in a flash.
After Noah Vedral's helmet popped off his head with eight minutes left in the game Saturday, it wasn't like the Nebraska true freshman quarterback had time to think about the four-game redshirt rule or his dinner plans that night or really anything else.
"Me and (Andrew) Bunch were standing there, and (a coach) said, 'Luke, go,' and I got all juiced and ran out there," McCaffrey told reporters Tuesday at Hawks Championship Center. "We have a good mentality throughout our team — next man up. Whoever it is will be ready for their time."
The 6-foot-2, 200-pound McCaffrey, known for his blazing speed, caught a high snap and rushed over left tackle for a gain of 3 yards before immediately departing for the bench. Just like that, his college debut was in the books.
Parker Gabriel and Steve Sipple give the latest insights from Nebraska defensive coaches and players after practice on Oct. 8, 2019.
Vedral, who replaced injured starter Adrian Martinez to begin the fourth quarter, led Nebraska to a 13-10 triumph against Northwestern.
A 17-game starter, the sophomore Martinez's status is uncertain as the Huskers (4-2, 2-1 Big Ten) prepare to play Saturday night at Minnesota (5-0, 2-0).
You have free articles remaining.
Even with Martinez hobbled by an apparent knee injury, McCaffrey said the Nebraska reserve quarterbacks' mental approach to preparation this week is the same as it is any other week.
"Every week's a game week, and no matter who's playing, everybody's got to be ready for gameday," McCaffrey said. "Every week is an opportunity to go to practice and get better at your craft and prepare like you're the guy."
Although he's known for his speed and running ability, McCaffrey plays down such talk, saying all of the Husker quarterbacks have an ability to run the ball. After all, it's a big part of the offense.
His coaches praise McCaffrey's poise and dedication to preparation. Although he got the call to play Saturday, head coach Scott Frost makes clear that McCaffrey will appear in no more than three more games the remainder of the schedule, thereby preserving his redshirt season.
In the meantime, McCaffrey continues to learn about life in the college game, particularly "the understanding of how to put in a game plan and bring that to the field and how to get ready for gameday, because it's so easy to watch and evaluate.
"But the second your under center, it's completely different."
He said he wasn't nervous against Northwestern even though the game was tied at 10.
"It was fun," he said. "I got the juice flowing a little bit."
Watch: Vedral on quarterbacks being ready
Watch: Vedral calls Robinson 'a special kid'
Watch: Robinson on embracing dual role in offense
Watch: Farniok on snapping issues, O-line getting better
Watch: Frost on Pickering's season status
Watch: Frost on Martinez, Vedral and McCaffrey
Watch: Frost on Washington suspension
Watch: Daniels talks about challenge vs. Minnesota
Watch: Farniok praises McCaffrey's speed, energy
Watch: Cook expands on loss to Wisconsin, looks ahead to Michigan double