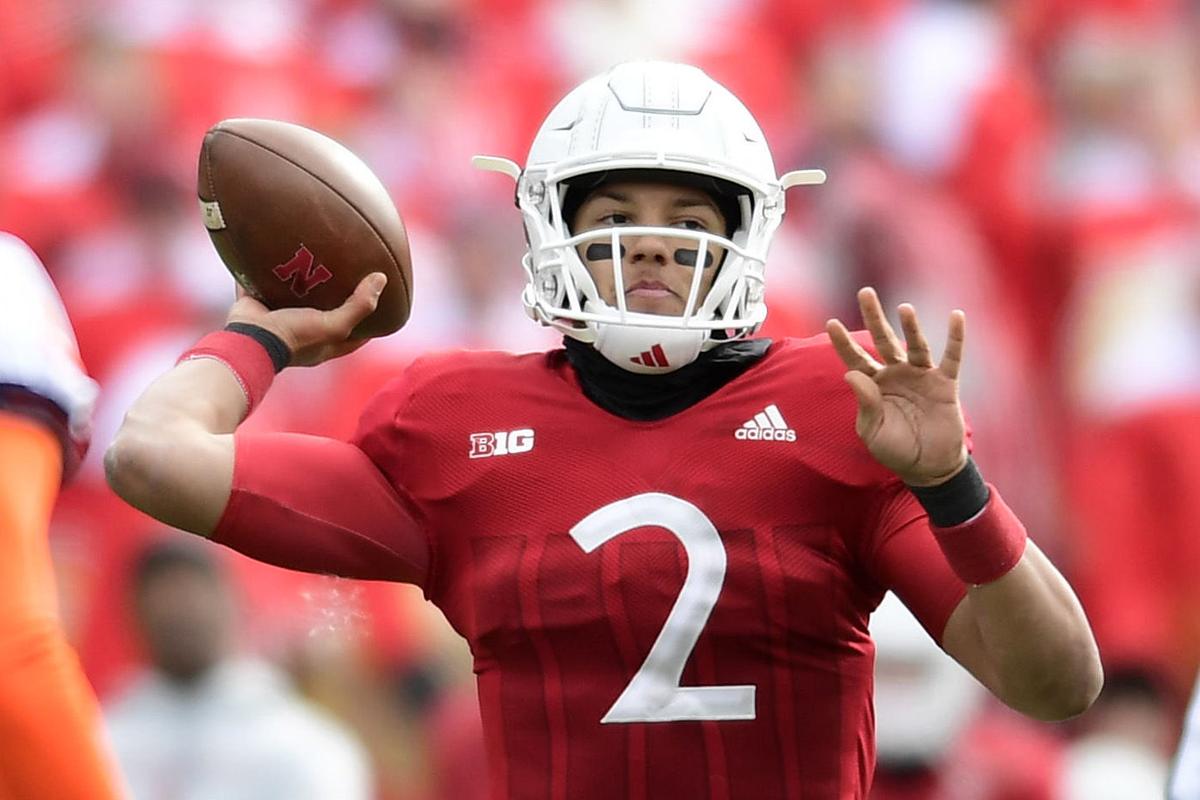 Adrian Martinez is just a sophomore. 
He's also a Nebraska captain. 
The standout quarterback earned that designation over the weekend along with teammates Mohamed Barry, Matt Farniok and Darrion Daniels, the program announced Saturday night after its Boneyard Bash event. 
Martinez quickly earned respect among his teammates during his freshman season and solidified his role as a cornerstone of the franchise this summer. 
Martinez is just the second sophomore captain in program history, joining former quarterback Joe Dailey (2004), per an NU spokesperson. 
"Everyone respects him and we're going to go where he takes us," Barry told the Journal Star earlier this month. "There's no question about that no more and it's not really a big thing. Everyone knows it and everyone's comfortable with it.
"He took that role, he earned that role and he's comfortable in that role."
While the Nebraska program has typically reserved its captaincy for seniors, the quarterback from Fresno, California, was always likely to make it as an underclassman. Combine that with the fact that the Huskers head into 2019 with no guaranteed senior contributors on offense except for graduate transfer wide receiver Kanawai Noa, and head coach Scott Frost knew the senior tradition would not apply this year. 
"Probably I would guess the one difference from this year to years past is we don't have a lot of seniors on offense, so it might not or could not or might possibly not be four seniors," Frost said Friday. "But it's going to be the two best leaders on offense and the two best leaders on (defense)."
Martinez is joined on offense by Farniok, the junior right tackle, who has become the spokesman in Greg Austin's room following the graduation of two-time captain Jerald Foster and fellow leader Tanner Farmer. 
Barry was just as surefire a pick as Martinez. The senior inside linebacker finished tied for sixth in the Big Ten with 112 tackles in 2018 and has been the heart and soul of the defense for more than a year now. 
Daniels' selection isn't a shock, but it does speak to the major impact he's had in a few short months since arriving on campus in January as a graduate transfer defensive lineman from Oklahoma State. 
The room is full of seniors, including longtime contributors such as Carlos and Khalil Davis, but they are among the many who have marveled at the way Daniels' presence has affected the defensive line room and Erik Chinander's unit as a whole. 
"Darrion's making plays on the field, but that's not the most impressive part of Darrion," Frost this spring. "It would be really hard for someone to change teams, come into a new college program and come in and be a leader immediately, but that's what he's done. He's brought a spark to that D-line (and) I think a sense of accountability to the D-line and to the whole defense.
"He's going to be a real asset for us, and I'm not just talking about on the field. He's going to help us on the field and off."
Be the first to know
Get local news delivered to your inbox!