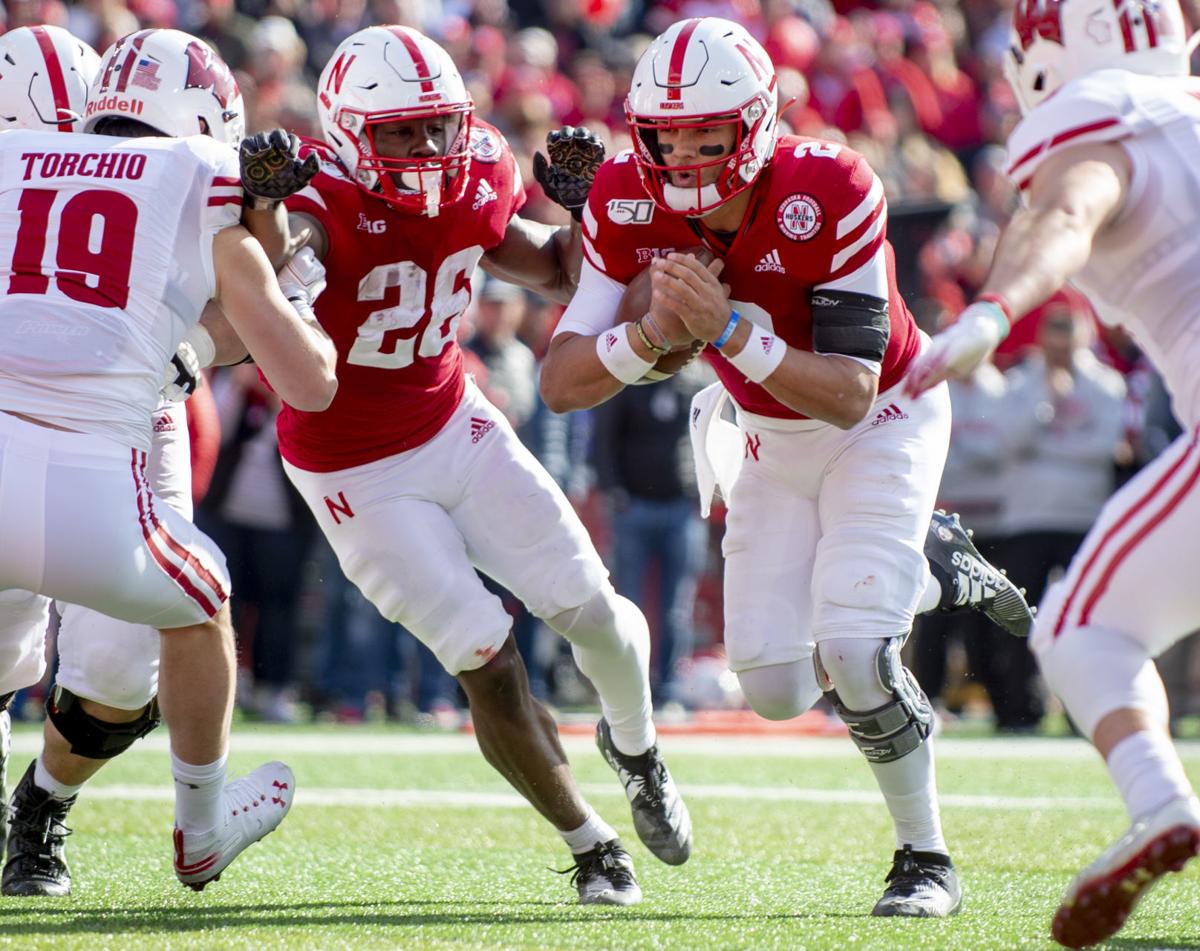 Here's a piece of trivia for Nebraska football fans.
In coach Scott Frost's first two times through the Big Ten's West division, which team does NU's offense have the most statistical success against in terms of moving the football?
The answer may surprise you: It's Saturday's opponent, the normally stingy Wisconsin Badgers.
Under coach Paul Chryst and defensive coordinator Jim Leonhard, the Badgers were 13th nationally last year in yards allowed per play (4.79) after checking in No. 51 in 2018 (5.5). In two meetings between the teams, though, the Huskers have averaged a combined 8.0, slightly more than their average against Illinois (7.9) and far more than their output against any other team in the division.
So, what gives? Part of the equation is that two games is still a relatively small sample size. NU got a huge passing day from freshman Adrian Martinez (407 yards and 441 in total offense) in 2018, and then ran the ball to the tune of 277 yards (7.7 per carry) a year ago. Nebraska, though, averaged 9.6 yards per passing attempt a year ago, better even than the 2018 mark of 9.3.
Chryst on Monday told reporters that the Huskers are hard to defend.
"We've seen a lot of them and I think what they do schematically — and kind of how they package it — they do a nice job offensively and it's going to put stress on a defense," the UW coach said.
However, there's a catch: Nebraska hasn't turned all that offensive production into points. In two games against the Badgers, NU has averaged 22.5 points per game. With a similar per-play yardage output against the Illini, the Huskers have averaged 48 points per game.
Tempo accounts for some of the discrepancy — Nebraska has run 63.5 plays per game against the Badgers compared to 81.5 against Illinois — but other game factors matter, too. The same kind of factors that Frost said cost Nebraska in a season-opening loss against Ohio State on Saturday.
"If you look at the two Wisconsin games and this past Saturday, our mistakes have kept us from having better performances and keeping the games close or giving ourselves a chance," Frost said Monday. "Even Saturday, a couple penalties that I may or may not agree with, but a couple (more) penalties that probably were penalties. They cost us drives. A fumbled snap, a couple fumbles. We moved the ball pretty well, but we need to capitalize on those things.
"The two Wisconsin games have been the same way. We moved the ball well, but they've done a good job getting stout when they needed to, and we made some mistakes that we couldn't (afford to have)."
In 2019 against the Badgers, Nebraska was just 2-of-4 in the red zone, missed a field goal and failed to convert on all three fourth-down tries while also going minus-1 in the turnover department. In 2018, the offense committed seven of the Huskers' 10 penalties, converted just 3-of-10 third downs (and went 0-for-2 on fourth down). In both games, the Badgers finished with an identical 8-yard edge in starting field position (own 31 to own 23 for NU).
All of that tends to get bundled up and talked about as "little things," but their collective impact on games is not at all small.
"I think everyone just needs to focus on doing their job and doing it 100%," offensive lineman Brenden Jaimes said. "If everyone has that mindset, our offense will work. I think it's when people start to overthink and just don't do their job 100% is when this offense doesn't work.
"You just need 11 guys doing 11 jobs to the best of their ability and everything will work itself out, but going forward with Wisconsin, obviously they're a very well-coached team and very disciplined, just like Ohio State. You can't make the silly mistakes you made last week against them. Otherwise, same outcome."
Frost pointed to NU's 90 penalty yards, its pair of lost fumbles and the narrow margin by which plays succeed or fail on offense immediately after Saturday's loss to Ohio State. He's also said in the past that teams typically make their biggest jump between Game 1 and Game 2 in any given season.
That, along with the fact that another opponent fully capable of exploiting advantages in "the little things" awaits Saturday, makes the focus for this week a clear one.
"When you're playing a good team, you can't make those mistakes," Frost said. "And I think as painful a lesson as it was, it was a good lesson for our young kids on Saturday. You can't just be pretty good. You've got to be really good and you've got to execute really well.
"If we clean up some of the mistakes, it's going to give us a better chance."
Watch now: Here's what Frost, Huskers are saying heading into Week 2 vs. Wisconsin
Watch: Frost reflects on OSU game film, looks ahead to Badgers
Watch: Martinez: "We are certainly never OK with losing"
Watch: DB Bootle: A win against Wisconsin would 'mean a lot'
Watch: OT Jaimes talks about Huskers' growth on O-line
Watch: DE Ben Stille says scoreboard vs. OSU speaks the loudest
Watch: LB Honas talks about preparations for Wisconsin