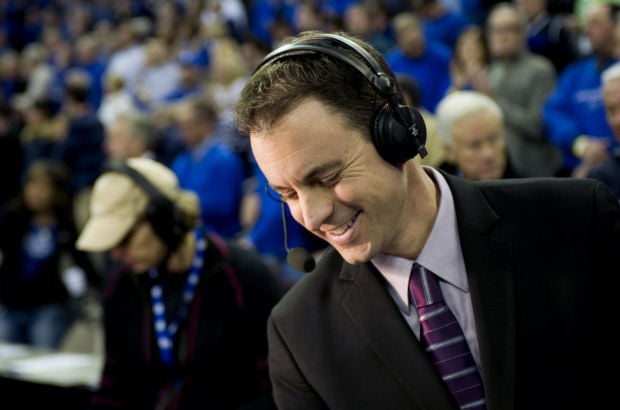 Kevin Kugler is accustomed to having a quarterback by his side with Kurt Warner next to him for radio play-by-play calls of NFL games.
Now the Lincoln High grad will help quarterback NFL broadcasts for Fox on a regular basis.
Kugler replaces Thom Brennaman after Fox Sports said the network's plans for the season "will not include him" after the longtime commentator used a gay slur on a Cincinnati Reds broadcast last month. 
"It's just a little bit of a different role," Kugler said. "A play-by-play on television is not the same. Television is an analyst game. When you are watching the TV, you think more about the analyst, in most cases, than you do the play-by-play guy. The analyst offers more opinions, the analyst is the one that breaks things down; tells you what went right, what went wrong. My job is to make sure the analyst, in this case, Chris Spielman, is set up properly and gets him to what he wants to talk about."
Kugler's voice has been heard over a platform of sports, including the voice of the College World Series, play-by-play for the Big Ten Network for college football and basketball, and the NFL. His voice won him the Nebraska Sportscaster of the Year award nine times, but now it's time for his face to shine a bit.
"I'm sort of the point guard on the television broadcast," Kugler said. "I distribute the ball. I make sure I make some plays whether it's for me or for somebody else. I make sure my teammates are in a position to shine and my teammates in this case are Chris Spielman and Laura Okmin. I'm a big fan of both of them and I'm looking forward to setting them up throughout the year."
Kugler called the radio play-by-play during the Kansas City Chiefs' 34-20 victory over the Houston Texans on Thursday in Kansas City, alongside Warner, and it was a feeling Kugler could not get enough of.
"It was much needed," Kugler said. "I was very appreciative of the chance to be there. It was fun. There is going to be COVID testing, which we have to do for TV. We didn't have to do that for radio, but there is temperature checks everywhere. All of this stuff that you have to do is going to continue all year.
"I have no problem with it. I want to work, I want to do games and want sports to be there. If this is the safest way to have football in 2020 — sign me up."
The University of Nebraska graduate will get his first taste of television on a regular basis starting Sunday as the Arizona Cardinals face the San Francisco 49ers in San Francisco. Next week, he will call the Los Angeles Rams against the Philadelphia Eagles, and Week 3 will feature Washington against Cleveland. Kugler's schedule is based on a three-week period.
"I try to prepare the same way for every broadcast I do," Kugler said. "I'm a big preparation fanatic. I believe it's important and what sets you apart when you are on the air. That you have all your bases covered and have more stuff than you need." 
Be the first to know
Get local news delivered to your inbox!