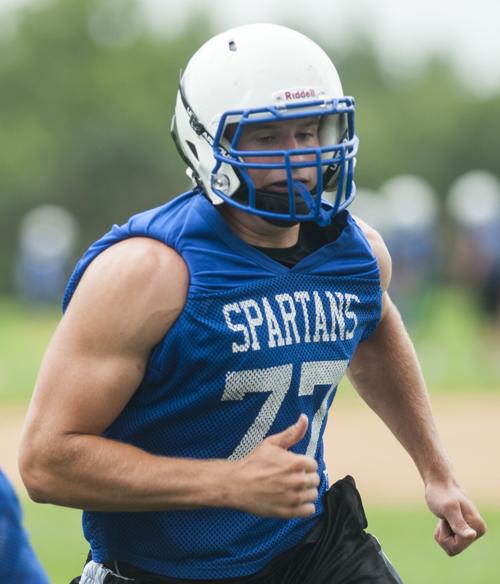 John Gingery has certainly heard and read his share about five-star talent.
"Myself, I've never seen too many five stars," Lincoln East's football coach said Saturday morning.
But if a top-notch recruit resembles a guy who plays full-throttle on both the offensive and defensive lines, who transforms his 6-foot-6 frame from 300 pounds to a "shredded" 260, who can bench and squat weight that would end many of us, whose team runs the ball behind him because they know he'll flatten someone — you bet, he's seen a guy like that.
That guy is his lineman Chris Walker. He has been committed to Wyoming since the beginning of November and, as of Friday, holds a scholarship offer from Nebraska.
"From what I've seen, he's the best lineman in the state," Gingery said. "For us, I always knew we could run to the right side because he'd get us the corner. He always did. He'd usually get two blocks. He'd get his man, then release and go get somebody else."
Given two stars by Scout and 247Sports, and unrated by Rivals, Walker wasn't hanging out at the U.S. Army All-American Bowl on Saturday.
But he has had the attention of Wyoming coach Craig Bohl for a while. The Cowboys have pursued him for two years, according to Gingery, and the lineman loves the relationships he's formed there.
The Journal Star Super-Stater at right tackle has camped at Nebraska, but Walker didn't expect Husker coaches to buzz his phone with less than four weeks until national signing day.
"I'm honored and appreciate another offer. Grateful for that. Coming from Nebraska, that's always a good thing," said Walker, who remains committed to Wyoming but spoke of probably taking an official visit to NU on Jan. 20.
The Husker offer to Walker came just a day after Nebraska offered and received a commitment from Bellevue West running back Jaylin Bradley, who had just gained the necessary ACT test score to be eligible.
It also came a day before two offensive linemen the Huskers had been pursuing heavily, five-star tackle Foster Sarell and four-star tackle Chuck Filiaga, picked Stanford and Michigan, respectively, over NU.
"They were going after all the five stars and stuff like that. I guess I'm just grateful where I'm at," Walker said of the situation now in front of him.
A year ago, just two days before signing day, Nebraska offered another in-state prospect who was committed to Wyoming, David Engelhaupt of Norfolk Catholic. Engelhaupt committed to the Huskers a day later.
In this case, Walker will have a few more weeks to think about matters.
"I think every kid that gets an offer from Nebraska, a Nebraska kid at some point is going to be excited," Gingery said. "And he was excited and said, 'You know it's something to think about.' You know, he already made his commitment to Wyoming and Chris is kind of an old-school kid where you do what you say you're going to do.
"So I don't know what's going to happen."
At the moment, two (or three, depending how you keep score) of Nebraska's 15 known commitments are in-state prospects: Bradley and tight end Austin Allen of Aurora. (Offensive lineman Broc Bando finished his high school career at IMG Academy in Florida but is a Lincoln native.)
Bradley's coach at Bellevue West, Michael Huffman, said this week it's important talented prospects in the state know they have a shot to get a scholarship at Nebraska if they have the measurables and show they can play.
Because he's sure they can help make a difference at the in-state school.
Huffman told the story of going to an offseason Kansas City Rivals camp to watch Bradley compete. "He dominated down there but he didn't have the big name," the coach said. "And I laughed when he didn't get the running back MVP. I scoffed and shook my head. I'm like, 'You got to be kidding me?' That's because he's from Bellevue, Nebraska."
If Walker likewise flew under the radar with many, Gingery is also sure it's not because of a lack of anything other big recruits have.
With Walker weighing about 300 pounds as a sophomore, the coach watched the lineman live in the weight room and drop weight for a more "chiseled" frame. "He's benching close to 400 and squatting close to 500, so he's the real deal," Gingery said.
Walker laughs when mentioned he was described as "chiseled." He wouldn't quite say that. Always more work ahead. But what's that drive of his about?
"To just stay better than the guy lined up across from me," Walker said. "I'm not going out there to get my ass kicked."
Gingery sees some kids arrive in high school with potential. But are they going to put in the time to realize it?
That's where he said Walker combined promise and size with hard work. That's what makes the player "a five-star kid" in the coach's mind.
"He jumped in and invested right away," Gingery said. "You can tell, if they're willing to invest, good things are going to happen. And he's one of those kids that was buying what we were selling, and just ran with it."