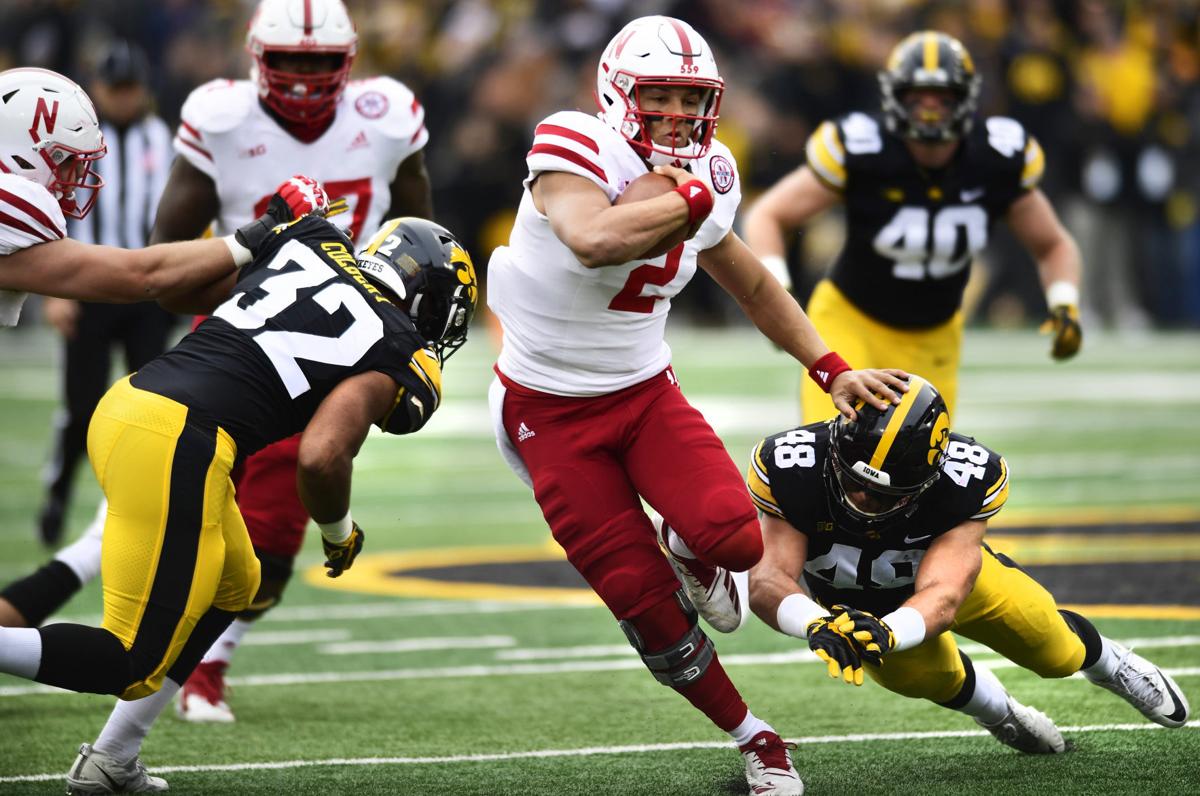 As the coronavirus quickly changed the world, the Nebraska football staff sent most of its players home in mid-March right after spring practice was halted.
The first out-of-state player to return to Lincoln ranks as one of the most important — if not the most important — on the Husker roster.
"Adrian (Martinez) was the first guy back," said Gerrod Lambrecht, Nebraska head coach Scott Frost's chief of staff, referring to the junior quarterback from Fresno, California. 
Martinez returned to Lincoln on March 27. The next Husker to return, the next day, was senior cornerback Dicaprio Bootle. From that point, players returned to Lincoln in a staggered manner as opposed to one large group, said Frost, who spoke Monday along with Lambrecht to two local media outlets, including the Journal Star. They laid out in great detail the extensive planning and protocols used by Husker football to navigate the coronavirus pandemic while keeping the program and the entire community safe. 
Frost used Martinez's situation as an example. 
"He had a flight scheduled to go through LAX and per recommendations from (the University of Nebraska Medical Center), they had us fly him through a different airport that was less of a hot spot at the time," the third-year Nebraska coach said. 
Added Lambrecht, "Even when players got back into the state, we were trying to coach them up to get off the airplane and head straight to the car, and wear a mask while you're on the plane. And try to get directly from the plane to the car that's picking you up with incredibly limited contact with any people. To try to not even use the restroom after your flight ..." 
You get the idea. Although Frost's program has been aggressive in its approach to players training voluntarily through the pandemic — Nebraska has certainly been one of the most aggressive programs in the nation in that regard — he emphasizes school officials' concern for safety every step of the way.
"We want Nebraskans, No. 1, to feel like we did all this in a safe way," Frost said. "If I was in a college town where they brought the whole football team back and there was 20 or 30 kids positive, I'd be a little upset that maybe you were bringing (the coronavirus) to my community from other places."
Frost also emphasizes the support he's received from top NU administrators, most notably President Ted Carter and UNL Chancellor Ronnie Green, as well as expertise from UNMC doctors Steven Hinrichs and Scott Koepsell and Husker head football trainer Mark Mayer.
"Scott Koepsell, he can have my tickets for as many games as he wants for the rest of my career for the sacrifice they've made," Frost said. 
In order to get initial COVID-19 tests done properly — Nebraska's testing began April 3 — UNMC essentially made NU football a case study as its players were crossing borders into the state. 
"We had to go to an institutional review board to make sure the study was OK'd," said Frost, who noted that the Huskers weren't using test kits that were unavailable to citizens.
Frost said his staff early in the process stopped many players from returning to Lincoln because protocols weren't fully in place, which would potentially have put players and the community at risk. Several factors had to be considered. For instance: players were encouraged to drive back to Lincoln whenever possible. But that's just the start of it. 
"We did not want any kid coming back from out of state or a hot spot to have contact with any Nebraskans before they got to Lincoln and we were able to quarantine them," Frost said.  
The coach took it a step further: Players driving back to Lincoln from out of state were given strict orders to not stop anywhere once they crossed the border into Nebraska. 
"We made sure they filled up with gas before they hit the border," Frost said.
When a player arrived at the airport, he was picked up in a limousine with a divider so there was no contact with even the driver. The player was taken straight to a dormitory on campus that served as a quarantine spot. The player was given a room number, and a key was taped to the door.
Per UNMC counsel, Frost said, the player would spend 48 to 72 hours in quarantine before being tested. Then, the player went back into quarantine until the results came back. If a player tested negative, he could come out of quarantine.
"Once we got them cleared, we made kids show up (to the stadium) in masks and stay apart," Frost said. "They were screened with questions to make sure there were no symptoms. Temperatures were taken every morning. So if there were any temperature spikes or if we flagged them on the screening, they were immediately sent home. A determination was made whether they needed to be re-tested or not. 
"Once they were in the football complex, we kind of locked down the building so nobody was in here except football (players and staff) during the height of all this." 
He said Nebraska initially lifted weights in groups of eight to adhere to local guidelines of no more than 10 people in a room. Weight equipment was sanitized after each use by a player. Frost said head strength coach Zach Duval and his staff's work hours increased dramatically because only the small groups could operate throughout the day. 
Food and other supplies — everything from Gatorade to disinfectant to toothpaste — were delivered to players in quarantine, most of it by Andrew Sims, Nebraska associate director of football operations. The longest quarantine, Lambrecht noted, was 27 days, involving a player who tested positive upon arrival.
Frost gave credit to a slew of people at NU for putting the football program several weeks ahead of the curve in dealing with the pandemic. 
"We worried about who's rooming with who and when kids were coming back," Frost said. "It's been a mountain of an effort that has gone into bringing our team back as safely as any team in the country has brought back players." 
Nebraska has tested roughly 250 athletes and staff since April, Frost said, and there have been eight positive tests, including five football players and one football staff member. By comparison, Clemson announced Friday that 14 football players tested positive over the past week, bringing the total number of cases on the team over the past month to 37, or roughly one-third of the roster.
Texas Tech on Friday reported 23 positive tests among football athletes and staff, with all but two having since recovered with no hospitalizations required. Before that, Kansas State suspended voluntary workouts for 14 days after 14 players tested positive.
Meanwhile, Martinez and his teammates push forward in voluntary workouts. Lambrecht mentioned some other "core guys" on the team beside Martinez who were in Lincoln training since early April. That group included Brenden Jaimes, Will Honas, Matt Farniok and Cameron Jurgens. 
"I'll tell you in the big picture, our kids just want to go about their life," Frost said. "I would say if you're painting it with a broad brush, you'd say our players are not afraid of this (virus). They just want to work out and practice and play football." 
That said, Frost is mindful of his players with "risk factors," such as those with asthma. 
"We need to be very attentive to their needs," he said. "We even have older staff members. We need to be very attentive to their needs."