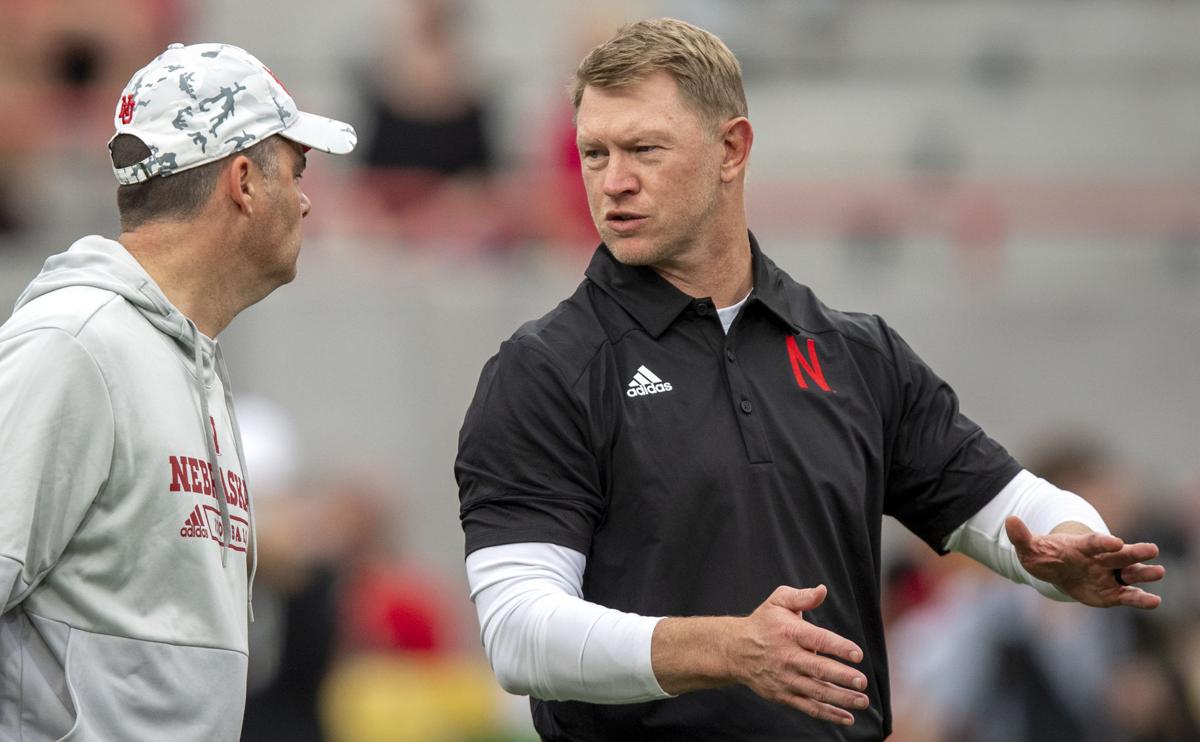 Nebraska football coach Scott Frost and athletic director Trev Alberts joined former Husker linebacker Will Compton on his popular podcast, "Bussin' with the Boys," on Friday afternoon before NU's 32-29 loss to Michigan at Memorial Stadium.
Compton had the bus that his podcast is recorded in towed from Nashville to Lincoln at the last minute to record the show there and, in addition to some barbs about the lack of air conditioning on a warm Friday afternoon and whether Compton could play special teams for the Huskers against UM, there were a couple of interesting nuggets from Frost and Alberts.
The podcast, published Wednesday but recorded before the loss to the Wolverines, included Frost talking about the mentality he wanted his team to play with for the remainder of the 2021 season.
"You know what we did last week? Because there's been some things that have happened to us that you can't even anticipate them happening. It's just, it's been, 'How the heck did that happen?'" Frost said, in reference to mistakes his team has made. "What we did last week is just trying a new tack with them. I talked to the team about, for three years we've been fixing this and fixing this and fixing this and fixing this. And that's all fine, except then you're focusing on the problems. I don't want us focusing on the problems anymore. So I asked them, what do you do when you're playing Madden with somebody and it's 21-0?
"You hit reset. So I told the guys, let's hit reset. I asked the O-line, how many times have we false-started this year? They said, 'Too many, coach.' I said, 'No, zero. It's not a problem.'
"I want them to stop focusing on the problems and I want them to start focusing on what they need to do to win the game. They came out and played well last week, so we're hitting reset again. We haven't given up any flea flickers, we haven't missed any PATs. It's not a problem, and we'll go get our job done."
Nebraska, of course, lost to the Wolverines after junior quarterback Adrian Martinez lost a fumble with 1 minute, 45 seconds remaining deep in NU territory, which set up Jake Moody's game-winning field goal with 1:24 to go.
Frost also said he and Alberts had talked about being hard on a team when it's having success and showing love to it when it fails. Alberts recalled working alongside former UNO hockey coach Dean Blais, who took that sort of approach.
"I'd go into the locker room and we'd just won 5-1 against a team we weren't supposed to beat, against North Dakota … and Dean would walk in there and just rip the team," Alberts said. "And I was so confused, like, 'How in the world is he mad? We just won 5-1 and it was the best game we ever played.' He'd walk out and wink at me, 'I don't want them comfortable.' There'd be times where we'd look so bad. We couldn't skate with a puck at our feet and we'd lose 7-1 and he'd go tell them, 'Boys, we're close.'
"That was some wonderful — it's a little psychology to it. As a player, there isn't a single player that wants to make mistakes, that wants to get beat, so if you're not careful, especially in a state where it's so important, the magnitude of the sort of attention and negativity can just overwhelm your program."