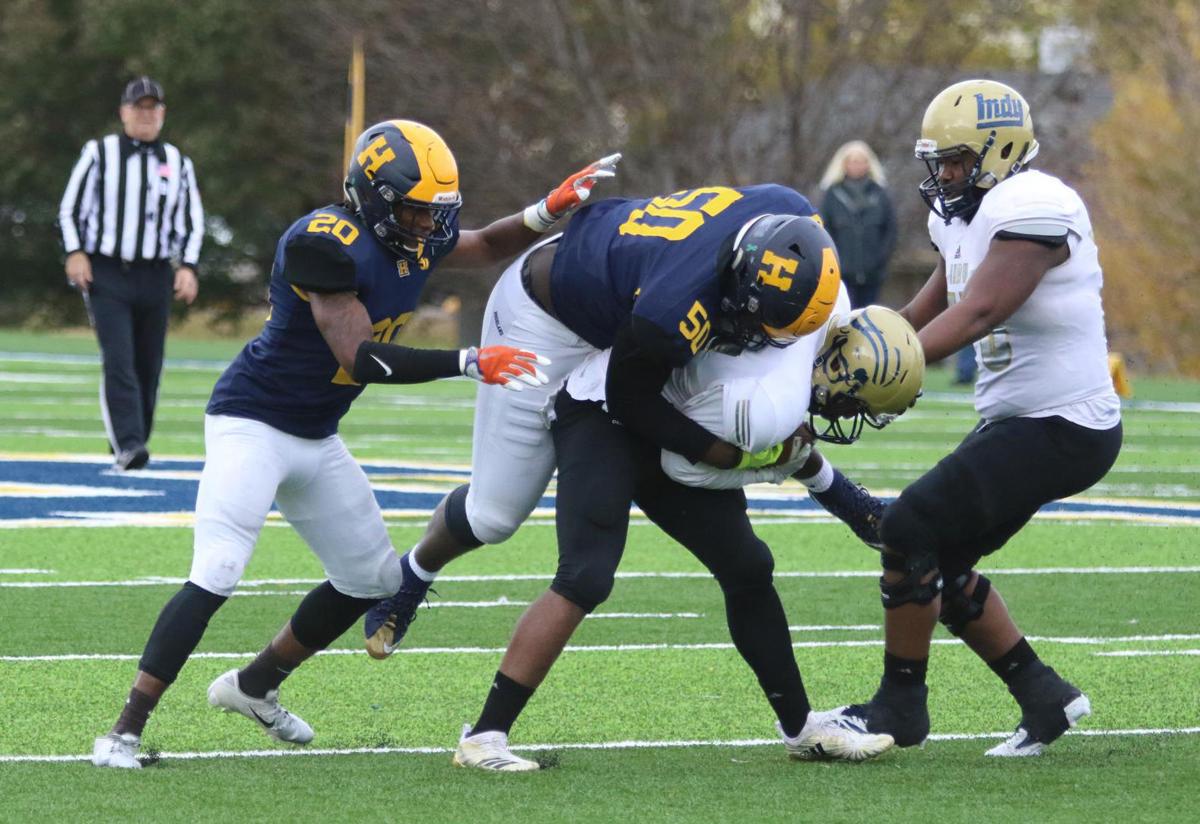 Jahkeem Green makes a good first impression physically. 
The junior college defensive lineman arrived in Lincoln on Sunday and signed his tender, officially becoming a member of the Nebraska football team in the process. He hasn't been cleared for practice as of Tuesday at about 11 a.m. — that process involves passing medical and conditioning testing — but he's already getting to know some of his teammates. 
"That's a big dude. A big, stout dude," senior inside linebacker Mohamed Barry said. "I'm going to call him The Triplet. He's like another Davis twin. He's a good dude."
Green played the past two years at Highland (Kansas) Community College and is originally from Sumter, South Carolina. He likely would have ended up in the SEC if not for a quirky academic rule that prevented him from qualifying academically in that league. 
Now officially part of the NU program, Tuesday was the first day coaches and teammates could talk publicly about the 6-foot-5, 300-plus-pounder. 
"I'm sure he'll challenge for a starting role," defensive coordinator Erik Chinander said. "Just because he got here late doesn't mean he can't be in that thing. He's got to earn it, just like everybody does. But he's definitely depth, definitely an inside guy that gives us some pass rush and some help against the run, I think, is where his value's at." 
You have free articles remaining.
Green could potentially be added to the 110-man camp roster on Wednesday, but it could also take slightly longer than that to get all of the clearances needed to start practicing. Once he does, the Huskers have a plan for how to get him up to speed. 
"Once he can get with us we're going to try and use as much time as we can," defensive line coach Tony Tuioti said. "Obviously right now it's to our advantage because we're not restricted by the 20-hour rule, so this is a great opportunity for him to try and catch up as much as he can and close the gap on the guys. The first thing is to get himself in shape, but then he's got to learn the playbook and the technique. He's got a lot of work to do to catch up. There is a lot of practices that he's missed.
"But we've got everything in place to try and help him close the gap so he can help us, because he's definitely big and he's athletic. He's someone we can definitely use."
Green considered Texas Tech late and visited there in late-June, but Chinander said the NU staff felt confident the whole way through his recruitment. 
"He was great through the whole process and I know Coach (Ryan) Held and Coach Tui and myself and Coach (Scott) Frost were on him pretty hard, so we felt good the whole way," Chinander said. "But that's all it was was feeling good." 
Not any longer. Now the only questions remaining are how fast Green can get cleared and how much of a push he can make in the 2½ weeks before NU's season opener.