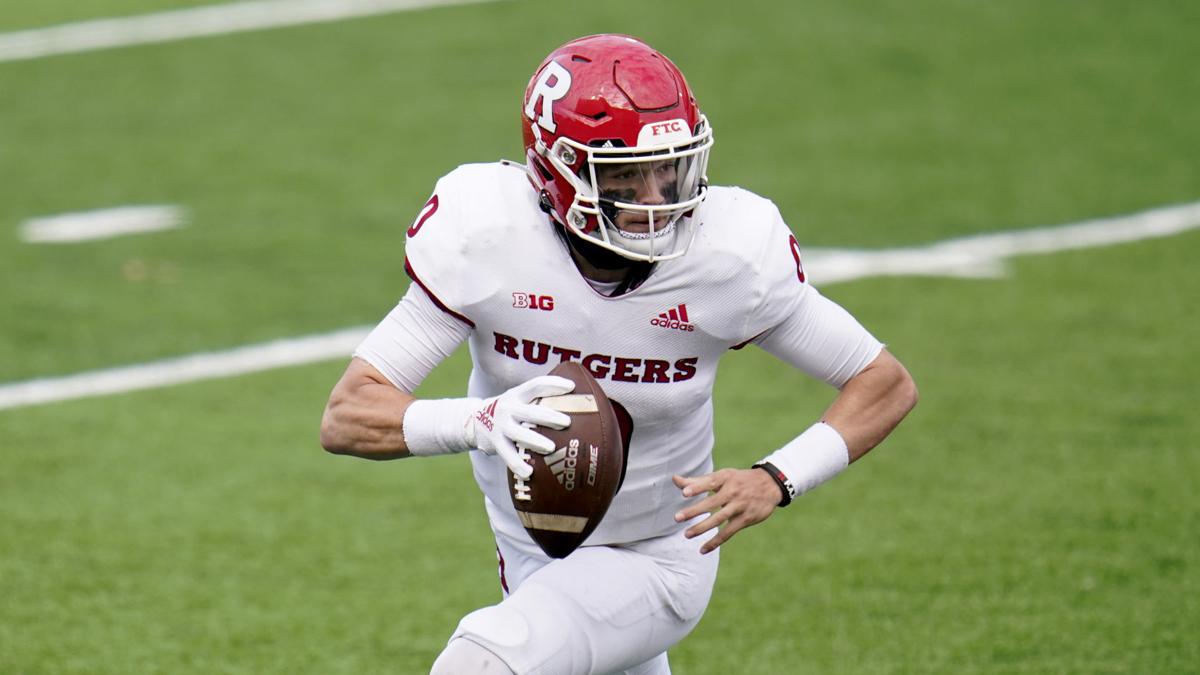 In a year of oddities and strange twists, this one is near the top in the Nebraska sports bubble.
The last time we saw Noah Vedral in a Husker uniform was not in a football game.
Helping the shorthanded basketball team, Vedral popped off the bench late in the game, slipped off his warmup and played three minutes on the hardwood.
The next time Husker fans get a good look at the Bishop Neumann graduate will be on a frigid field in Piscataway, New Jersey. If healthy — and that's a big if — Vedral will take the field in a No. 0 Rutgers uniform when the Scarlet Knights host the Huskers at 6:30 p.m. on Big Ten Network.
"Hopefully we're going to see Noah there and reconnect with him a little bit," Husker junior tight end Austin Allen said.
Allen and Vedral are best friends. They were obviously teammates at Nebraska. They were also teammates for the Nebraska Bison club basketball team in high school.
"I mean, just because he went to another school, it's not like I'm going to just completely put him off to the side," Allen said. "We chat football all the time."
Vedral and Allen will reunite Friday, but how remains to be seen.
The 6-foot-1, 195-pound Vedral was injured during Saturday's 27-24 overtime win against Maryland when the Terrapins' Ami Finau appeared to intentionally twist Vedral's left ankle on a third-quarter tackle. Vedral did not play the rest of the contest and was on crutches as his team pulled out the win.
Scarlet Knights coach Greg Schiano said Vedral's availability for Friday will be determined later in the week.
"He is working his tail off with treatment and everything else," Schiano said of the Wahoo native.
Vedral has strong ties to Nebraska. His father, Mike, and his uncles played for the Huskers. But Schiano believes the quarterback will handle the scene well.
"I'm sure there'll be emotion," Schiano told reporters Monday. "Like all of us, he's got pride. He wants to play against his state school back where he lives and one that he played. But Noah's uniquely mature for his age. He's beyond his years.
"My bigger concern is can we get him healthy enough to play on (Friday)? That's what we're hard at work on right now."
Vedral, who spent two seasons at Nebraska before moving to Rutgers as a graduate transfer, is 136-of-221 (61.5%) for 1,272 yards (which ranks fifth in the Big Ten) and nine touchdowns this year. He completed a season-best 29 passes for 381 yards against Michigan.
"I've been able to watch (him) a little because we've had common opponents, and I've got to watch a couple games," NU coach Scott Frost said. "He looks like the player we thought he was when we recruited him and knew he was when he was here."
Vedral started the Scarlet Knights' first five games before missing the Purdue game because of injury. He returned to make starts against Penn State and Maryland. Vedral was 8-of-18 for 36 yards and sacked three times against the Terrapins, though he did have success with his legs.
Between 2016-19, Rutgers ranked 122nd, 125th, 124th and 121st nationally in passing offense. With Vedral under center, the Scarlet Knights are 82nd in passing yards this year.
A year ago, Nebraska linebacker Garrett Nelson was competing against Vedral in practice, which makes this week's meeting "a little trippy," the sophomore says.
But, "It'll be fun," Nelson added. "We're preparing just like any other week and preparing to get after him and get him to third downs and see if we can't get him on the ground."
If Vedral can't go, Rutgers will likely go with Artur Sitkowski, who helped Rutgers rally against Maryland, and has starting experience.