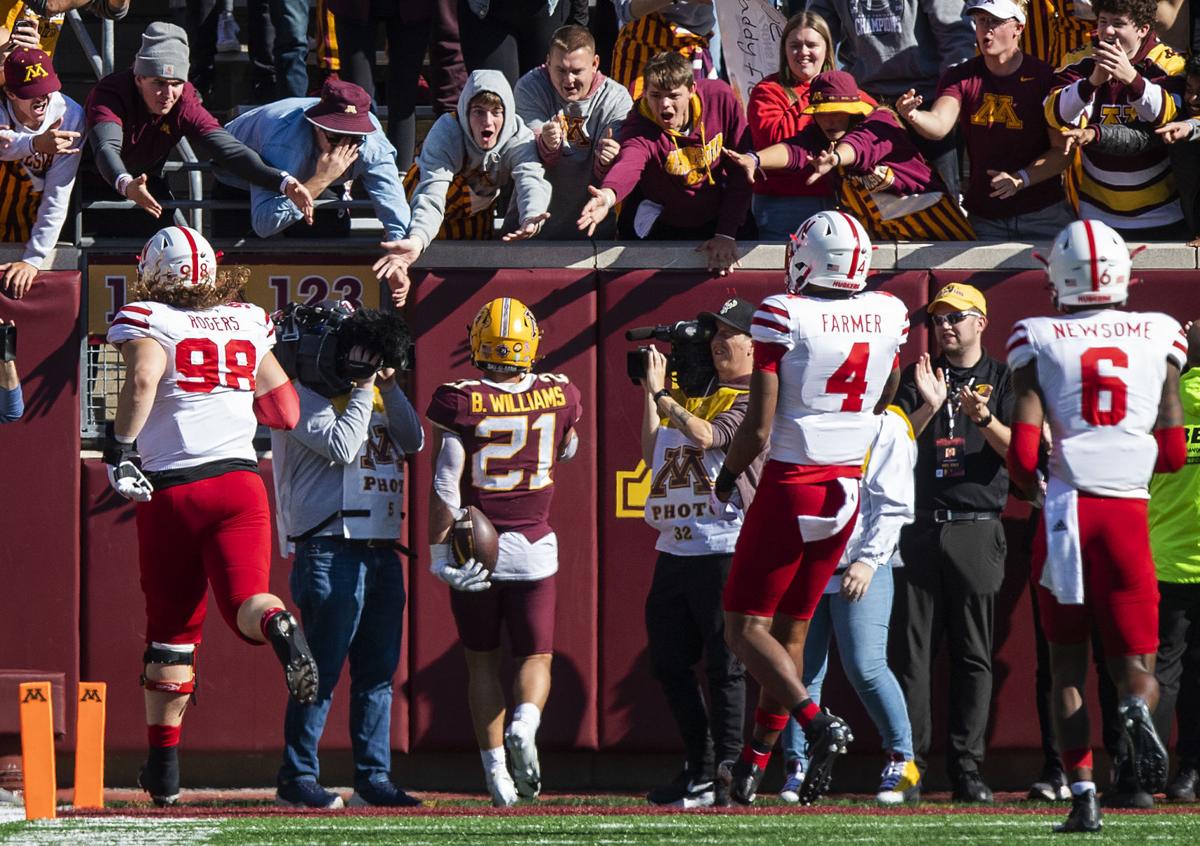 From Huntington Bank Stadium in Minneapolis, Parker Gabriel and Chris Basnett discuss the Ne…
Ohio State didn't play a game last week. But an Iowa loss to Purdue has the Buckeyes back on top. As for the Huskers, they take a tumble.
1. Ohio State (5-1, 3-0)
Previous: 2. Last week: Bye.
The top spot finally changes hands. The Buckeyes ascend to the top of the heap for now, but they'll have to earn it to stay there. This is based, essentially, on the fact that OSU has been playing the best over the past few weeks. Ryan Day's team comes off a bye week and visits Indiana on Saturday before a big one at home vs. Penn State on Oct. 30.
2. Michigan (6-0, 3-0)
The Wolverines had a bye week and now will host Northwestern before a big in-state showdown with Michigan State on Oct. 30. Jim Harbaugh's team is right where it wants to be at the halfway point of the season. Now, can UM make a run at the East title? MSU, Penn State and the Buckeyes are on the second half of the schedule.
3. Michigan State (7-0, 4-0)
Previous: 4. LW: W 20-15 at Indiana.
The Spartans trailed reeling Indiana at halftime, but squeezed out 10 third-quarter points and forced three turnovers to overcome a lackluster rushing outing (100 yards on 35 carries) and two giveaways of their own. Mel Tucker's team will have to play better to win the East, but it held serve and is putting together the most surprising season in the Big Ten so far in 2021. Impressive. They've got a bye week before hosting Michigan on Oct. 30.
4. Iowa (6-1, 3-1)
Previous: 1. LW: L 24-7 vs. Purdue.
Woof. The Hawkeyes rose all the way to No. 2 in the Associated Press poll last week and then lost at home to Purdue. Iowa's defense had been a turnover-creating machine, but forced just one against the Boilermakers while its offense gave the ball away four times. UI had just 271 yards of offense (76 rushing on 30 carries) and gave up 464 to Purdue. Kirk Ferentz's program will not miss Purdue receiver David Bell when he heads for the NFL.
5. Penn State (5-1, 2-1)
The loss to Iowa — especially considering the way PSU controlled the game before Sean Clifford was injured — is going to continue to stick in the Nittany Lions' craw for a while. They'll have to run the table through MSU, Michigan and Ohio State down the stretch in order to win the East. It starts Saturday vs. Illinois, and then James Franklin's team heads to Ohio State.
6. Minnesota (4-2, 2-1)
Previous: 6. LW: W 30-23 vs. Nebraska.
The Gophers held serve in the West by knocking off Nebraska at home. They started fast and held on despite playing poorly offensively after halftime. Tanner Morgan completed a school-record 16 straight passes, then launched back-to-back interceptions. Still, P.J. Fleck's team is right in the mix in the West at 2-1 and has Maryland, Northwestern and Illinois the next three weeks.
7. Purdue (4-2, 2-1)
Previous: 8. LW: W 24-7 at Iowa.
What an impressive win for Jeff Brohm's program. The Boilermakers rolled up 464 yards against the vaunted Iowa defense. Aidan O'Connell finished 30-of-40 for 375 yards and a pair of touchdowns. Star receiver David Bell? He went 11 catches for 240 yards. That'll work. Just as impressive is the work Purdue did defensively. Another stiff test is waiting this weekend when the Boilermakers host Wisconsin. Then they travel to Nebraska.
8. Wisconsin (3-3, 1-2)
Previous: 10. LW: W 20-14 vs. Army.
The Badgers wrapped up nonconference play with a tough, if not pretty, victory over Army. The UW defense is stingy and handled the triple option well, but Paul Chryst's offense is still struggling. Hanging around in the West is still possible for UW, but not if the Badgers don't find a way to score more points. The Badgers visit Purdue on Saturday and then host Iowa.
9. Maryland (4-2, 1-2)
The Terps had an off week after back-to-back blowout losses. The slate gets no easier from here. Mike Locksley's team faces Indiana this weekend and then Penn State, Michigan State and Michigan. Look out.
10. Indiana (2-4, 0-3)
Previous: 7. LW: L 20-15 vs. Michigan State.
The Hoosiers had chances but faltered in the second half against the Spartans. It's been a tough year in Bloomington. Jack Tuttle played quarterback and had just 188 yards on 52 passing attempts to go along with a pair of interceptions. Now the Hoosiers host the Buckeyes on Saturday before a trip to Maryland.
11. Illinois (2-5, 1-3)
The Illini return off a bye week by having to face Penn State. Welcome back.
12. Nebraska (3-5, 1-4)
Previous: 9. LW: L 30-23 at Minnesota.
The Huskers had four chances to take the lead in the second half against Minnesota and turned the ball over on downs twice, took a safety and missed a field goal. That about sums up the fall so far in Lincoln: Copious opportunity and precious little capitalization. NU has two off weeks upcoming, including this weekend. Then they host Purdue and Ohio State (Nov. 6) before a second bye.
13. Northwestern (3-3, 1-2)
Previous: 14. LW: W 21-7 vs. Rutgers.
The Wildcats are on the board after victory at home against Rutgers. Ryan Hilinski was 18-of-33 for 267 and a pair of touchdowns and Northwestern held Rutgers to 63 rushing yards on 34 attempts. It'll get tougher from here, as Pat Fitzgerald's team faces Michigan, Minnesota and Iowa the next three weeks.
14. Rutgers (3-4, 0-4)
Previous: 12. LW: L 21-7 at Northwestern.
Rutgers got off to a promising start in nonconference play, but the Big Ten slate has been a different story altogether. The Scarlet Knights mustered just 13 first downs against Northwestern, rushed for 63 yards and had 11 penalties for 90 yards. They're off this weekend before traveling to Illinois on Oct. 30.