For all of its talent, the Nebraska defense hadn't always shown it on the field this season.
The yardage totals said it all — 528 yards surrendered against Northwestern, 306 against North Dakota, 642 against Georgia Southern and 580 yards allowed to Oklahoma.
The Huskers allowed a different yardage total on Saturday, and this one was under 300 — 290, to be precise.
"I thought our defense played really, really good compared to the last couple weeks," linebacker Luke Reimer said. "I think that was a testament to all of us really honing in after that bye week to get the calls in, get our feet set and play football."
Impressively, it came against an Indiana offense that entered the game ranked second nationally in plays per game (94.3). Starting quarterback Connor Bazelak also had the most passing attempts of any quarterback in the nation before facing Nebraska.
Because the Hoosiers are far more pass-happy than the rest of the Big Ten, Nebraska matched Indiana's passing looks with its own personnel packages. Inside linebackers Reimer and Nick Henrich played 51 snaps apiece, while nickel Isaac Gifford saw 63 snaps as a result of Indiana's passing attack. Gifford tied for the team lead with five tackles, and two of those went for a loss.
Nebraska was certainly aided by the fact that Indiana's top two wide receivers, Cam Camper and DJ Matthews, both did not play in the game. The Hoosiers managed three completions of 20 yards or more, but an inefficient 22-of-44 passing performance from Bazelak represented a job well done from the NU secondary.
"We were just so worried about coming into this game and dominating in every cylinder," Quinton Newsome said. "It feels great to be able to play at that level; we know we're capable of it and it's an amazing feeling."
Because Indiana often spread the field with just five down linemen, and often a running back to help pass protect, Nebraska's four-man rush had much more success than it had all season.
The Huskers entered the game having recorded just four sacks in four games, but they dropped Bazelak three times in the win (two from Garrett Nelson, one from Ty Robinson). Nebraska recorded six quarterback hurries that limited Bazelak's time in the pocket, and helped NU's secondary stick with the Hoosier wideouts.
"Just having that front seven rush the quarterback (allows) us to make plays on the backend," Newsome said. "It's just great when it all comes together and you see how good it can be."
And as a whole, Nebraska's defensive line managed to slow down the run game in a way it hadn't all season. Nebraska entered the game with the fifth-worst run defense nationally that was allowing 233.5 rush yards per game. Moreover, Nebraska allowed its opponents to out-gain their season rushing average by 84.8 yards over its first four games, a trend it reversed on Saturday.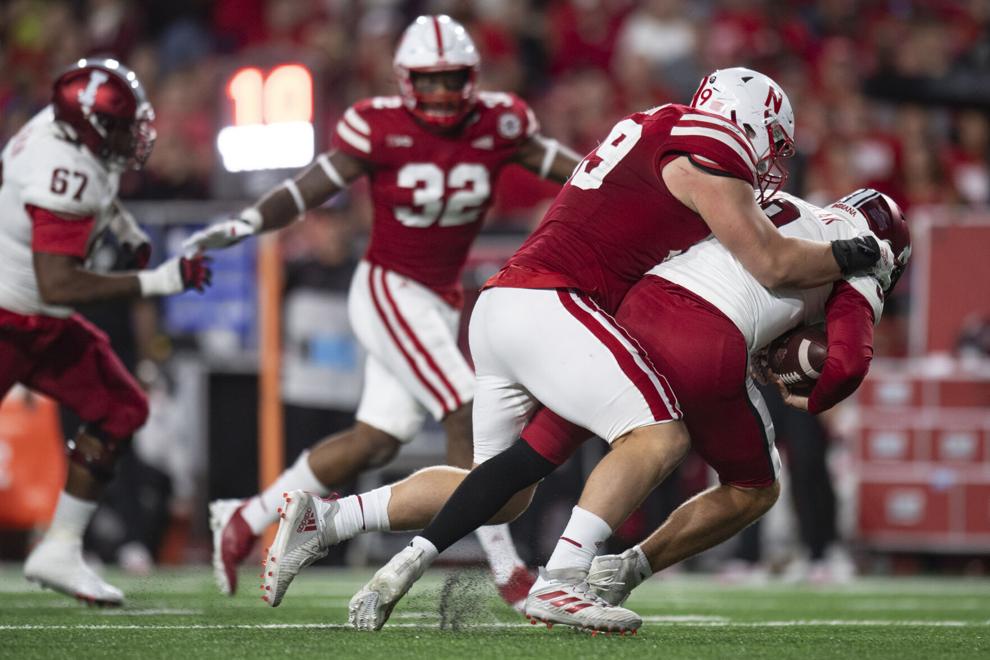 The Hoosiers had averaged 114.8 rushing yards per game but only managed 67 yards on 23 carries, a figure that would be even more dismal without Jaylin Lucas' game-long 34-yard run. One notable change that helped Nebraska's run defense was an aggressive approach from the team's linebackers in filling gaps, rather than waiting for the running back to choose a hole.
The big-time defensive performance was a result of the changes defensive coordinator Bill Busch instituted over the past two weeks. No defensive lineman played more than 48 of the 70 available snaps as NU rotated heavily up front, and freshman Malcolm Hartzog also had a standout performance in his first collegiate start.
Busch also placed an emphasis on getting the defensive calls in quickly so Nebraska's defenders could simply get their feet set and read the offense. That approach appeared to pay off as NU's pre-snap communication was hardly as frenzied as it'd been in past weeks.
"I would give a lot of the praise to him (Busch), because obviously, he was in the same kind of situation with Mickey. He was brought in here for a different spot and got a bigger spot and bigger responsibilities, and he's flourishing in that role and doing a really good job," Nelson said. "I give it up for my teammates just sticking with us, sticking with each other and sticking with me as a captain."
After Indiana scored a pair of second-quarter touchdowns to tie the game 21-21 at halftime, the Husker defense responded with a dominant second-half performance. Nebraska didn't allow a single point after the break, forcing five Indiana punts and two turnovers instead.
And perhaps most impressively, Nebraska remained resolute on third downs. The Husker defense had allowed its opponents to convert 52.5% of their third-down chances over its first four games, but Indiana went just 2-for-15 (13.3%) on Saturday.
"They were 2-of-15 on third-down conversions, so that means the defense was getting off the field," interim head coach Mickey Joseph said. "They were fired up and they played lights-out."
Tougher games against more talented offenses remain on Nebraska's schedule, but the Huskers head into a date with Rutgers next week with some added momentum on their side.
That's certainly the case on defense, where the Huskers will be eager to replicate a season-best performance.
"Last year we lost every close game we had and then Northwestern as well, it just seemed like a mountain we couldn't climb," Reimer said. "Today was just a huge morale-booster where we can win those close games."