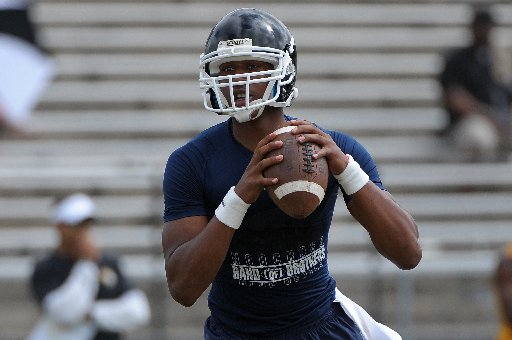 AJ Bush is already eager. Then he turns on the tube, sometimes the Big Ten Network, which sometimes shows a feature about Nebraska's 1994 national championship season.
And then … he's pretty much bouncing off walls.
"I've watched that thing about three times," he says of BTN's profile on the '94 Huskers.
"Oh, yeah, it does, for real."
Not that the Husker quarterback signee from Norcross, Ga., needs much more to hype him up for the journey ahead. As he'll tell you, the first week of June can't come soon enough. That's when he'll arrive in Lincoln before his report date of June 9.
The quarterback position is already heavy with guys anxious to be the man of prominence: Tommy Armstrong, Johnny Stanton, Ryker Fyfe, Zack Darlington. Better add Bush's name to that group. He'll arrive later to the party but with serious intentions nonetheless.
"I'm coming full head of steam, I definitely didn't choose Nebraska to come sit," he says. "I'm not going to back down from competition. I have confidence in my skill set and I've been working hard on the plays. I feel like I got a shot. Coaches tell me I got a shot. So it's something to look forward to. I plan on making a big impact, honestly."
The 6-foot-3, 210-pound quarterback came late to Nebraska in the 2014 recruiting class, joining Darlington in the QB club when he committed on the weekend just before signing day.
Already upon his commitment Bush was plotting big things in regards to his future in Lincoln.
"I got a lot of success winning, and I've felt losing," Bush told the Journal Star then. "I know how it feels, and I honestly just want to bring Nebraska 'W's.' I feel like they deserve it. I feel like I deserve it."
It was a whirlwind then, the Huskers courting late, and Bush quickly deciding to visit, then putting up his hand on that visit.
He was all-in immediately.
Bush began doing all the research he could on his new school, whether it was watching BTN documentaries on the Huskers or doing Internet detective work.
"I was just looking at former quarterbacks before me, just the history and tradition that Nebraska has," he says. "I learned a lot."
He's been communicating here and there with other members of the 2014 class, including linebacker Jaevon Walton out of New Orleans and his future roommate, cornerback Chris Jones.
As for how much he communicates with offensive coordinator Tim Beck? The answer is often.
Beck traveled down to meet him on Mother's Day. There was no steak dinner involved. They filled up instead on football talk, going through specifics of Nebraska's offense.
The quarterback will come to Lincoln already knowing about winning championships. After transferring to Norcross just before his senior year, the fourth high school he attended, he led the school to a state title in the highest classification of Georgia high school football. The left-hander threw for more than 2,100 yards and ran for 764, having a hand in 29 touchdowns.
He had to show some resolve along the way. His first start at Norcross? The team lost 55-0 to Booker T. Washington out of Miami opening week. Two weeks later came a 19-point loss to a cross-town rival.
Bush didn't sulk. He got better. And soon enough came that kind of moment that shows a team might just have the right stuff to be a championship team.
It was an October game. Down three. Ninety yards from the end zone. Bush led a 15-play drive, including a 12-yard pass on fourth down and a 6-yard run by him for the score with just 1:03 left for the win. After starting 1-2, Norcoss won 12 in a row.
But those are memories now. Bush is not looking at the rear-view mirror as he works out two or three times a day each week — the rare days off are Wednesdays and Saturdays — lifting weights in the morning and throwing with former teammates after school. Then there's speed work with a personal trainer.
"Man, I'm so anxious right now. It's been awhile since I've been on the field," he says. "I just can't wait to get back into football mode for good, especially at a program like Nebraska."
He knows it will be a culture adjustment when he comes from Georgia in June. Bush has been getting around town to say his final goodbyes to people.
That's the hard part. But if homesickness comes, he's guessing it will last a week or less.
"I'm going to have to get used to it regardless. Wherever I went, I was going to be pretty much 24/7 football," Bush says. "That's kind of how I looked at it. Even if I went to Georgia Tech, I would have still been dealing with football and school 24/7. Even if I were still in the state, it'd still be hard. If there is a distance thing, I'll have to get over it."
No need to check. The gas tank is full. The quarterback full on confidence and used to winning is pretty sure the fun part is just beginning.