One by one, college coaches saw Heinrich Haarberg's highlight tape and had their interest piqued.
One by one, the same coaches seemed to arrive at the same reservation regarding the class of 2021 quarterback.
Kearney Catholic head coach Rashawn Harvey grew accustomed to the predictability of it all.
Yeah, he looks great. Yeah, big vertical jump and good (trending toward really good) numbers on the track for his listed size.
But is this kid really that big? He's actually 6-foot-5? And what kind of competition does he face at the C-1 level in Nebraska?
All of those questions might have been answered this spring if not for the coronavirus pandemic. They don't particularly matter now, anyway, considering Haarberg landed an offer from Nebraska earlier this month and verbally committed less than a week later.
The same picture that made the small-school signal-caller so intriguing as his recruitment steadily picked up momentum over the past six months, though, will persist into his Cornhusker career.
Haarberg is, to borrow a phrase that sometimes comes with an unwarranted negative connotation, a project, and a fascinating one at that.
The tools
Haarberg played wide receiver on the Kearney Catholic varsity team as a freshman and, Harvey said, was often the fastest player on the field.
"We knew Day 1 he was going to be special for our program," Harvey said.
Watch: Haarberg's junior season highlights
He transitioned to quarterback ahead of his sophomore season and split starting duties, but pulled away as the season progressed. Then as a junior, he looked less like a "baby doe," — Nebraska quarterback coach Mario Verduzco's description of Haarberg's sophomore year in a conversation with him last fall — and more like a quarterback. He threw for almost 1,900 yards and 23 touchdowns against just four interceptions and ran for 458 more yards and four more scores.
Part of that rapid improvement came because Haarberg regularly treks out to the Denver area to work with former NFL quarterback Tim Jenkins, who now runs Jenkins Elite, a training operation.
"He's freakish athletic and when those types of guys start to really care, you can see a really, really special transition," Jenkins said
After all, you don't show up to just any old high school football field and find a kid that's 6-5, runs sub-11 in the 100 meters and has a 36-inch vertical leap.
"But (college coaches) would say, 'No way that kid moves that well,'" Harvey said. "Until you see him in person, you don't realize it."
When the coronavirus pandemic shut recruiting down in March, Jenkins ran Haarberg through what he called a pro day-like workout and sent the film around to some schools.
"He's a kid that, if college coaches would have come to Kearney Catholic (this spring), they would have walked in during the evaluation period, watched him throw three balls and they would have offered him," said Jenkins, who noted that about 15 colleges had plans to stop by the school before the NCAA instituted a dead period. "... Outside of athleticism, right now his strength is just purely arm talent. If you play golf, there are guys where they hit a shot and you just say, 'Well, I don't have that one.' He's that kind of kid as a passer."
The plan
Nebraska was one of those schools. Head coach Scott Frost and quarterbacks coach Mario Verduzco initially wanted to see Haarberg throw before offering him a scholarship.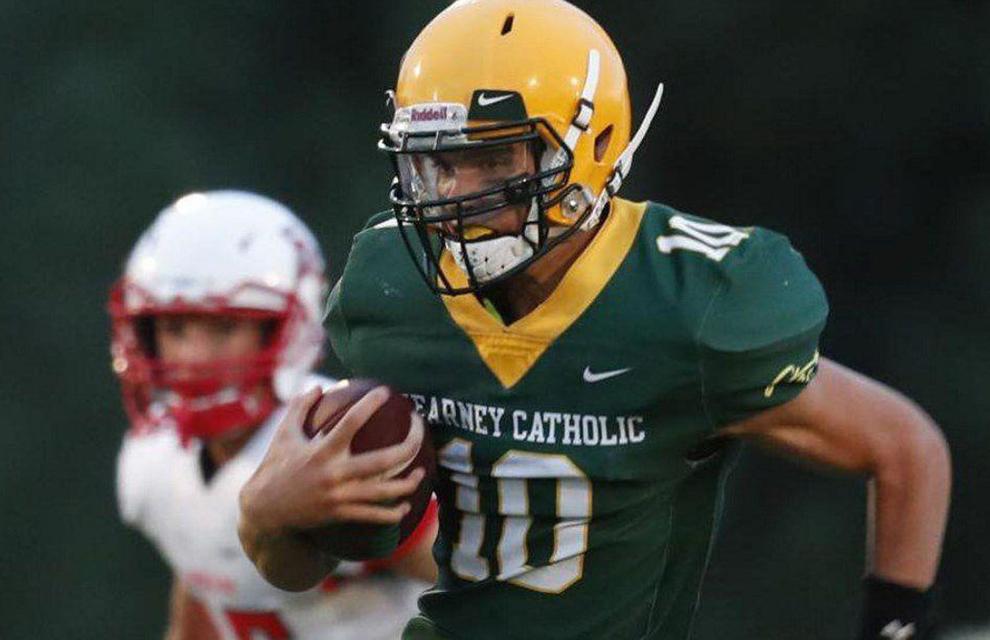 Eventually, they decided they couldn't wait and Haarberg decided the same.
"As long as they can run and they're athletic and then do the research on what kind of kid they are," Verduzco said this spring.
That broad starting point has worked out well for Verduzco in the past. He and Frost aren't afraid to bet on traits over high school polish.
"Throwing is a secondary inherent motion for us as human beings," Verduzco told the Journal Star last year. "You watch the little guys throw on a playground and you think, 'Man, they're awesome.' You see the 'cha-ching' and the whole shooting match. It looks clean. It's goofy, ... but your body just knows how to do it."
There's a good reason for that. He'll start schooling in footwork a la 'Verdu' once he arrives in Lincoln.
"(Waist) up it's pretty natural, but (waist) down it's all learned movement," Verduzco said last year.
The idea being that if you start with a player who has the requisite mental and physical capacity, then overhaul the lower body and tweak the upper body, you've got a good shot at molding the clay successfully.
The comparison
It was the fall of 2015, and Montana State was wrapping up an early-season practice on the field at Bobcat Stadium in Bozeman as an interview session wound down. Small talk circulated among a couple of players — quarterback Dakota Prukop and his favorite MSU wide receiver among them — a couple of coaches and a stray reporter or two.
The topic of conversation: The wide receiver's little brother, a little-known quarterback who offensive coordinator Tim Cramsey and the others thought should be much more sought-after than he was.
They understood the situation could change fast, but they had the family connection going, so if the big boys stayed away, they had a good shot at landing him. The receiver: Mitch Herbert. His little brother: Justin Herbert, then just beginning his senior year at Sheldon High in Eugene, Oregon, after a broken leg cut short his junior season.
The same Justin Herbert, of course, was picked No. 6 overall in the NFL Draft last month by the Los Angeles Chargers after a decorated career at Oregon. At that time, though, he had exactly zero FBS offers and was just an athletic, projectable, 6-5 prospect drawing interest, but not yet a scholarship offer, from the local power-conference school.
One of the hurdles Herbert had to clear to land the offer he coveted, according to The Oregonian: Scott Frost wanted to see him throw.
Funny enough, Frost and new NU offensive coordinator Matt Lubick both had a hand in pulling the trigger on Herbert's Oregon offer, just as both were involved with Haarberg's to Nebraska.
Frost never coached Herbert, of course, because he took the Central Florida job less than two months after Herbert committed. But Lubick saw him go from sixth to second on the depth chart and then take over the job — from grad-transfer Prukop, as fate would have it — as a freshman in 2016 and never relinquish it.
Tall, rangy, athletic, big arm. Steeped in program knowledge. Family ties. In-state. Late offer relative to other, higher-ranked recruits. An injury stunted Herbert's recruitment, location and a pandemic slowed Haarberg's. Nevada offered Herbert and maybe that prodded Oregon. Boston College offered Haarberg and maybe that prodded NU.
That could be where the comparison ends. The same is true of blue-chip talent and unheralded recruits alike: Some pan out and some don't. Some projections hit and some don't. There's also plenty of room between an evaluation ultimately being wrong and one that leads to a top-10 draft pick.
At the very least, though, Nebraska's offensive brain trust has seen this starting point before.
The latest updates from the Nebraska football recruiting trail
Campus and in-home visits are on hold due to the coronavirus pandemic. But recruiting isn't necessarily slowing down. Here's the latest from the Huskers.