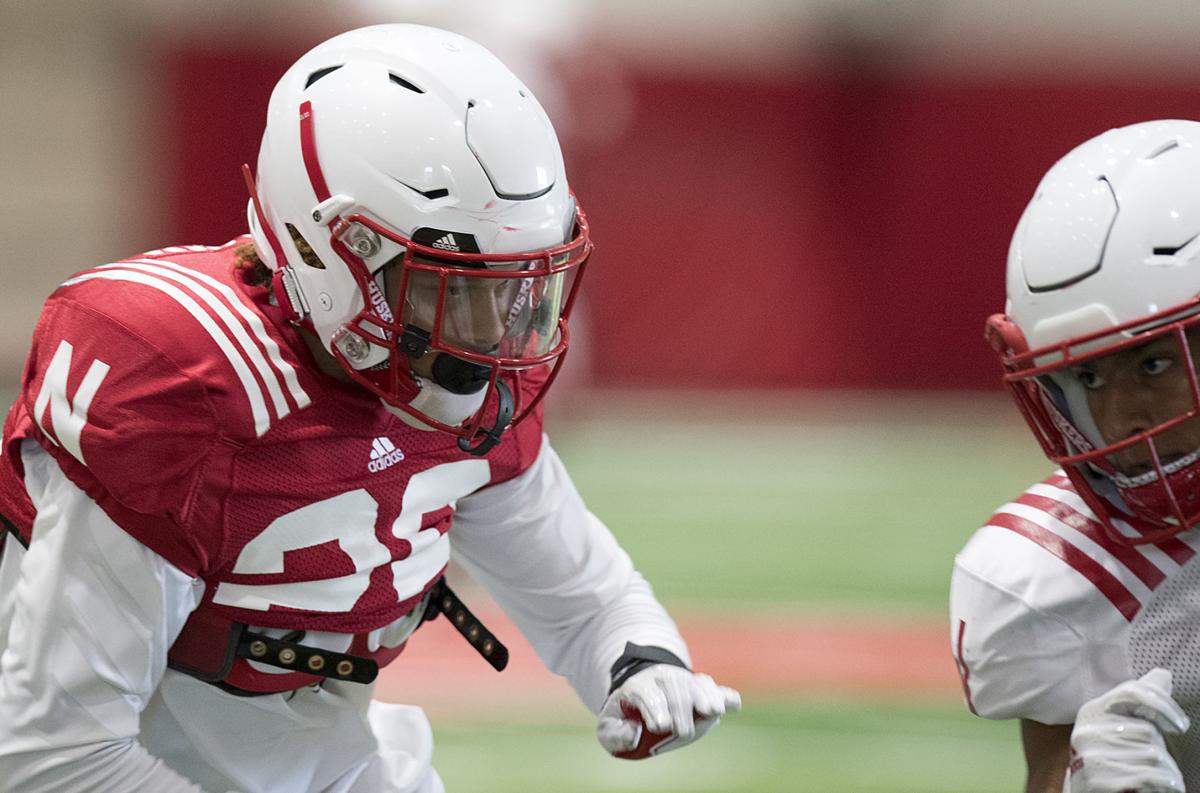 Travis Fisher is straight to the point.
He doesn't really know any other way, whether it's coaching and counseling his players or in conversations with reporters, Fisher isn't afraid to say exactly what he thinks.
So it must have been quite a shock to players like Lamar Jackson and Dicaprio Bootle, who predate the second-year secondary coach at Nebraska, when he sat them down upon arriving here with head coach Scott Frost at the end of 2017 and told them he was going out on the road to recruit players to take their jobs.
More than 18 months later, though, Jackson and Bootle are entrenched returning starters and junior Marquel Dismuke is the front-runner for a starting safety job.
Not only that, but the trio — and the rest of the Huskers' secondary room — has impressed Fisher with its collective ability to welcome a heralded quartet of freshman defensive backs, just the kind Fisher promised he was going to go out and find, to the room without feeling threatened.
Or, at least, too threatened.
"The veteran guys have accepted the younger guys right off the jump and to still be able to compete and say, 'Hey, you're not taking my spot' … that's what I'm most proud about this with group," Fisher said. "They accepted the freshmen right off the jump. They're helping them. When the freshmen are making plays out on the field, you see the older guys running out there and patting them up, giving them a 'that-a-boy.'
"That's contagious. You can't coach that. That's guys that are actually tied into each other, love each other, don't mind playing with each other and competing with each other and don't mind cheering for the other when he makes a good play."
Through the first week of preseason camp, the secondary has been causing headaches for Nebraska's offense, according to offensive coordinator Troy Walters. The group of newcomers — safeties Noa Pola-Gates and Myles Farmer and cornerbacks Quinton Newsome and Javin Wright — has made its share of plays. Fisher said that group has primarily worked on the No. 2 line.
So what do players like Bootle — a returning starter at corner, where Fisher likes to keep his starters on the field rather than rotate heavily like he prefers at safety — think when his position coach is open about the fact that he thinks all four freshmen can come in and play right away?
"I welcome it because it's more competition, and more competition is just going to get me better," Bootle said. "If they just told me, 'You've got your spot on lock,' I wouldn't come out here and practice hard. That's just the real to it. You work harder when you're working toward something and right now I'm working toward still trying to lock down that No. 1 corner spot. A lot of people might feel like I got it, a lot of people might feel like, 'Oh, he's our returning No. 1 corner, All-Big Ten corner,' this and that. No, I still have to work for it just like everybody else."
Fisher appreciated Bootle's approach and competitiveness right away, but he was open about the fact that he wasn't sure early on whether Jackson, Dismuke and others had what he was looking for. Now, though, both Bootle and Jackson are on NU's leadership council and have been entrusted by their position coach to mentor the future of the Husker secondary.
"Those guys come into a good situation," Jackson said. "We got a pretty close group. A group that works. A group that takes no days off. A group that wants to be better. A group that talks about the (NFL) and winning every day. We push each other. We want to be the best, so the young guys just see and it becomes natural. They just fall right in line. If they step out of line, instead of just me, it's four people. … We all want this."
Bootle said he thinks this is the best crop of freshman defensive backs he's seen since he arrived at Nebraska and that this secondary group is the deepest and most athletic he's been a part of. Now it's on not only Fisher but him and the other older guys in the room to bring out the best in everybody else.
It's a challenge Bootle seems to relish.
"We're teaching them the keys to be successful in this thing and in college football," he said. "Not just teaching them the keys to be successful here, but successful anywhere they go, whether it's down the street to Pickleman's to be successful there or whether it's to go to Home Depot to pick up a hammer or something. We're not just teaching them football, we're teaching them life, teaching them how to conduct themselves as young men, too."
That's made for a fast blend in Fisher's room between old and new. It almost assuredly wouldn't have been this way, though, if Pola-Gates, Farmer, Newsome and Wright hadn't done their part to earn respect and trust quickly.
"They came in here ready to roll and that's good," Bootle said. "That speaks volumes about their character and where they want to be. A lot of guys would just come in here and lollygag around and not be focused and just feel like it's their first year, they got some time to mess around a little bit. But nah, they came in here ready to work and those four guys, they all got special qualities, really special qualities."
Be the first to know
Get local news delivered to your inbox!