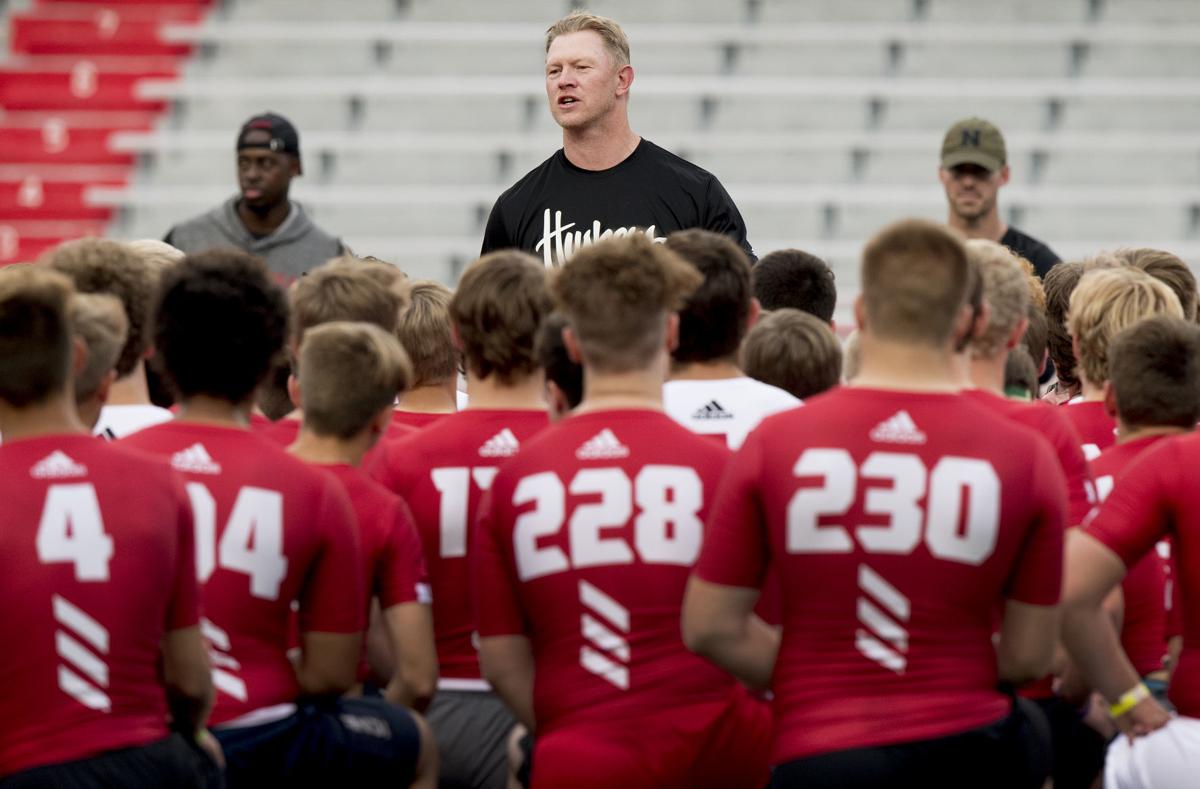 BEATRICE — Nebraska football coach Scott Frost had nothing but high praise for Beatrice native Cam Jurgens on Thursday night.
"Cam has kind of been bitten by the injury bug," Frost said while speaking at Vintage Venue for the Beatrice Rotary Club's 100th anniversary. "I don't say this about many players, but I think Cam has a chance to be one of the most special players to ever play at the University of Nebraska if we keep him healthy. He's just an unbelievable kid and a great representative of this community. I just want to get him out there on the field because he is going to help us tremendously."
Frost touched on a wide range of subjects during a nearly 30-minute talk.
The head coach said when his staff took over last year, they expected that the football program might not be in the best shape, but they discovered a few more problems than they anticipated.
"Last year was a battle — more internally than anything else," Frost said. "It was a battle to get our guys thinking the right way and doing the right things, loving each other, caring about each other, sacrificing for the team and not being selfish. It was a daily grind to get the entire mentality of the program flipped."
Frost said that transformation wouldn't have been possible if not for his assistant coaches.
"We have a formula that we know works," Frost said. "Nobody on our staff got too nervous when we started 0-4 last year. We stayed the course, and I think that was the key to getting things turned around."
Frost said he loves where the program is at right now. Just a few days ago, he watched seven of his defensive linemen squat 800-plus pounds in the weight room, which drew a rousing ovation from the Rotary Club and their guests.
You have free articles remaining.
"That's Nebraska football," Frost said. "Watching those guys in the weight room is unbelievable. We're not supposed to get pushed around by anybody else because we're Nebraska football. We're getting really close to where we're going to be big enough, fast enough and strong enough that that won't happen."
Frost also touched on a video that recently came out in which a special forces Marine put his players through a program designed to build stronger leaders. Frost has used this program during his time at Oregon and Central Florida.
"They put you in uncomfortable situations, force the leadership out of you and force you to communicate," Frost said. "They teach to you fight through a little discomfort, and it's unbelievable to watch."
Frost said when he put his team through the program a year ago, he was beside himself because it exposed how far his team had to go. That wasn't the case this year.
"They said this was one of the best groups they've ever had," Frost said. "They killed it. I don't know if that means anything to you, but watching our team bond like that, working together and holding each other to a high standard — it's a signal and a sign to me of how far we've come as a team in a short period of time and the huge opportunity we have moving forward."
Frost also touted the rejuvenation of the walk-on program, which was an integral part of Nebraska's success during its national championship years. He said Nebraska's roster will have 155 kids, which is about 30 more than the next highest in the Big Ten.
"I don't have to tell you guys how important the walk-on program was here at Nebraska," Frost said. "We're going to work with those kids like we work with any scholarship kids. I think it's going to take a couple years before you see the benefits of that. Some of those kids are going to develop into great football players, but it might take a few years. I think we might start to see some of that this year."
Preseason camp starts Aug. 1, and the season opener against South Alabama at Memorial Stadium is Aug. 31.
"I don't know how many wins and losses we're going to have," Frost said. "But I know it's going to be a lot more fun than last year. So I look forward to seeing everybody at the stadium on Saturdays. I think you're going to be proud of what you see on the field."