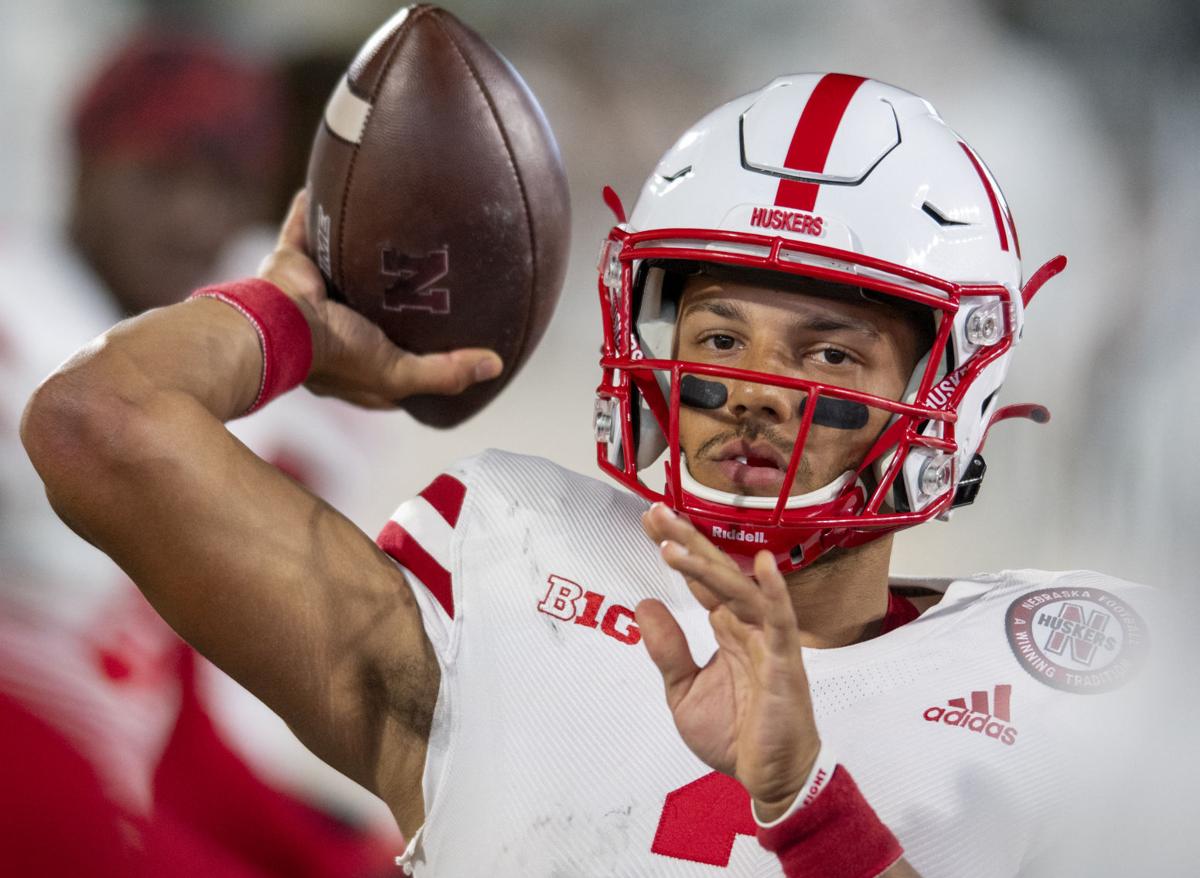 Adrian Martinez's 2021 season is over.
His career at Nebraska may be, too, though that will remain an open question at least for the immediate future.
The three-time Nebraska captain and four-year starting quarterback suffered a right shoulder injury during the first half Saturday against Wisconsin and gutted through the second half before further testing back in Lincoln determined that he would need surgery.
Coach Scott Frost confirmed the news to reporters on Monday.
"He has a shoulder injury that he's going to have to get addressed after the season," Frost said. "It happened in the first half on Saturday. He's such a tough kid. I didn't expect him to play in the second half and he said that he wanted to go. Played well, played tough. I feel terrible for him but appreciate him and we're going to be without him Friday."
The Fresno, California, native has played through myriad injuries throughout his Husker career, including this season. He dealt with a knee injury suffered in his first career start in 2018 for most of his freshman season. He had an injury to his nonthrowing shoulder in 2019. He was beat up by the time the shortened 2020 season ended, too.
The severity only increased this year when Martinez missed just a single series against Michigan State on Sept. 25 with what was eventually diagnosed as a fractured jaw. He played through that only to also suffer a high ankle sprain on Oct. 12 as the Huskers prepared for Minnesota.
Finally, the shoulder injury proved too much to overcome.
Frost said Martinez came to him just before kickoff after halftime Saturday and said he was good to go.
"He was rolling right and threw one and kind of got hit as he was throwing," Frost said. "It wasn't much of anything at all, I think he just kind of braced his hands out to catch himself. We didn't know the severity of it at halftime until we got back and examined everything. He told us he had some clicking in his shoulder and didn't know if he could throw with the same velocity that he usually threw with."
In Martinez's place, 2020 freshman Logan Smothers is the likely starter Friday against Iowa. He's already appeared in five games this season — including the series Martinez missed against the Spartans and the sequence before halftime against UW — and Frost said he'd earned the right to be the next guy up. The head coach, though, also left open the possibility that 2021 freshman Heinrich Haarberg sees some time against the Hawkeyes.
Martinez, by most metrics, played the best football of his career this year, though his interception rate crept up late in the season. He threw for a career-best 2,867 yards (61.8% completions) and averaged 9.4 yards per attempt, easily his best mark. He threw 14 touchdowns and 10 interceptions (seven in the final three games) and rushed for a team-high 512 yards and 13 more touchdowns. 
On Saturday, he racked up 374 offensive yards and became the school's all-time leader in that department at 10,792. 
"He's a warrior. It's come out about how he's been battling through stuff all season," junior tight end Austin Allen said. "He's a warrior. Can't say enough good things about him. He's the leader of this team and that's all I can say about that."
There are chapters of Martinez's football story left to be written, and perhaps they will take place here yet. Frost said Monday he didn't want to speak of Martinez as if he was no longer around. He said he was going to encourage the quarterback to take part in senior day festivities Friday, but only because he thinks Martinez deserves to be celebrated just in case he opts not to return in 2022.
"Certainly hope it's not his last (senior day), but if it is, he needs to be honored," Frost said.
With Smothers and Haarberg plus trusty walk-on Matt Masker and a 2022 verbal commitment from Richard Torres — to say nothing of the fact that the Huskers will at some point have a new or adjusted offensive system and a new quarterbacks coach in the near future — NU was almost sure to look to the transfer portal for quarterback help if Martinez decided against a fifth season in Lincoln.
Perhaps NU would have wanted competition for a healthy Martinez, too, though now Frost and company will have to enter the offseason as if they don't know when Martinez will be back to full strength.
The coach said on his radio show last week that he and Martinez had been discussing 2022 and what each was thinking about their future together for quite a while. The nature of those conversations will undoubtedly change now with the news of Martinez's injury. Frost said Monday the first thing to do is to give Martinez some time to process.
"I think he needs a little time and space," Frost said. "This has been a challenging year. We've made a lot of progress, he's played really well most of the entire year. Team's played well most of the entire year. We haven't got the results we wanted.
"I think we can talk about all those things after Iowa."
Watch now: Husker players, coaches take the podium as Iowa week begins
Watch now: Scott Frost rules Martinez out for Iowa game, touches on QB's future
Watch now: Garrett Nelson says Iowa game brings 'a little bit extra spice'
Watch now: Austin Allen says he'll participate in senior day, hasn't decided if he will return
Watch now: Levi Falck 'really grateful' for time with Huskers
Watch now: Turner Corcoran discusses a 'pretty interesting' sophomore season
Watch now: Ben Stille says there is 'hatred' in annual Nebraska-Iowa game
Watch now: Erik Chinander talks Iowa rivalry, what Blackshirts expect from Hawkeyes