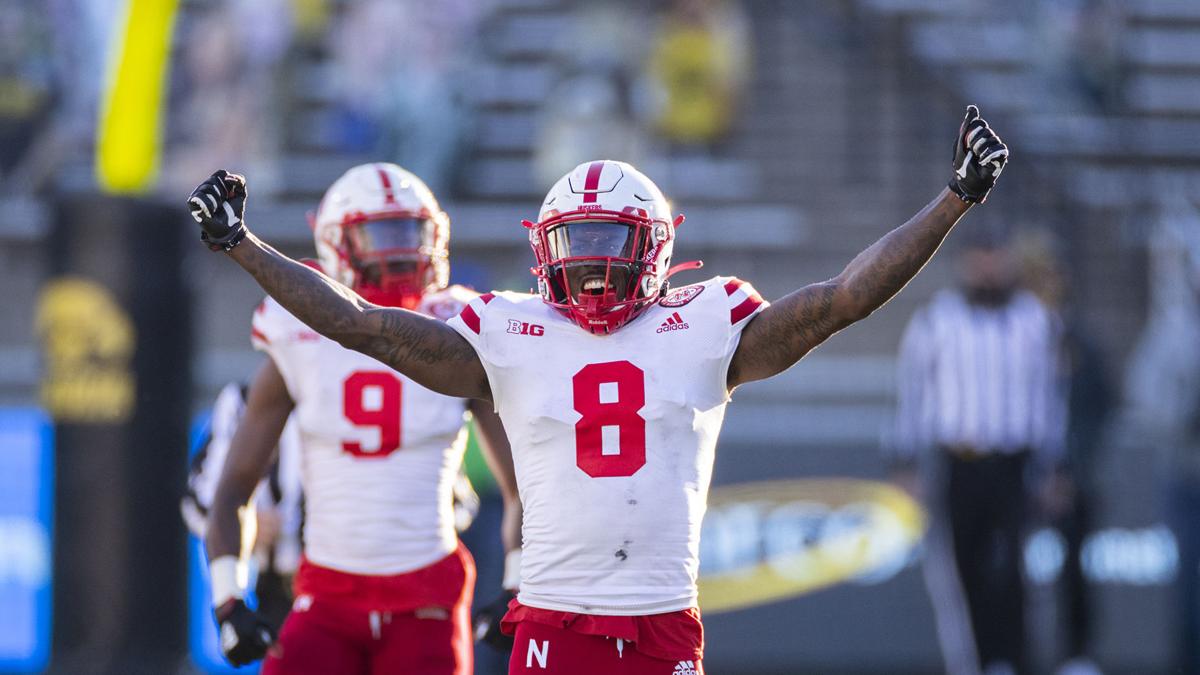 Nebraska's senior safety pair will be back together again in 2021. 
A couple of hours after Deontai Williams announced he was going to return for the 2021 season on Wednesday morning, his starting mate, Marquel Dismuke, did the same.
The duo returning for the NCAA's extra season of eligibility fortifies a position group that otherwise would have been quite young this fall and all but ensures that defensive coordinator Erik Chinander will again oversee a veteran unit in 2021. 
Williams played in all eight games for the Huskers in 2020 and made seven starts after missing nearly the entire 2019 season due to a shoulder injury.
The Jacksonville, Florida, native finished third on the team with 51 tackles and added four tackles for loss and a sack. That sack came on one of the defense's biggest plays of the season, when he stripped the ball from Penn State quarterback Sean Clifford, scooped it up and returned it for a touchdown in the first half of NU's 30-23 victory over the Nittany Lions. 
Williams has had a long and winding college career already. He was a highly thought-of recruit out of high school, but landed at Jones County (Mississippi) Junior College, where he missed the 2016 season due to injury and then played well in 2017.
He signed with Nebraska as part of coach Scott Frost's first recruiting class and was a part-time player in 2018. NU thought he was primed for a breakout season in 2019 before he suffered a shoulder injury during the season-opener against South Alabama that ended his season. 
Now, 2021 will be the 24-year-old's sixth college season. 
Husker defensive coordinator Erik Chinander said he thought Williams was coming into his own during the 2020 season, considering it was his first full-time action at the Division I level. 
"Just to see a guy that loves football lose the ability to play football because of something out of his control, then being able to rehab that injury, get his surgery, stay locked in, stay a part of the team, be a good teammate, continue to learn football and study film and then have a chance to come back this year and play well is really exciting for me," Chinander said in November. "I'm so happy for the young guy … I'm really happy for him that he gets to continue to do something he loves when it was taken away from him out of his control last year."
Dismuke started all eight games at safety for Nebraska this fall and finished fourth on the team in tackles with 47. He added four tackles for loss and four pass breakups.
The Compton, California, native earned honorable mention All-Big Ten accolades for a solid season and has started all 20 of the games NU's played the past two seasons.
Dismuke played through a neck injury in 2019, but bounced back with a mostly healthy campaign in 2020.
The 6-foot-2, 215-pounder appeared in 40 games overall in his career and will be one of the most veteran players on the Husker defense in 2021.
Dismuke earned his undergraduate degree in criminal justice in August and has been working on a master's degree since then.
Already, the Huskers have senior outside linebacker JoJo Domann and junior defensive back Cam Taylor-Britt back in the fold. 
Two more decisions remain among 2020 starters, both in the defensive front seven. They are inside linebacker Will Honas and defensive lineman Ben Stille. 
Should both decide to come back for 2021, NU would have potentially nine starters back on the defensive side of the ball. The only departures so far are senior inside linebacker Collin Miller (medically retired) and senior cornerback Dicaprio Bootle (NFL). 
NU is young at safety behind the senior pair, particularly after redshirt freshman Myles Farmer suffered a foot/ankle injury that required surgery before the Huskers' game at Purdue in early December. It's unclear exactly when Farmer will be back to full strength. Redshirt freshman Noa Pola-Gates will be in the mix for an increased role in 2021 and freshman Isaac Gifford could be in the picture, too.
Decision made: Tracking the next step for Husker football upperclassmen
With the NCAA offering seniors an extra year of eligibility, Nebraska football players have choices in front of them. Here's a comprehensive look.