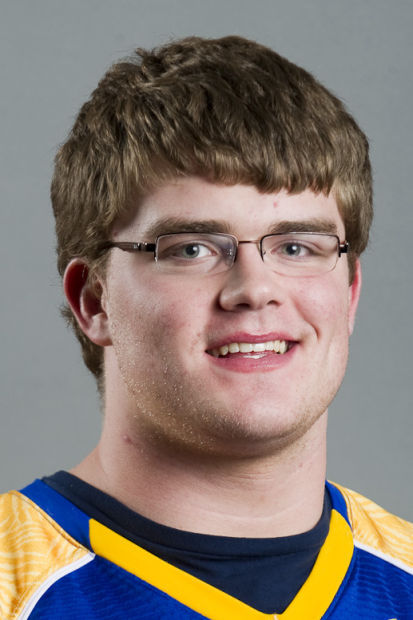 They could have waited until Saturday's spring scrimmage and been a big headline surrounding that carnival. But why?
Two kids from Omaha didn't see the point in waiting, with North guard Michael Decker and Central defensive end DaiShon Neal both committing to the Huskers during a blurry Wednesday night of recruiting activity.
The way Decker figured it, he'd already waited long enough to commit. No need for flash from a guy most comfortable working in a hard hat.
"I felt like I made my decision a while ago and was making my decision harder than it needed to be," Decker said.
The 6-foot-7, 240-pound Neal obviously felt the same, accepting an offer from the Huskers on the same night he received it, announcing his commitment on Twitter.
"He's a big kid that can run," said Central coach Jay Ball. "In the state of Nebraska you don't get too many kids who are 6-7 and can run and like football. He's all those things."
Neal has primarily worked as a defensive end for Central, but will also be used as a tight end in the season ahead.
"He improved a tremendous amount from his sophomore to junior year," Ball said. "He's gotten a lot stronger and kind of grown into himself. I only expect him to continue to improve."
After not taking a recruit out of Omaha since 2009 — fullback C.J. Zimmerer — Nebraska doubled that output in the span of two hours Wednesday night.
Decker raised his hand first. While only an hour's drive from Memorial Stadium, his recruitment was not a slam dunk for the Huskers.
Decker's family comes from Michigan, and it was the Wolverines who he really liked when he began to think of where he might go to school.
He thought about Iowa a little. Also Ohio, UCLA and Kansas State, which was the other school besides Nebraska that offered a scholarship.
But after time to process it, Decker came to a conclusion: "Nebraska was the best choice because they wanted me the most and I wanted them."
Assistant coach Barney Cotton did much of the communicating with both Neal and Decker, building a relationship that coaches from other schools couldn't match.
Decker was an important recruit to lock down, rated by Rivals.com as the No. 1 prospect overall in the state in the 2015 class.
At 6-feet-3 and 280 pounds, Decker helped pave the way for North to average more than 414 yards a game en route to a Class A state championship last November, the first football title in school history.
"He's a downhill player and very physical. He's tough and he doesn't like to lose," North coach Larry Martin said. "He competes every day, in the classroom, in practice and regardless of who we're playing."
He's also apparently good at going undercover. Decker came to Lincoln to look around the campus a couple of weeks ago without telling any coaches.
"He didn't want it to be set up," Martin said. "He just wanted to see if he fit in. His aunt took him. He had a great day."
Martin felt that Decker knew Nebraska was the place for him from the time the school first offered.
"But he's not a kid to do things without thinking about them. And he won't be looking at other places once he commits. Kansas State offered him and I think Wyoming was going to offer him tonight. He wanted to be able to compare Nebraska to someplace else and once he did that, he felt comfortable committing."
Once he committed, his phone wouldn't stop buzzing.
"Oh, my goodness gracious," Decker said, laughing at his sudden popularity.
That's what happens when a local kid says he's going to be a Husker. Decker becomes the first Husker recruit out of Omaha North since Niles Paul.
A state championship? A scholarship from NU?
"It's been awesome," Decker said. "I just now started to think about this past year I've had. I was just relaxed and living life, but now I'm kind of thinking about it all. We win a state championship, which never really happens. And now this. Awesome."