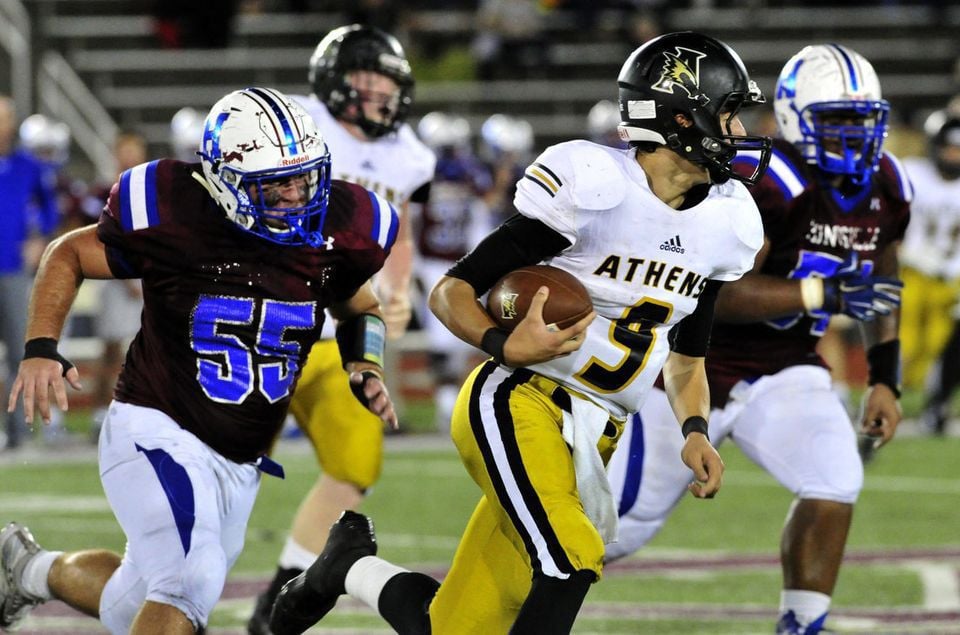 Logan Smothers was already virtually certain, but he and his family piled in the car and drove 13 hours just to be sure.
The Athens, Alabama, crew drove all the way to Lincoln for a Thursday unofficial visit, knowing full well how it would likely end.
So Smothers, a three-star quarterback, knew just what to do when he found himself with his family and head coach Scott Frost in Frost's office at the end of the visit.
"He jumped up, got excited, threw his hands in the air," Smothers told the Journal Star on Thursday night. "He just gave me a big hug."
The 6-foot-2, 180-pounder became the charter member of Nebraska's 2020 recruiting class when he gave his verbal commitment to Frost.
Then Smothers' dad, Shane, went and found quarterbacks coach Mario Verduzco, ushering him into Frost's office.
"I stood up and I looked at him and he was like, 'Are you for real?' and he was pumped up," Smothers said with a laugh.
Verduzco has good reason to be.
Cornhusker Nation, we got our guy. The future just happened...Again AND Again!!!

— Mario A. F. Verduzco (@Coach_Verdu) July 27, 2018
You have free articles remaining.
He identified Smothers as a promising prospect and offered him a scholarship back in mid-May. Smothers first visited Nebraska in mid-June and also camped at Ohio State, Auburn and Mississippi State that month. His camp performances ratcheted up interest from around the country — including from Urban Meyer and the Buckeyes — but Smothers didn't receive additional Power Five offers.
"All along I wanted to do it, and since (the last visit), I made up my mind," Smothers said.
Smothers started as a sophomore at Athens High, passing for 2,851 yards and 21 touchdowns, per his Hudl profile. He's also a capable runner and, according to al.com, rushed for 719 yards (6.5 per carry) and 10 touchdowns in 10 games last fall.
Smothers told the Journal Star he turned in an 11-second-flat 100 meters time during his sophomore track season this spring and at the Buckeyes' camp ran 4.48 in the 40-yard dash.
Smothers is considered a three-star prospect by 247Sports and Rivals. The 247Sports composite pegs him as the No. 12 dual-threat quarterback in the nation for 2020 while Rivals has him slotted No. 8.
As he and his family got to know Verduzco and Frost, the connection grew quickly. He won't arrive on campus for nearly 18 months — though he is already planning on enrolling early in January 2020 — but he's so sold on the Huskers that he doesn't feel the need to extend his recruitment any further.
"I wanted (my mom) to see the campus first of all," Smothers said, fittingly, from an Arby's somewhere between Lincoln and the Kansas City area, where the family will pit stop on the way back to Alabama. "But mainly I just wanted her to meet the coaches and get a feel for them the way I did and to get to know them a little more.
"I mean, I'm going to be gone for four years and she's not going to be able to come with me, so I just wanted her to see that she could trust the coaches and everyone there and that I would be in good hands."
Smothers is the fourth scholarship quarterback to commit to the program since Frost was hired, joining Adrian Martinez (enrolled), Central Florida transfer and Wahoo native Noah Vedral (enrolled) and 2019 prospect Luke McCaffrey (verbally committed).
Frost's staff was busy this summer extending more than 150 scholarship offers around the country to players who are entering their junior seasons, and now Smothers will take a leading role in trying to help shape the class.
"That's a big thing for me," Smothers said. "I really want to take on that role and help recruit and help bring guys into the program.
"I want 2020 to win a championship and I'm going to do what it takes to get guys here in order to do that. I'm really looking forward to it."