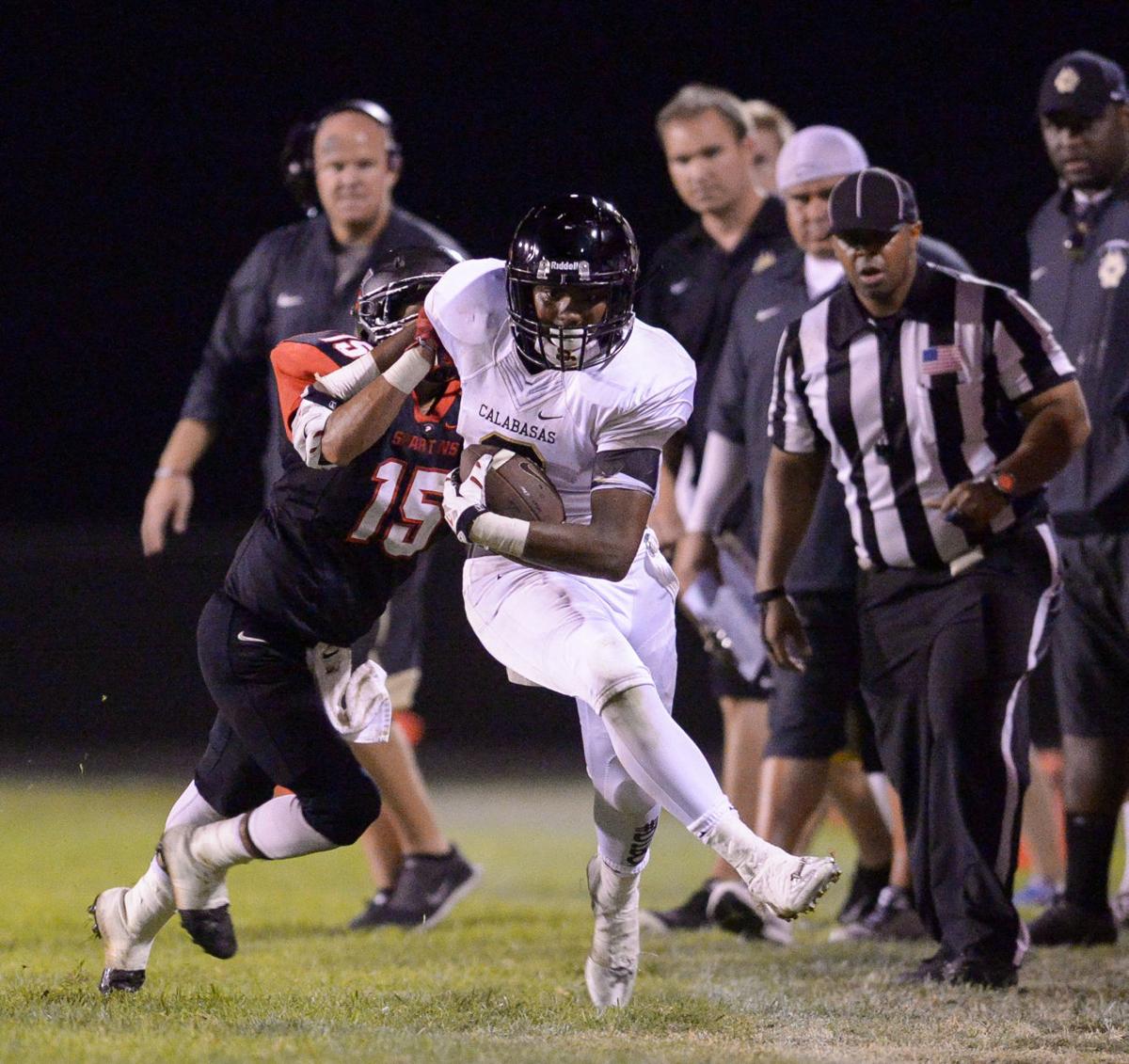 It gets a little crazy when anyone from the Calabasas crew tweets something about Husker football. They've all quickly realized this. So it was no surprise earlier this week the rockets that were momentarily set off when five-star athlete Darnay Holmes just dropped a line on Twitter that he might be able to make it to Lincoln for Saturday's Red-White Spring Game.
Wide receiver teammate Keyshawn Johnson Jr. is already committed. Quarterback teammate Tristan Gebbia is already committed. If Nebraska were to add the defensive back/wide receiver Holmes out of the same high school in Calabasas, California? Then someone is going to sell even a few more "Calabraska" T-shirts, a phrase that has picked up steam with this year's commitments joining last year's signing of four-star Calabasas defensive back Marquel Dismuke.
But the battle for Holmes, whom his coach, Casey Clausen, has compared to USC freak athlete Adoree Jackson, won't be easy. As it turns out, Holmes won't be part of an impressive crowd of recruits in Lincoln this weekend.
Of course, as the defensive back/wide receiver points out, he's already been here many times. He appreciates the family feel of Nebraska. He also appreciate how his teammates Gebbia and Johnson are respecting his recruiting decision, whatever that may be.
"It's not one of those things where they're on me day to day," Holmes said. "It's one of those things where it'd be great to have another teammate with you. But it's not one of those burdens they put on you to commit to Nebraska. They tell me it'd be good fit for Nebraska, and a great fit for me if I go there, but they want me to go where it's best for me."
Make no mistake, though, the peer recruiting will be real this weekend in Lincoln, as four of Nebraska's five commitments — Johnson, Gebbia, Jaevon McQuitty and Aurora's Austin Allen — are all expected in town.
And while Holmes may not be here, those already committed will have their chance to preach the Husker message to a sizable amount of talent, with a notable presence coming from California.
Among those recruits anticipated to be here this weekend: four-star wide receiver Tyjon Lindsey (Corona, California) and three-star receivers Maurice Bell (Murrieta, California), Jeremiah Hawkins (Buena Park, California) and Jamire Calvin (Los Angeles), who has been public in his thoughts about the possibility of joining Johnson in Nebraska.
Other likely visitors, according to HuskerOnline.com and HuskersIllustrated.com, include offensive tackle Brenden Jaimes (Austin, Texas), tight end prospect Dalton Keene (Littleton, Colorado), defensive tackle Deontre Thomas (Mustang, Oklahoma), linebacker Andrew Ward (Muskegon, Michigan) and, of some intrigue, Ben Miles, a fullback who is the son of LSU coach Les Miles.
The list goes on. Other notable visitors include junior-college prospects from Northeastern Oklahoma A&M — defensive tackle Isaiah Johnson and tight end Mike'Quan Deane — and defensive tackle Phillip Hoskins of Highland (Kansas) Community College. Also, 2018 prospects such as offensive lineman Will Farniok, brother of recent Husker signee Matt Farniok, and four-star cornerback Brendan Radley-Hiles from ... Calabasas, you bet.
Just get recruits here. That's what Husker defensive coordinator Mark Banker thinks. Recruits usually find something they don't expect.
A crowd of more than 60,000 people (maybe more than 70,000?) for a practice sure won't hurt. But Banker also points out the facilities, the personalities on this Husker team, the opportunities the school provides, coaches who care about their players as people more than anything.
"There's so much done with recruiting that has absolutely nothing to do with academics and athletics," he said. "It's about guys going to people's houses and watching movies with popcorn and stuff like that. I mean, that stuff's crazy. If that's what it takes and that's going to wow somebody, that's not what we're about here. We're about substance."
It's something Holmes has seen up close on many visits.
"Once you step foot in Nebraska, it's a family thing," Holmes said. "Everybody is welcoming you, loving you, showing you respect, even if they don't know you. It's one of those things where the coaches are going to be for you all the rest of your life. Mike Riley and (wide receivers coach) Keith Williams are doing a great thing up there."
But a five-star recruit is a man with many options.
The last five-star prospect the Huskers landed? That'd be homegrown lineman Baker Steinkuhler in 2008. In this case, the 5-foot-10, 190-pound Holmes is a West Coast kid with a lot of West Coast options also on the table.
He names off his top contenders besides Nebraska as Stanford, UCLA, Washington, Ohio State, Arizona, among others.
But just because he isn't coming to Nebraska this weekend, Holmes good-naturedly reminds: "I've been up there eight times, so there's nothing more I can see."