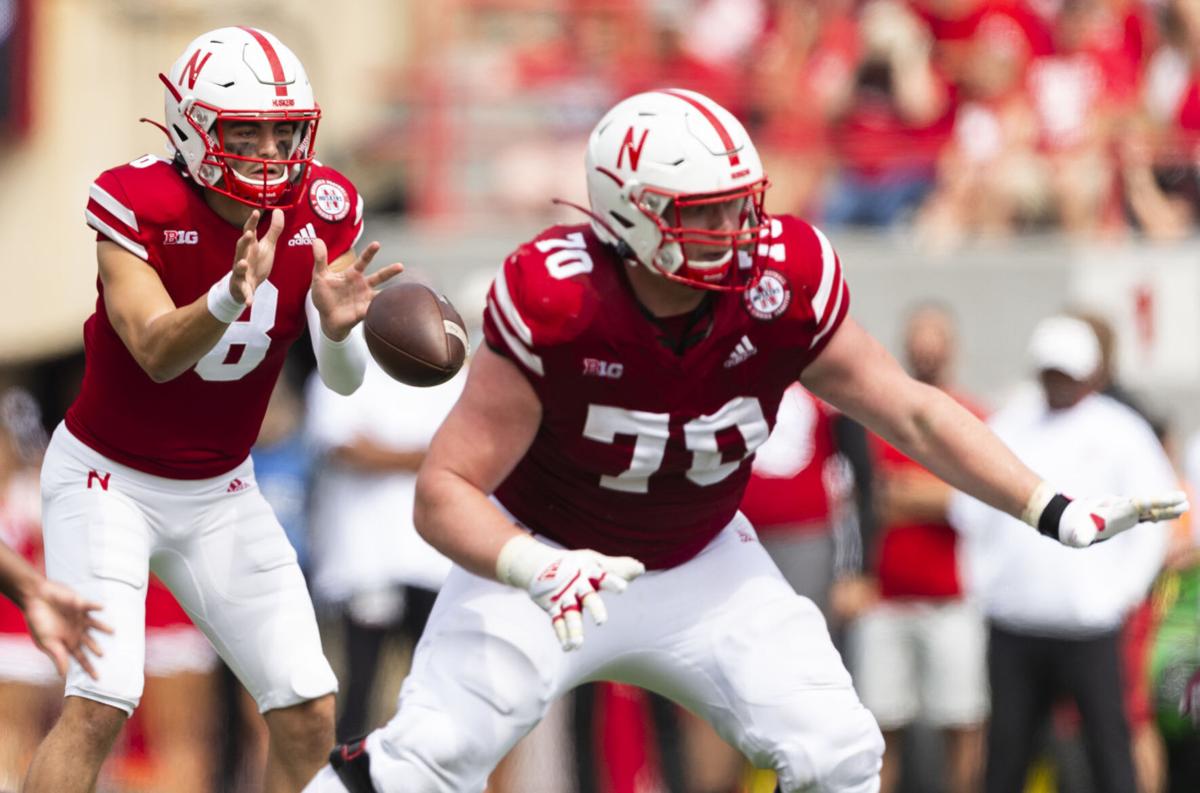 Nebraska's offense didn't exactly ace its first true test in a hostile environment last week.
Against Oklahoma, the Husker offensive line false started twice before the unit could even run its first play and racked up four penalties on their opening drive overall. NU still came away with a field goal and it did settle in as the game went along, though the line ended up with a total of six penalties on the day.
"It's something that we're continuing to work on. Obviously, it was an issue on Saturday," junior right guard Matt Sichterman said this week. "It's just one of those things that we've got to be accountable to on gameday. We can work on it as much as we want in practice, when it shows up on Saturday and it hurts us on Saturday, we know we didn't do enough. We've got to do something different. We're pushing it and we're just going to keep working on it."
The group — and the rest of Nebraska's offense — will have to clean up the communication quickly, because Spartan Stadium figures to be loud again Saturday night. Coach Scott Frost said he thought the experience in Norman could potentially benefit NU against Michigan State.
"I hope so. It got loud a couple of times down in Norman," Frost said. "We've got to do a better job making sure that the noise doesn't affect us. Four false-start penalties is too many. We've been in a hostile environment a couple of times already this year."
Indeed, this will be Nebraska's third road game of the season. Really, though, the OU game was Nebraska's first time operating in a really loud road environment in quite a while. The season opener against Illinois had about 45,000 people, but a good number of them were NU fans.
Now the Huskers will be playing in a loud road environment at night for the first time since a 6:30 p.m. kickoff at Minnesota on Oct. 12, 2019. NU played just one night game last year — its season finale on a Friday evening at Rutgers — but no fans were allowed to attend.
The penalties weren't the only way in which the noise perhaps affected Nebraska against Oklahoma. The Husker offensive line has been inconsistent in pass protection throughout the season so far, but against the Sooners gave up several pressures in situations in which OU rushed only three or four at junior quarterback Adrian Martinez. Frost said Thursday he thought part of the issue was a need for more consistent communication.
"Those guys last week were pretty talented and they get pressure on a lot of people, but we've got to be a little more consistent," Frost said. "I thought at times the protection was really good. A few times it wasn't and there was a couple of communication issues on twists and games, so the guys just have to be locked in pre-snap and post-snap."
That will be a challenge, but it's clear the Nebraska players are looking forward to playing under the lights again.
"There's definitely a lot more energy in the stadium, so that's always nice," senior defensive lineman Ben Stille said. "We are pretty used to playing these morning games. Not necessarily the most fun thing to sit in the hotel all day and wait for it, but then once you get out on the field, it's definitely more electric."
Coaches? They're not so wild about the late start.
"We'll push meetings back. We'll get them up in the morning and do something physical to get them going a little bit," Frost said. "Coaches don't like the night games. It's a lot of sitting around in a hotel, but the environment is going to be special. I've been up there before for a night game and it's a pretty special environment.
"So, I know that our guys are going to be able to feed off that and have a lot of juice. I'm looking forward to the challenge."
The good news for Nebraska is that the team is already road tested. The bad news, of course, is that the Huskers have ultimately lost both road games so far. The challenge, then, is to build on the past two and play cleaner against the Spartans. 
"Guys are excited to get back out on the field," Frost said. "I think they were encouraged by last week and we know we have another great opportunity this week. The preparation was good and guys are excited."