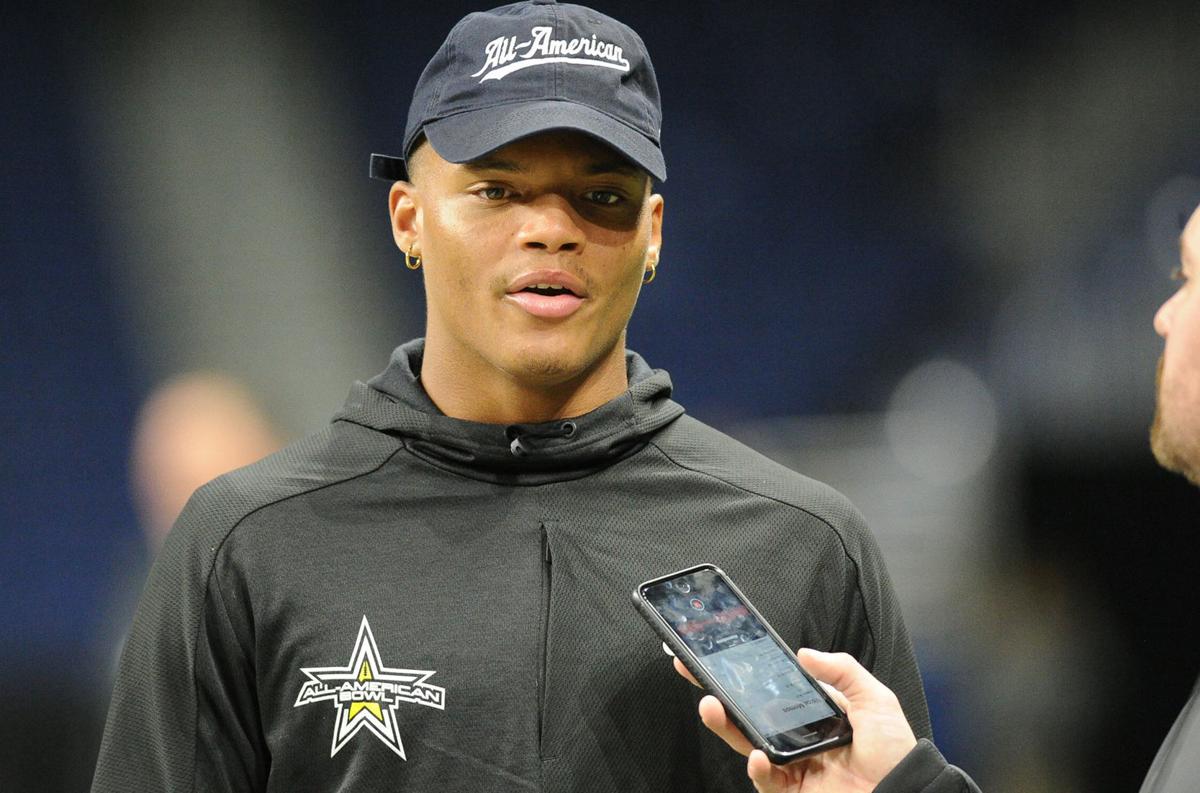 Not many high school football players in the country went through the 2020 autumn without some level of disruption.
Some states didn't play at all due to the coronavirus pandemic, some had shortened seasons or saw schedules moved to the winter or spring. The NCAA, of course, shut down all on-campus recruiting.
Nebraska wide receiver signee Latrell Neville had his share, too. The pass-catcher from Missouri City, Texas, missed two games early in Hightower High's season because of a concussion, and just when he was going to return, the school had three straight games canceled due to COVID-19.
When he was on the field, he saw consistent bracket coverage and double teams. Sometimes three defenders with eyes his way.
"I applaud myself for making big strides on certain things that I didn't do well last year," he said. "This year, I felt as though I was a really big help to my team. This year, a lot of guys got most of the yardage and the touchdowns. … I had to sit back and think, 'OK, this is my calling now.' Everybody knows, 'OK, we're playing Hightower this week,' and a lot of people game-planned for me, so that gave my teammates a lot of opportunities."
That's part of what makes Neville such an interesting prospect as gets ready to make the move to Lincoln. He's slated to be a midyear enrollee — he did say that he, NU and his high school are still "talking about some things" about his exact arrival date — and he won't be such a focal point in Lincoln. Neville became a big-time recruit with more than 50 scholarship offers but never put up eye-popping numbers in high school. This year, he had 21 catches for 270 yards in eight games.
On National Signing Day, Nebraska coach Scott Frost spoke highly of Neville and said, "I think he has a chance to be special."
"Latrell and I have really bonded," Frost said. "He's a great kid to talk to. He and I have several acquaintances, kids that I've coached from down in Houston — Bralon Addison and Josh Huff being a couple of them that know him.
"I've talked to him about their experiences with our staff, (offensive coordinator Matt) Lubick and I."
Neither Addison (5-10) nor Huff (5-11) had Neville's size, but both excelled at Oregon. Addison had two 800-plus yard seasons and 20 career touchdowns for the Ducks from 2012-15 and Huff was a steady contributor for three seasons before breaking out with 1,140 yards and 12 touchdowns as a senior in 2013.
Neville's in regular communication with both.
"I know them both really well," Neville said. "Josh Huff, we work out together and he pushes me to be the best receiver I can be, but also a better person. Bralon, I know him personally as well. He pushes me academically, mostly. He always tells me that education comes first. He wants to make sure that I get my degree coming out of college.
"Two guys I have in my corner and they know Coach Frost really well and Coach Lubick, too. So it was pretty easy when I was making my decision."
Soon, he'll be in Lincoln getting his own collegiate career going on the field and in the classroom. Neville is slotted to room with tight end Thomas Fidone and quarterback Heinrich Haarberg — "two guys I already have a great relationship with," Neville said — and said they and the rest of the 2021 class are what he's most excited for about getting to campus.
"Just finally being able to see my guys," Neville said. "With COVID and stuff, we haven't been able to spend much time together. Just being able to spend time with these guys."