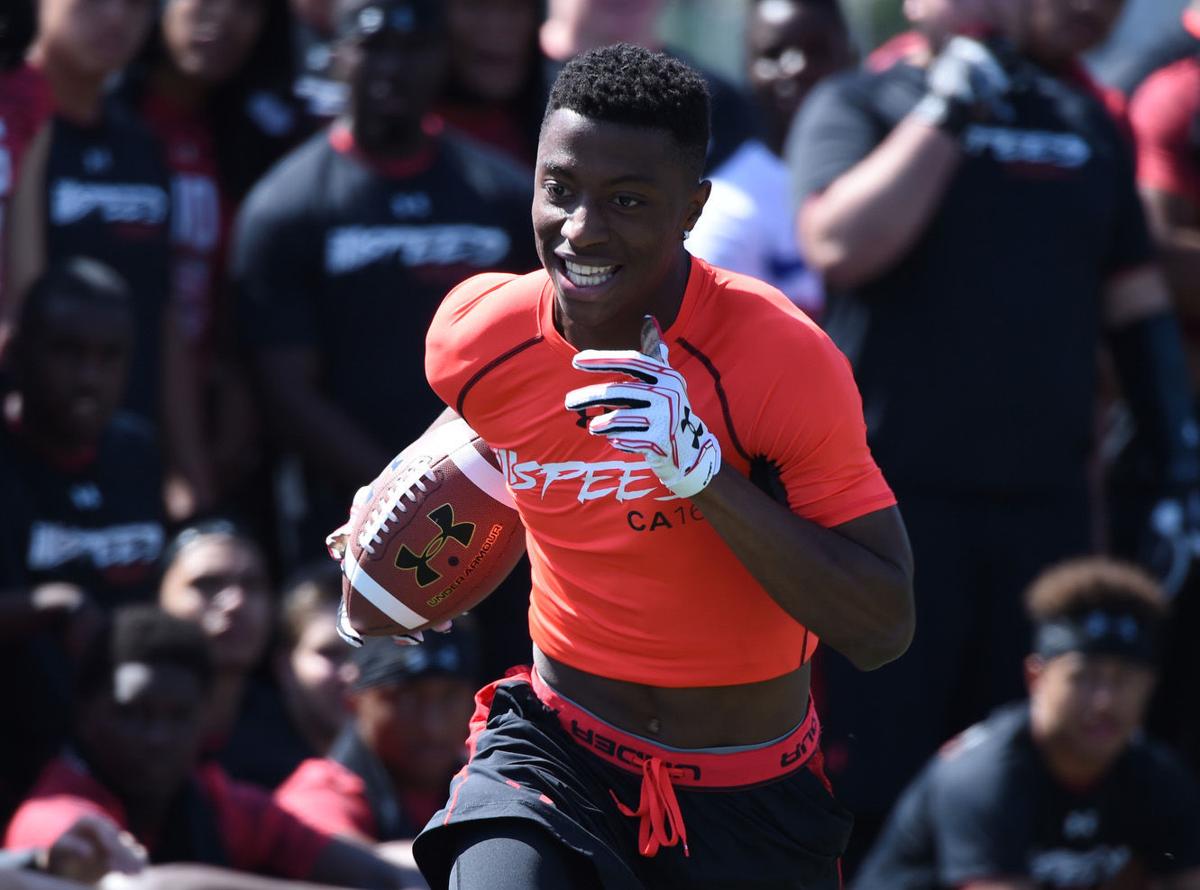 It was not a straight route to this decision for Jamire Calvin, but all Nebraska fans will care about is where he parked the car at trip's end.
The four-star wide receiver from Los Angeles announced over the noon hour on Friday that he was committed to the Huskers, giving Nebraska 18 known commitments five days before National Signing Day.
Calvin tweeted the news in four words, "Next Chapter, Lincoln Nebraska!"
He later explained in an interview with the Journal Star that this month was "stressful, confusing, difficult, but I'm just happy to be where I am now."
This month included a brief commitment to Oregon State that was made on national television at the U.S. Army All-American Bowl on Jan. 7, before reopening his recruitment 10 days after that, before picking Nebraska over Washington State 10 days after that.
In regards to that decommitment from Oregon State, Calvin said, "The coaches (there) had told me something they hadn't before, which drew me away from them, and I would have never committed to them in the first place."
He didn't wish to specify what that was. "I wouldn't like to say just out of respect to the school and the people over there. They're still great people and great coaches."
It was in the past few days when he figured out for sure he wanted to sign with the Huskers.
"The one answer that I'd say the most is it's just where I felt most comfortable."
Calvin said he got a great reaction when he told Husker coaches the news. "It seemed like everybody went crazy, so it was a big deal. It was cool."
Out of Cathedral High School, the 5-foot-9, 150-pound Calvin is ranked No. 189 among all prospects by Rivals and 313th in the 247Sports composite rankings.
"He was kind of our go-to guy for us. We do a lot of things with him," said Calvin's high school coach, Kevin Pearson. "We could always connect passes with him because of his ability to get off the ball."
Speed. "He's great with his perimeter speed," Pearson added.
You see it in his highlights. Calvin was dangerous not just as a receiver but also a return man. He was electronically clocked with a 40-yard-dash time of 4.63 seconds at a Nike offseason camp before his senior year.
Calvin joins Tyjon Lindsey, Keyshawn Johnson Jr. and Jaevon McQuitty as wide receiver commits in a Husker recruiting class that could take at least five at that position.
Calvin has known his fellow California natives Lindsey and Johnson for a while and said he is "super excited" to play with them in college.
The recent commitments of Lindsey and Calvin have dramatically shifted the standing of this Husker class in the recruiting rankings.
Before Lindsey's flip from Ohio State to Nebraska on Jan. 14, the Huskers were ranked 32nd in the 247Sports composite rankings. Immediately after Calvin joined the class Friday, NU stood 22nd in those rankings heading to the turn for home.
Husker head coach Mike Riley can't speak about recruits by name until they sign, but in a tweet shortly after Calvin's news, Riley expressed that NU had just landed a "BIG time playmaker" in this class.
The Huskers had long been one of Calvin's top schools. Even way back on March 23 when Johnson committed to the Huskers, Calvin tweeted: "Guess who might be next?"
Many thought Nebraska would be his choice at that all-star game in San Antonio, but Calvin picked up an Oregon State hat in a teary-eyed announcement.
"I came into this week actually probably going to Nebraska and then middle of week, things kind of changed," Calvin told reporters that day. "Just a change of heart."
But there were still 3½ weeks until signing day, and in recruiting, much can change in that time. Husker wide receivers coach Keith Williams sure knows that, even reminding NU fans on Twitter that day that signing day isn't actually until Feb. 1.
Calvin mentioned his close bond with Williams even on the day he picked the Beavers.
"It played a big factor," Calvin said Friday of that relationship with the Husker coach. "It was one of the determining factors. But at the same time, you can't just pick a school over a coach, so you have to look at the overall picture and figure it out from there."
Now that he has it figured out, Calvin is glad to have closure to the process and just focus on playing football at Nebraska.
"Just a relief. Yeah, a relief," he said. "I'm going to rely on God no matter what my situation is. Just going from there, and make the best of my opportunity."