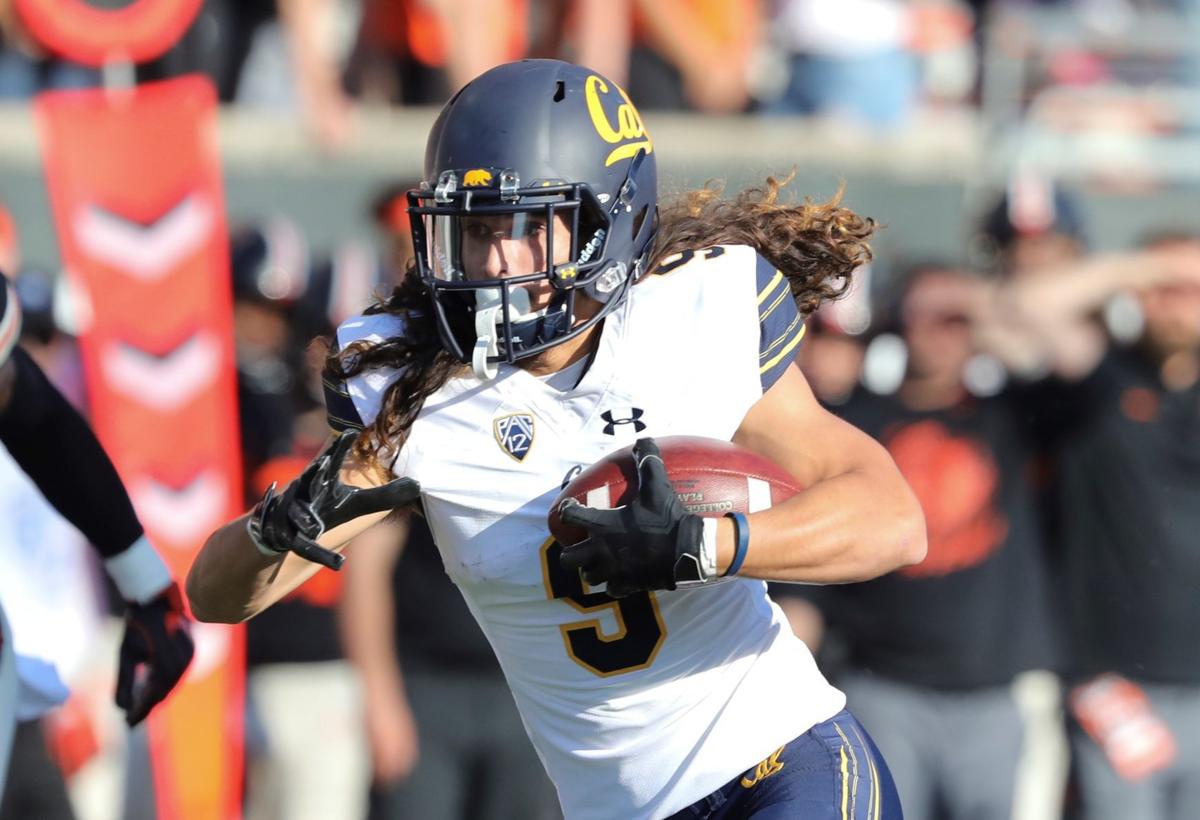 You might think that an experienced Power Five wide receiver, one with a 56-catch, 788-yard campaign under his belt and multiple years of production to his name and immediate eligibility, would be a popular transfer target once he decided to graduate transfer for his final year of college.
In the case of Kanawai Noa, you would be wrong.
The new Nebraska wide receiver, who had the big year in 2017 for Cal but missed five games to injury last fall and finished with 30 catches for 369 and a pair of touchdowns in eight games, was not highly sought after when he decided to leave Berkeley.
"No, not really," he said during his first meeting with local reporters since arriving on campus in June when asked if he heard from a lot of schools.
Really? Even with 96 career catches, 1,267 yards and a reputation as a reliable, competitive pass-catcher?
"It was pretty much as I expected," Noa said with a figurative shrug. "I had an off year last year; I missed five games. It was all questions of can I play a full season? Am I healthy enough? That's a lot of the questions that coaches had, so it was expected."
Since he came on to Nebraska's radar screen, though, the nature of Noa's expectations has steadily shifted. He's gone from a lightly recruited transfer who had never been east of California except with the Bears for road games to a real target of the Husker staff. Offensive quality control coach Steve Cooper coached Noa's brother, Kalua, at Portland State and got wind that Kanawai was leaving Cal. Once NU decided to recruit him hard, Husker defensive line coach and former UC assistant Tony Tuioti got involved, too.
Noa visited Lincoln and hit it off with the staff and head coach Scott Frost.
"I'm a quiet dude and Coach Frost is super family (oriented), religious and I think he's a quiet dude, or he's not an obnoxious, all-out-there type of coach," Noa said. "He's going to be like, 'Hey, this is what you're doing, let's do this right.'
"Immediately when I came on my visit, I felt at home. It was so easy to connect with the coaches, and they were very welcoming."
Once the 6-foot, 180-pound Hawaii native got to campus, he immediately set about making an impression on his teammates in the weight room and during player-led summer practices.
Sophomore quarterback Adrian Martinez said last month that Noa knew all three receiver positions during summer 7-on-7 even though he had just arrived.
"Study," Noa said simply. "That's the biggest thing. I'm in my playbook a lot, and I'm watching film pretty much 24/7."
The early word around preseason camp is that Noa has caught just about everything thrown in his direction. He played mostly out of the slot at Cal but could conceivably handle any number of roles for the Huskers.
"He's come in and learned the offense, can play multiple positions on offense, is a tough kid and he's a great addition to the offense and a great addition to the wide receiver room," offensive coordinator Troy Walters said this week.
"My strength is definitely exploiting the defensive coverage," Noa added. "My post-snap read is probably my best attribute and the ability to find space. What works really well with our offense is that it's all read option, so I'm making decisions on the fly based on the defensive coverage."
That's not an accident, either. Noa said when he first came out of high school, he didn't really know what he was looking for. He found a spread offense and a West Coast school in Berkeley and said yes.
"My second rodeo, it's all about business," he said. "Seeing the quarterback, the type of (offensive coordinator), the offensive scheme, it's pretty much fluent from last year, so it was an easy pick."
Noa took turns with the top offensive unit on Wednesday in the portion of practice open to reporters and looks like a real threat for a starting job or at least a significant role. Walters said recently there are a dozen players vying for time and the line starts behind junior standout JD Spielman — NU has 15 receivers on its 109-man camp roster — but Noa's experience, his skillset and his versatility all boost his candidacy.
"We'll see, wherever coach puts me and whatever I've got to do to contribute to the team, that's what I'm going to do," he said. "As of right now, I've got to earn my keep not only with the players but with the coaches."
Be the first to know
Get local news delivered to your inbox!