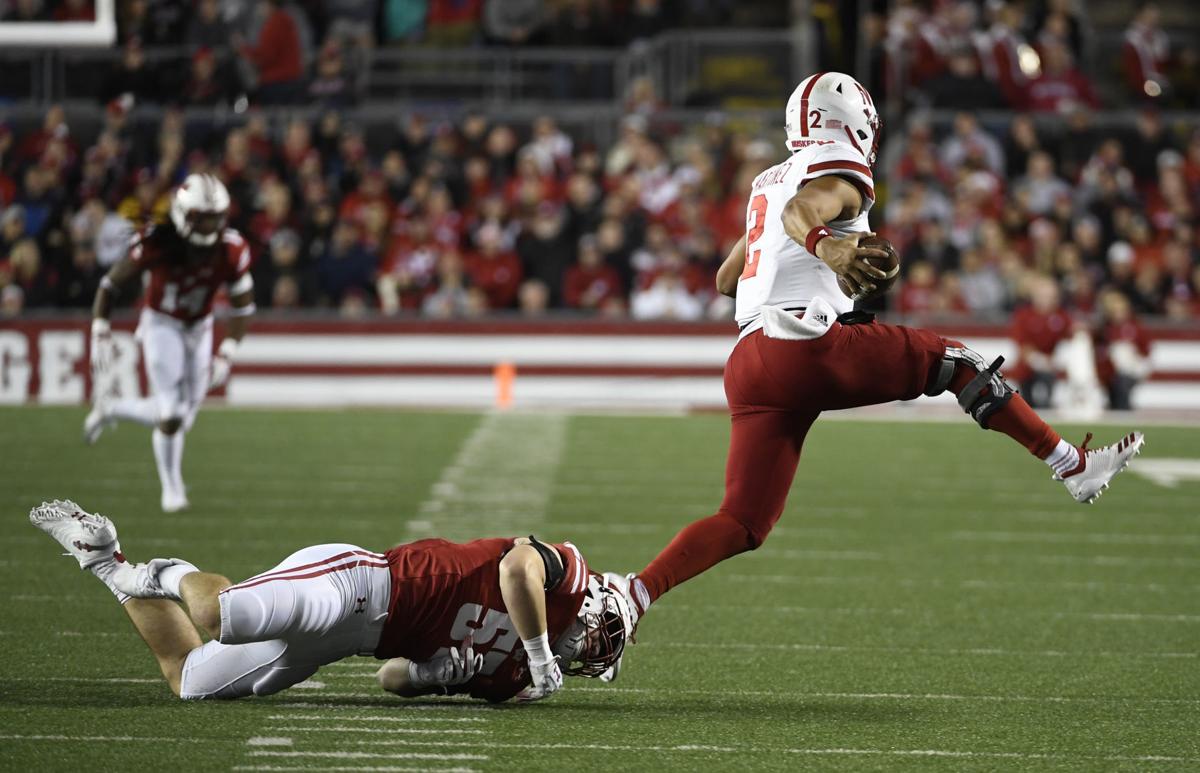 Adrian Martinez isn't your typical freshman.
Nebraska's quarterback posted 855 total yards of offense the past two weeks in losses to Purdue and Wisconsin, checking off a list of superlatives in the process.
The 441 against UW and 414 against PU are the No. 4 and No. 11 marks in school history, the two best ever by a rookie and make him just the second player in school history with two 400-plus-yard games. He now ranks second among freshmen nationally and second in the Big Ten — between Ohio State's Dwayne Haskins and Penn State's Trace McSorley — at 292.3 offensive yards per game.
It's not all rosy, though, given NU's 0-5 record and the fact that nearly 70 percent of those gaudy totals the past two weeks came after halftime with the Huskers trailing by two or more scores.
"I still don't think I've reached my capabilities," Martinez said Monday, pointing to 10 missed throws in his estimation. "And I don't think I'm anywhere near as good as I think I can be in the future."
The freshman's talent has been evident since he arrived on campus in January, but a mid-fall camp mechanical adjustment aided his rapid rise.
The change, which Martinez and quarterbacks coach Mario Verduzco discussed at the time: training to be more explosive with the opening movements in Martinez's throwing motion.
"The 'cha-ching' man, once we got that cleaned up, he's been just getting better and better and better in regards to that," Verduzco said Wednesday.
Mechanics, check. The veteran assistant coach said Martinez doesn't have major changes to make like McKenzie Milton did at Central Florida or like so many young signal-callers once they get to college.
That's allowed the Huskers to open up all areas of the field. Martinez is making — and, at times, missing — throws all along the spectrum. He can push it down the field. He's throwing corner routes outside the opposite hash mark. He's layering throws over linebackers.
You have free articles remaining.
Is there a throw he can't make?
"Absolutely not," Verduzco said. "There isn't anything right now that he can't perform for us. … Once he got that thing corrected, he just took off."
Martinez also continues to feel better after a Sept. 8 injury. Now more than a month past it, the 6-foot-2, 220-pound quarterback said he continues to wear a brace on his right knee only for precautionary reasons.
The freshman has the arsenal. The biggest immediate improvement can come in how he deploys it.
"He's a creative guy and we don't want to take that part away," Verduzco said. "It was the same case with McKenzie. But be smart. You're on the move, you're going, you're trying to do something. Just burn the ball. There's no need to fumble it. And if you are going to take a sack, take it with security."
Martinez has fumbled four times (two lost), thrown three interceptions and has not yet played a turnover-free game in four starts. The big mistakes and the small are all covered in Verduzco's postgame evaluation, which serves as a guide to the quarterback's Sunday film review.
"It's important to know the near misses, it's important for him to get an accurate evaluation of the game and not fluff him up," he added. "'Hey, you left completions on the field, we just can't do that as we move forward.'"
Frost referred to those types of decision-making mistakes on Monday as "freshman stuff." That's not to dismiss it, of course, but to point out that it should improve with experience.
Considering Martinez's mechanics and physical ability are already in advanced form and his health continues to improve, that's a scary thought for opposing defenses.