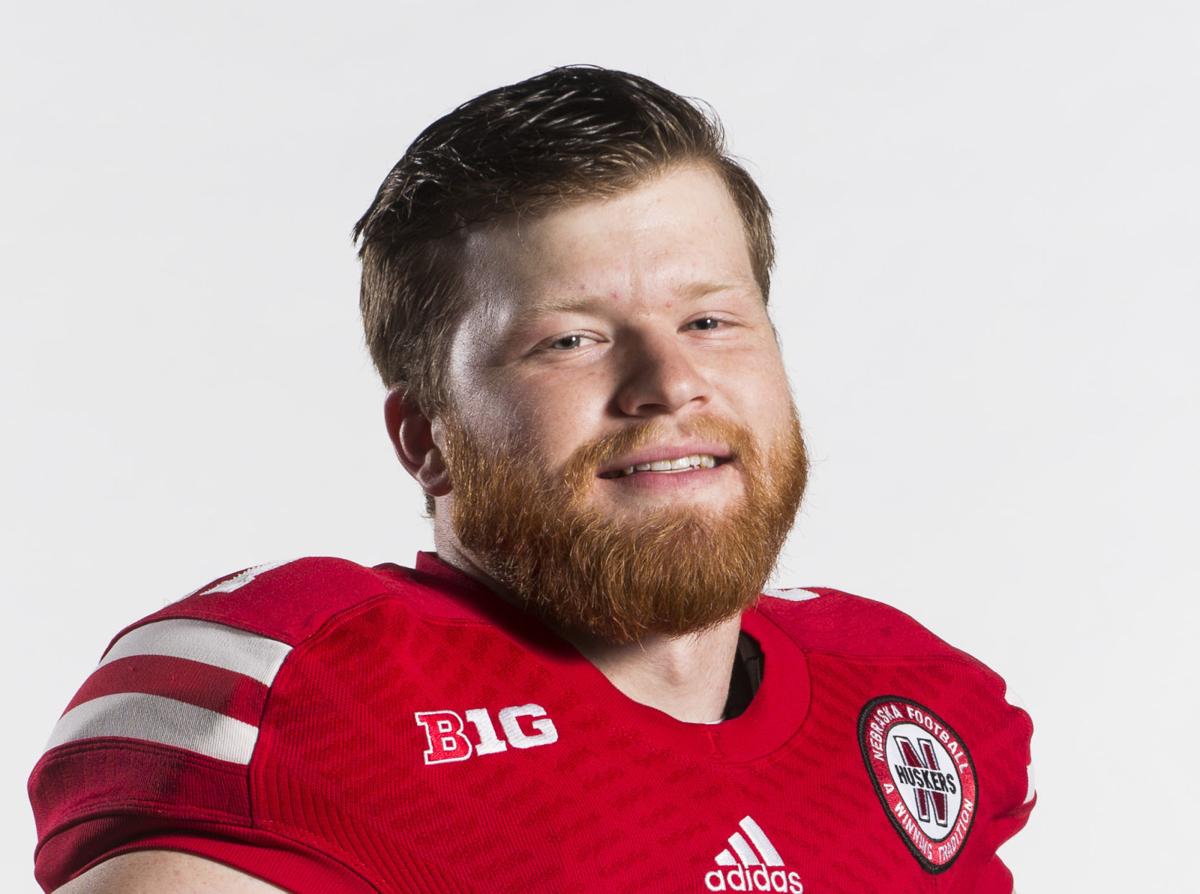 Tears in the eyes of many, they moved toward a team huddle no one could have imagined taking part in when the weekend began. Husker players asked for fans to join in too.
Several feet from the Brook Berringer statue, there were about 200 people with their hands raised together. Their voices met in unison: "1-2-3 -- Sam!"
It was loud, the noise bouncing off the Memorial Stadium walls and into the clouds. Then the huddle broke and the pain and disbelief remained. Sam Foltz was no longer here.
The Nebraska senior punter was killed in an automobile crash Saturday night in Merton, Wisconsin, the news stunning a team and fan base that had come to admire him as much more than just a football player.
As Husker senior fullback Graham Nabity said in prayer during a team vigil: "Lord, you spent your time on Sam."
In a statement released Sunday afternoon, football coach Mike Riley described Foltz, who was 22, as one of the best young men who has ever worn the Nebraska uniform.
"Sam was universally loved and respected by everyone he touched and on whom he had a positive influence each and every day," Riley said. "His tragic loss is immeasurable to his family, his friends, his classmates, his teammates and his coaches, and our thoughts and prayers are with all of them. The young men in our football program are hurting but I know that their strength of character and resolve will bring us together and we will honor Sam every day moving forward."
Riley had to get to know a roster of more than 120 players last year, but he quickly connected with Foltz. "Sam the Punter," he affectionately called him.
Foltz's coach at Grand Island High School, Jeff Tomlin, said Foltz was as authentic as they come. Just as he was advertised to be. He never forgot where he came from.
"The best word I can use to describe Sam is uncommon," Tomlin said.
According to the Waukesha County Sheriff's Department, Foltz was a passenger in a Mercedes-Benz sedan traveling west on Beaver Lake Road at 11:43 p.m. The driver lost control on wet pavement, the car left the roadway, struck a tree and caught fire. Speed appears to be a factor in the crash, authorities said.
One person who lives near the area west of Milwaukee told the Journal Star there was a torrential rainstorm in the area Saturday night.
The driver of the car was Michael Sadler, 24, a former Michigan State punter. He and Foltz were pronounced dead at the scene. A second passenger, Colby Delahoussaye, was transported to Waukesha Memorial Hospital. Delahoussaye is a senior place-kicker at LSU.
Authorities said it's unclear if any of the three were wearing seatbelts.
The three were helping with a weekend punter's camp in southern Wisconsin, officials with Kohl's Kicking Camp confirmed.
The camp for prep kickers at Kettle Moraine High School in Wales, Wisconsin, included 50 college athletes working as student instructors.
The crash scene is about 10 miles north of the high school. A spokesperson for the sheriff's department said they were headed to a home in the rural area.
"We mourn today with the Foltz and Sadler families," Kohl's Kicking Camp director Jamie Kohl said in a statement. "We mourn today with the football programs of Nebraska and Michigan State. We mourn today with all of the people who were better men and women for knowing Sam and Mike."
Sadler, a former All-Big Ten punter, was to start classes at Stanford Law School this fall.
Foltz picked up his degree in agronomy from UNL in May.
At the vigil held Sunday afternoon outside North Stadium, Husker athletes and fans sang a couple Christian songs as Nabity played the guitar, prayed for the families of both Foltz and Sadler, cried, and held up Foltz as an example to admire.
"He passed away trying to get better," said a good friend of Foltz, offensive lineman Samuel Hahn. "How typical was that?"
Foltz was going to be Hahn's best man when he got married. "He was my best friend in the world. It still hasn't sunk in yet. I'm just sitting here like, 'I don't really think this is happening.' But it has. We're not going to see him again until we get to go to heaven like him."
The tragic news came just a day before Big Ten Media Days in Chicago. Nebraska officials said that Riley and scheduled players will not attend.
Husker athletic director Shawn Eichorst described Foltz as a person who represented everything that a Nebraska student, athlete and friend should strive to be.
"While his loss is devastating, his impact will be felt forever," Eichorst said.
"My heartfelt prayers for the Foltz family," tweeted former Husker defensive coordinator John Papuchis, who was on the staff when Foltz began his NU career. "Sam represented all that is right about college football. May your memory be eternal."
Foltz was someone who made clear his strong faith. The first line of his Twitter bio reads, "Follower of Jesus."
The next line read, "Slaying limits."
He certainly was doing that on the field. Many believed he had an NFL leg. Foltz was the Big Ten punter of the year last season and was on this year's Ray Guy Award watch list as one of the nation's best punters.
The Husker punter was also very active off the field. He volunteered his time with the team in hospital visits, School is Cool Week, the Lincoln Marathon and Nebraska's Sportsmanship Rally.
He was named to the 2016 Brook Berringer and Tom Osborne Citizenship teams, and made the Nebraska Scholar-Athlete honor roll four times.
One of Foltz's last tweets came after he took part in Nebraska's Uplifting Athletes Road Race on July 17. Attached was a picture of a young boy running alongside, the child looking up at Foltz, who tweeted, "You never know who's watching ... What impact do you wanna leave on the next generation to aspire too?!"
Foltz was preparing for his fourth year as Nebraska's starting punter.
He led the Big Ten in punting in 2015, averaging 44.2 yards per punt. His career average of 42.6 yards ranks fifth in Nebraska history.
Earlier this week, Foltz had a tweet that seemed to symbolize him well as a player. "I'm a walk on who wasn't recruited. I'm not entitled to anything, all I do is put my head down and work."
His humility, hard work and strong faith couldn't help but remind many of the late Husker quarterback who died in a small plane crash 20 years before. A few roses sat at the base of the Berringer statue on Sunday afternoon.
By evening, as the sun began to set, fans had added more flowers, a mini helmet, a football, and a note.
The words were typed out. "Sam Thank you for being what we want our Huskers to be ... the best of us."
Riley Johnson contributed to this report.