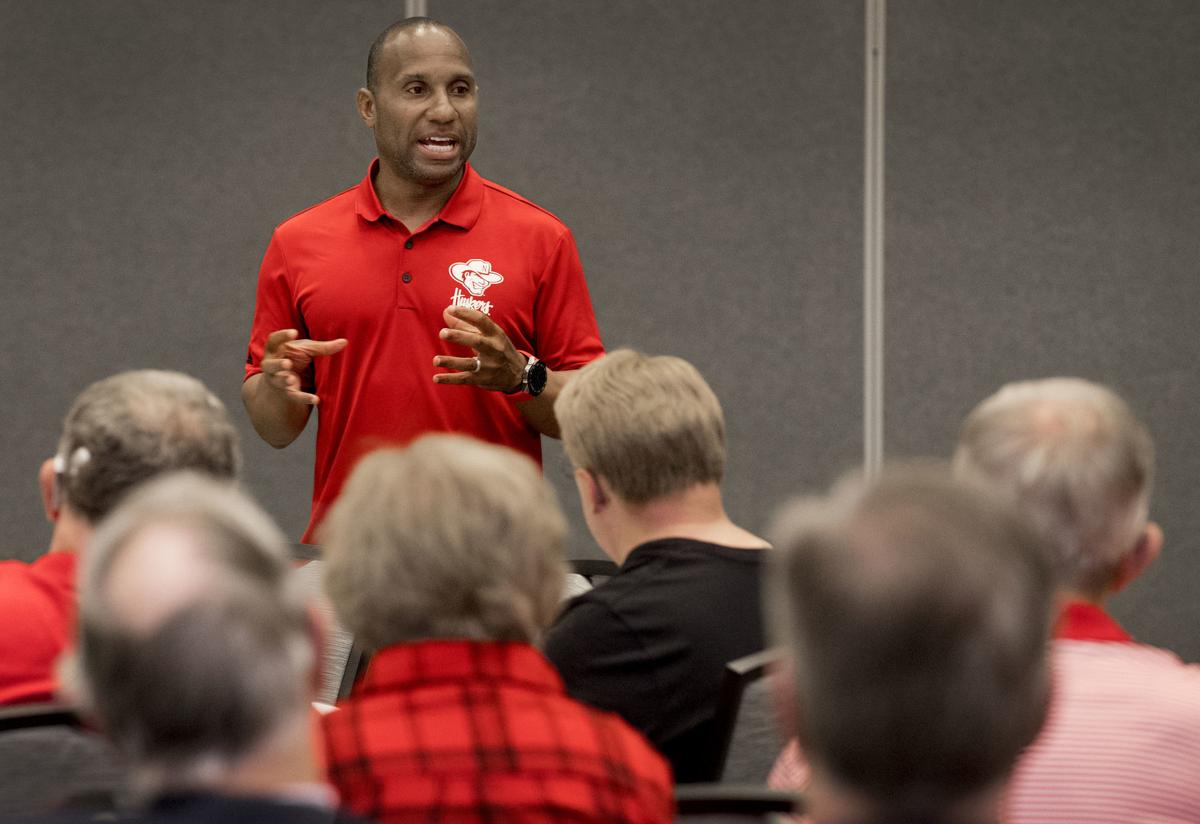 YORK — Nebraska offensive coordinator Troy Walters didn't get any questions about fullbacks in York.
In fact, one Husker fan conceded to the fact that the fullback does not exist in Scott Frost's spread offense.
OK, so no fullback. But can the Huskers get nasty in the trenches again?
Are the Huskers going after a grad transfer QB? (Quarterbacks coach Mario Verduzco said the team is quite happy with its current QB room).
Husker coaches and staff members hit 26 towns as part of the Husker Nation Tour, answering questions in Imperial, McCook, Geneva, Falls City, Fremont and South Sioux City. 
Walters and Verduzco answered questions from Kearney to York's Holthus Convention Center on Tuesday.
Among the queries in York: What separates Scott Frost from other Division I head football coaches?
Walters was quick to answer.
"For me, it's all about balance," he said. "It's all about perspective, and for Scott, it's faith, it's family and it's football. Take care of your faith, take care of your family, and then your priorities are in order and then football's going to take care of itself."
Walters joked that he likes to point out his schedule to coaches from other schools. He likes to tell them that he can attend his son's track and field practice at 6:15 p.m. on a Wednesday during the season.
"They look at like, 'What, are you crazy?' said Walters, who has three young kids. "A lot of those guys work 6 a.m. to midnight, they don't see their family, they don't see their wives, they have no life outside of football. Scott … he wants us to make sure we have balance, (that) we're taking care of our family, taking care of things outside the field."
Frost's football mind separates him, too, Walters said.
"I've learned so much being with him," he said. "The things that he knows, the things he comes up with, it's phenomenal."
Recruiting work not slowing down
SEWARD — Despite the heavy lifting the Nebraska coaching staff did after arriving on campus, and a strong run in recent weeks of players pledging to the Huskers, there is still work to be done on the recruiting trail, a Nebraska assistant said Tuesday.
"Not even the slightest bit," outside linebackers coach Jovan Dewitt said when asked if the coaching staff felt like it was caught up at all on the recruiting front.
Nebraska's current coaching staff famously spent December going back and forth between getting Central Florida ready for the Peach Bowl and simultaneously trying to finish off Nebraska's 2018 recruiting class.
One of the problems the new staff ran into was that Mike Riley's staff had already used several official visits in the fall, limiting the number of players the Huskers could bring in over the winter and into the spring.
"It's a weird situation right now in that you only get so many official visits throughout the course of the year, and it doesn't reset until, I think, July 1" Dewitt said. "So there were a number of visits that were used in the fall that were not available in the winter. So you have to sign a class with a lessened number of visits."
It's no one's fault, Dewitt, said, just an an issue that will work itself out over time and has hamstrung NU a bit in the short term.
"I think invariably there's going to be some kids that we probably miss out on just because we can't bring them up in the summer," Dewitt said. "They can't afford to get here on their own and there's no viable way to do that. So there's going to be some kids we miss out on that we probably had a really good chance to get, and that's just the way it is."
So while the mad dash for players may never truly stop, things will probably seem much more under control for NU's coaches come this time next year.
"It will probably be one more cycle before we feel comfortable with the direction we're going," Dewitt said. "We like the kids we've signed; we love the kids we're recruiting."
Moos, Austin tackle questions
GRETNA — They call it a question and answer time, but if you know a Nebraska football fan then you know they probably have an opinion about the program, and that they're going to tell you.
That's how it was when Nebraska offensive line coach Greg Austin spoke before a large crowd at Spikers Sports and Spirits on Tuesday, the last of his four stops on the day that the football coaches toured the state speaking to fans. Austin was in Falls City in the morning before moving on to Auburn and Plattsmouth. Athletic director Bill Moos was also with Austin.
After Austin and Moos each spoke for about 20 minutes, they said they'd take questions. But a few of those questions were just statements, with the fans telling Austin how they'd like to see football played in Lincoln.
Austin listened intently, and gave examples of how the coaches are working to make that happen.
One fan said that if he's rebuilding Nebraska football he's focusing on defense. He wants to get back to when teams didn't want to play the Huskers because they were going to get beat up. He's sick of watching the Huskers give up 60. Others in the crowd seemed to agree.
Now, keep in mind that Austin coaches on offense. But he said one way to see the value of a defense is how they pursue the football. He said there was a major emphasis on that during spring practice, going so far as the coaches also running to the ball during team drills.
"There is one thing that you can certainly bet your money on next year is that you're going to see hats to the football," Austin said. "You're going to see hats to the football out of our Blackshirt defense."
The fan said thank you, and that he'd be coming to watch the team again then.
Another fan's "question" was that Nebraska needs to get back to "owning" the fourth quarter. The Huskers' up-tempo practices should give the team a better chance for that to occur.
"The way we train and practice, and train in the weight room right now, we train our bodies and energy systems to last the duration of the game," Austin said.
During his speech Moos retold the story of how he ended up at Nebraska, and the process for hiring Scott Frost.
Moos is still amazed at the 86,000 fans who came to the spring game, and he told the story of how there were some angry fans when the game sold out.
Moos told his wife, Kendra, that some people were mad at him, which surprised her because the football coach Moos hired was still undefeated as Husker head coach. Moos said the fans were mad because they couldn't get tickets.
"She goes, 'Honey, that's a good problem,'" Moos said. "And I needed a reminder that, 'Yes, you're right."