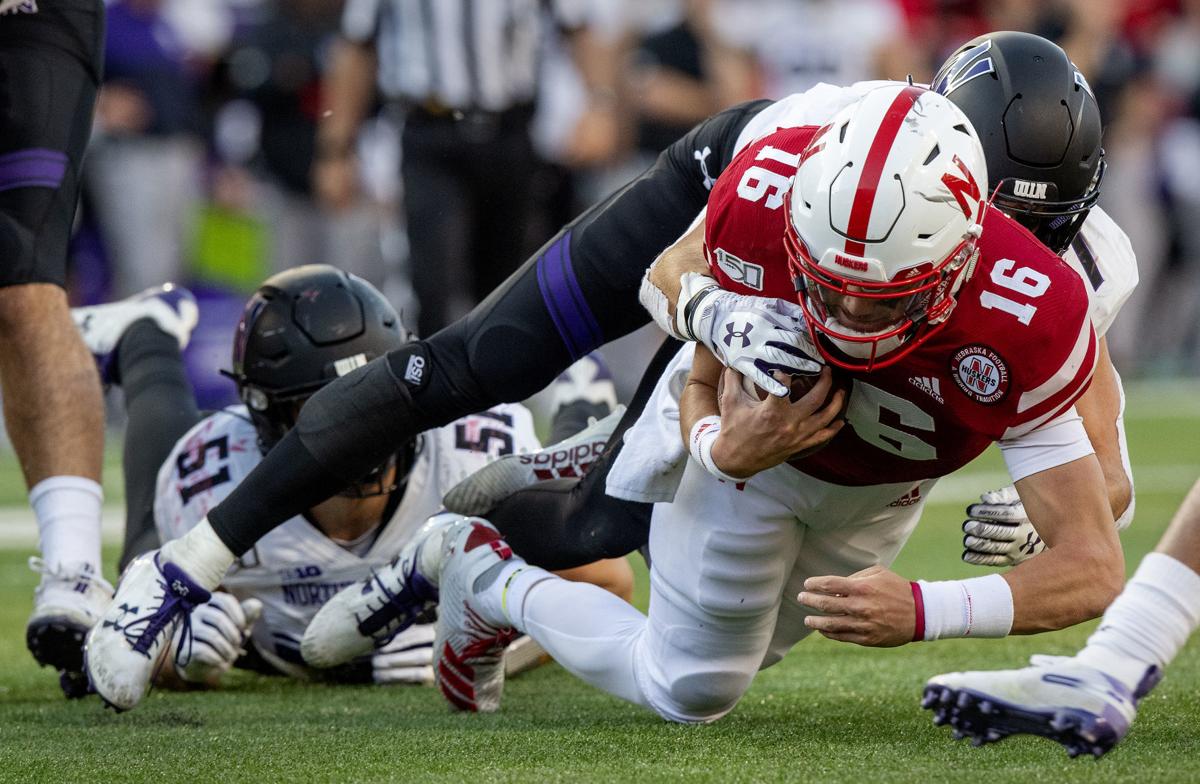 Welcome to the Hot Topic, a weekly look at the state of Nebraska football. Each week on the Husker Extra Podcast, Parker, Steve and Chris will discuss an important topic heading into that week's game, and that discussion will appear in the Journal Star's Husker Extra section on the day before gameday.
What does Nebraska's offense look like with a backup quarterback at the controls?
Steve: First of all, wouldn't you just be shocked if Adrian Martinez is the starting quarterback on Saturday? So (Noah) Vedral, I think, the argument for him giving the offense a lift would be what you saw against Northwestern. Which was, he didn't flinch. He clearly is comfortable at the controls, he runs it really well; he could coach the offense.
And then the other factor is, he might see the field a little differently than Adrian, and that maybe in some way could help. I just think he's a gamer. It's hard to put your finger on it with Vedral. He's super-intelligent, he's a good athlete. He's not as explosive as Adrian running, and he doesn't have the arm talent Adrian has. But that doesn't mean he can't make good throws.
Parker: Mario Verduzco and Scott Frost have said he can make every throw they need him to make. There's some — and I certainly don't know more about it than those guys — but there are some throws that Adrian Martinez has made in his career so far at Nebraska that, there's not very many guys in college that can make them.
So you lose a little bit in the arm strength department, and frankly there are some plays that Adrian Martinez has made in terms of getting out of the pocket that, it's not, 'Noah Vedral can't do that,' it's just, there's not very many guys that do, do that.
If the offense is going to take a step forward, it's going to have to be in terms of execution, pace, tempo, that sort of thing. But I don't think that that's stuff Adrian Martinez has a hard time with. So if I'm being honest, I have a hard time seeing it be a step forward, but I do think that the savviness that Noah Vedral brings to the table at least gives Nebraska the opportunity to be a push on offense, between the two.
And if Noah Vedral can be a push compared to what you get from Adrian Martinez, I think that would be a huge lift overall for Nebraska.
Head football coach Scott Frost talks about the team's preparations for Minnesota on Oct. 10, 2019.
Chris: Doesn't part of this, too, go back to how many snaps Noah Vedral can catch and not have to jump for, or stick out a paw for and grab to keep the timing on schedule? And we're not saying that every single snap has been off-target this year, but there's been enough that it's thrown some stuff off.
And if it's cold, wet, windy, and a snap gets a couple inches too high, maybe it pops off a quarterback's hand instead of being caught.
But I kind of agree with Parker. I don't necessarily think the offense will be better, but as long as there's not a drop-off, that's a win for Nebraska.
Be the first to know
Get local news delivered to your inbox!