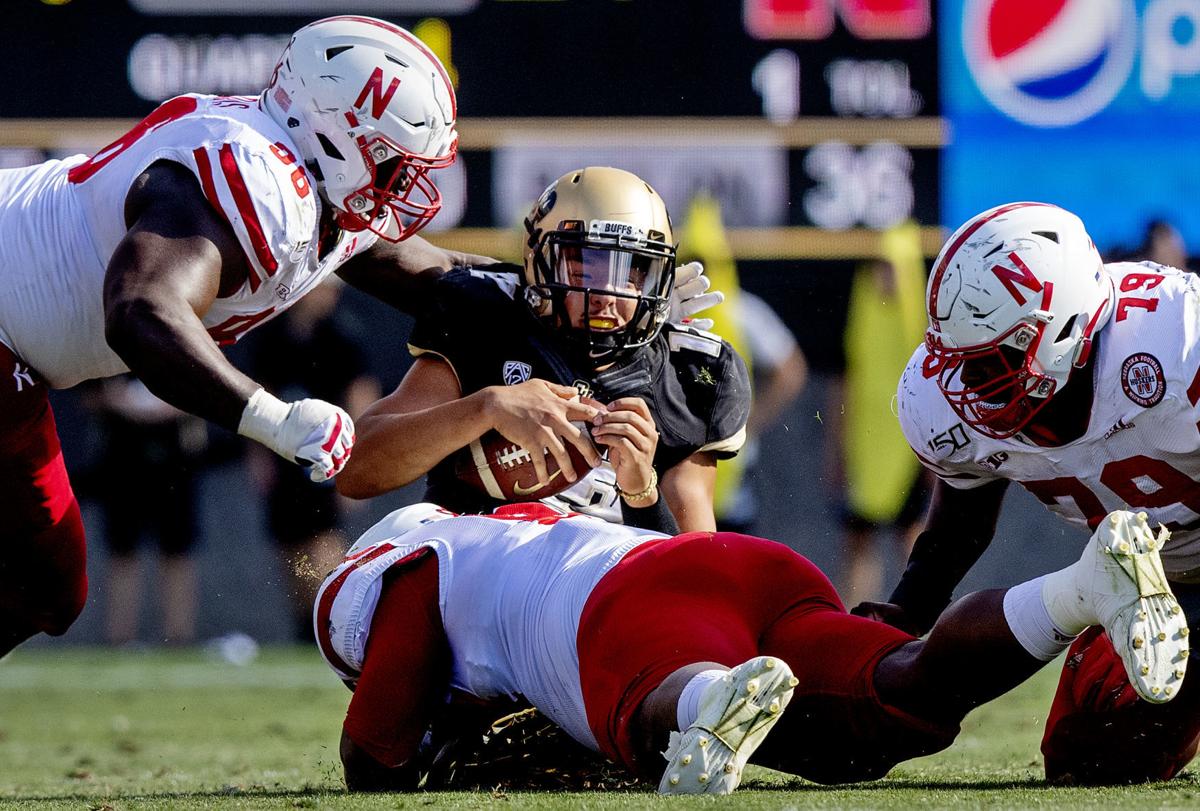 What if Claude Monet, just before he put the finishing brush strokes on some water lilies, accidentally dropped an elbow on the canvas and left a big ol' smudge right across the pond?
The painting would still have its fair share of impressive elements, but the work overall still might just be ruined in the eye of the painter.
Erik Chinander's Nebraska defense spent the better part of three quarters putting together a masterpiece of sorts against Colorado — no points, eight first downs and 115 total yards allowed through 41 minutes, 25 seconds for "as good of football as I've had a defense play," according to head coach Scott Frost — before marring it in the fourth quarter by allowing 24 points and 256 yards.
So the two things become true at the same time, both that the picture was awfully pretty and also that the smeared paint isn't going anywhere.
"I hate to say it, but that's part of growing up as a football program," Chinander said Tuesday. "We've got to finish on defense. We've got to finish the fourth quarter like we played the first three and we win that football game. That's a good football team, but they should have had seven points, 14 points and it should have never came to that."
Chinander, the second-year Nebraska defensive coordinator, was quick to point out that his group has moved on from the loss. Since Frost has been the head coach, coordinators no longer talk with reporters after games, so Tuesdays are when Chinander and defensive coaches meet with reporters. Thus, he fielded many questions about what went wrong late against CU and how it can be avoided in the future.
"Maybe we need to get some more guys ready. I take the blame," Chinander said. "I have to get those guys ready to play four quarters. I've got to get some more guys ready if those guys get gassed so we can get them in the game. But we've got to finish."
Chinander said he was disappointed with the pace that his group played with down the stretch.
You have free articles remaining.
"You play a lot of plays and you're a little gassed, but there was not a sense of urgency to get lined up, there was not a sense of urgency to make the calls, we had a couple of assignment busts that were crucial," he said. "And then we just didn't have that killer instinct at the end."
Husker players and coaches have insisted this week that it's possible to take all of the positives — and particularly on defense, there were plenty — and carry those over to the future without letting the late collapse linger as a hangnail.
"Tape always tells the story. It really does," inside linebackers coach Barrett Ruud said. "You see what you did good and you see what you did bad and you see exactly what happened. Honestly, it's a question where we do that every single week. You take a look at the film and you digest it and it's cliché talk, but it's never as bad as it seems and it's never as good as it seems. The tape always brings you back to that even-steven level.
"The biggest thing is when you do make a mistake, learn from it, and when you're making really good things happen, you've got to continue to build on that."
Chinander rattled off several lessons to be learned from the fourth quarter, including that he feels he must be more cognizant of when inexperienced players are in the game.
"Sometimes I've got to manage the game better on defense," he said. "Sometimes I've got to put the guys in a safer position because they're not as experienced and you can't maybe gamble with some of those kids as much as you can with guys that are really experienced and have been in this system a little longer. But I think those live situations help you grow, win or lose.
"I'd love to win them, absolutely, but it's going to help us."
The one thing he's confident in is that his group won't be afraid to set out in pursuit of another masterpiece.
"I don't think there's a fear of failure right now, I just think that the knife was in and we have to twist it," Chinander said. "That's the part we've got to get better at. These guys are not afraid to fail, they're not afraid to go out and give it all they got, it's just learning how to put a team away once you're up, I think that's the main goal."