Perhaps Lamar Jackson will someday look back on October of 2018 and decide that it represents some kind of turning point in his football career.
One thing is certain: The junior Nebraska cornerback is hitting the end of the month much differently than he began it.
Jackson was benched Sept. 29 against Purdue. In the middle of the next week, secondary coach Travis Fisher said Jackson wasn't fighting the demotion. Jackson didn't start against Wisconsin on Oct. 6.
But here we are, in the last full week of the month, and Jackson is coming off maybe the two best games of his career and sporting a brand new practice jersey that was hanging in his locker Tuesday morning.
"My hard work actually paid off," he said. "I'm getting the respect of my coaches as well as my teammates in the locker room.
"I'm in a good place right now. I'm happy I got it and I plan to keep improving."
Jackson isn't the only NU cornerback making strides. Senior safety Tre Neal on Monday called Jackson and sophomore Dicaprio Bootle's improvement in technique over the course of the season "outrageous."
Jackson's ride hasn't been smooth, though. He knew something had to change when he got benched.
"I'm one of those guys that, I'm active and always thinking and my brain's always busy, so I was able to break it all down, look at all different angles," Jackson said. "I couldn't let it sit on my chest, so I needed to go talk to my coaches and go figure out what the reason was, what the problem was."
Fisher, defensive coordinator Erik Chinander and head coach Scott Frost all told Jackson exactly what they thought.
"Coach Chins, for example, I'd never gone in his office and sat down and actually had a talk with him," Jackson said. "He told me stuff that I didn't know before about his personal life, about him. I told him stuff about myself. We kind of just see eye to eye.
"I left the meeting with a good feeling and that's what made it a lot easier, just knowing that the coaches are on my side and it's not for spite."
You have free articles remaining.
He's worked his way back since then, earning his starting spot back and playing more "in phase," according to Chinander.
"Lamar is doing some really good things and has improved significantly over the course of the last month or so," Frost added Tuesday.
"I had it in me, I can say that," Jackson said of his bounceback. "It's just a want-to to go do it. I ain't never had to really play behind nobody for a while, so then when that happened, I had no choice but to tighten up."
He did have a choice, though. He could have left. That's what Tyjon Lindsey and Greg Bell did when they didn't like their roles. That's what more and more college players around the country are doing. Not Jackson.
"It says a lot about Lamar and his maturity," Fisher said. "He's learning, he's growing, he's understanding. He's understanding that things are not going to be easy. Nothing's going to be given to him.
"He's learning and he's still got a ways to go before that flower blossoms into something great."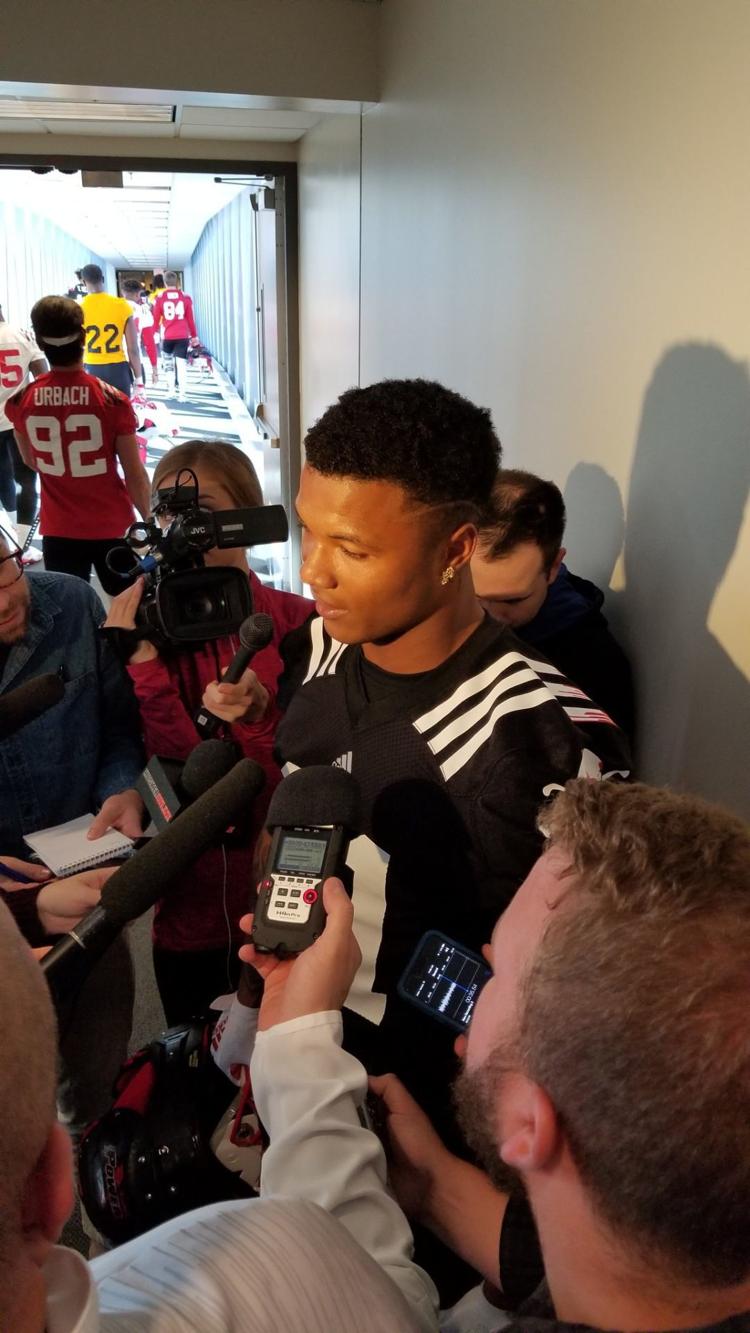 This lesson in particular, though, Jackson seems to be taking to heart.
"This is life," he said. "What I went through, I just feel like it's one of the things that coaches talked about: Everything ain't going to be sweet and the grass ain't always going to be greener on the other side. They told me, 'We hold you to a different standard. We want you to be a pro and we expect you to act like a pro.' At the end of the day, once we saw eye to eye, I realized the coaches wasn't out to spite me. It was more for me and my future benefit.
"I had no problem going out there and working and improving and getting my spot back as well as a Blackshirt."
So when it was hanging in his locker Tuesday, Jackson smiled, but there was no big celebration.
"I just put it on and went to work," he said.