With six weeks to go before the deadline that would determine whether Nebraska's $155 million North Stadium expansion project got off the ground this spring or would have to wait even longer beyond its already one-year delay, NU still needed to find about $12 million in commitments. 
That made for something of a stressful early spring for Matt Davison, Nebraska's associate athletic director for football and the man widely credited Friday afternoon for spearheading the university's fundraising campaign. 
"It was a race to the finish and it was a stressful time for sure, but we still have $20 million still to go," Davison said Friday. "It was stressful for sure, but we did it. I just can't say enough about our donors. Unbelievable people here in Nebraska and more than anything they stepped up and got us there." 
Indeed, the "Go Big" project now has more than $80 million secured out of a $100 million private fundraising campaign, which is why NU athletic director Bill Moos, NU system President Ted Carter, UNL Chancellor Ronnie Green and football coach Scott Frost donned hardhats and gripped shovels on a sunny Friday afternoon and turned over the ceremonial first dirt on a project that will dominate the North and East ends of Memorial Stadium from now until its projected completion in the summer of 2023. 
As it stands, the massive football operations complex and the rest of Phase 1 totals $135 million of the total price tag.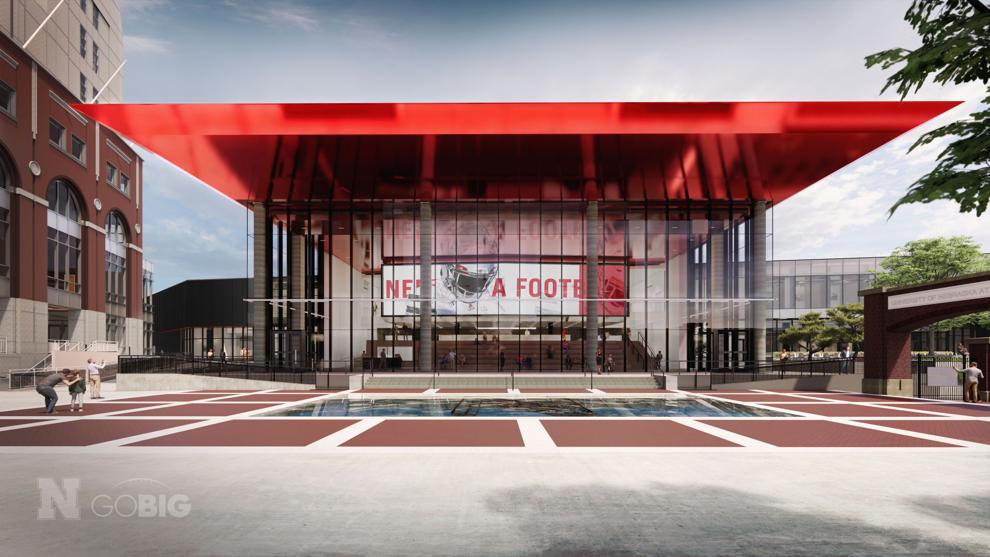 'We've got to take the track out and all those things, but before we even shut it down for the year, we were taking soil samples and everything," Moos said. "It's staged and ready to go." 
Frost on Friday put what is being hailed as a transformational project into succinct perspective. 
"What we have right now is nice," he said. "When this is done, what we're going to have is the best."
If not for a one-year delay due to the coronavirus pandemic, the project would be nearly halfway completed by now. Moos, though, said he's a fan of making lemonade out of lemons and noted that the design team had an extra year to fine-tune the details. Details, he said, which are being guarded from competition in many respects. 
"I've built a couple of these, and the concern is competition," Moos said. "Eventually it's going to have to happen because of recruiting and that part. But our people and our design team, especially (Kansas City-based design firm) Populous, people call them that are planning these buildings or have already got one approved and ask, 'What's Nebraska doing?' They're tight-lipped. This isn't their first rodeo either. …
"I can tell you this: It's uncharted territory." 
Moos said he pulled some designs from his two sons, Bo and Ben, who each played major college football. 
The updated renderings of the exterior look quite a bit different from the 2019 images from the unveiling of the project, which Davison said is a product of the time the design team had and just simply the project moving forward through the design phase. 
"The original was just kind of a way to show you the footprint of it and we hadn't even really started the design of it, so it was always going to look different," Davison said. "Populous is all over the world doing this stuff, so they know what they're doing and they came up with these ideas and it's great. Bill is right, it's just way better now." 
It was no sure bet that Nebraska could get to the $80 million threshold to be able to get the project off the ground this spring, but Moos had said all along that the fundraising team didn't lose a pledged or official contribution during the pandemic. 
"We'd raised quite a bit of money before the pandemic hit, and when the pandemic hit, obviously, we got pretty nervous about the project," Davison said. "When we were able to keep all those donors committed to their gift, that was a really good sign for us. It showed me that our donors, it wasn't surprising really, but the economic time when the pandemic hit made everyone a little nervous, obviously. 
"But everybody stayed their commitment and it just proves to you the commitment that our fans have for this university and this athletic department."