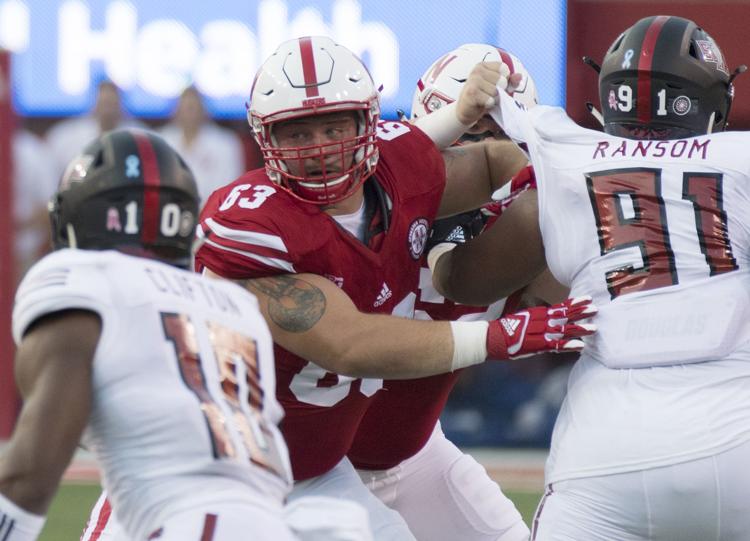 Husker Extra is running a series called Heat Index, a quick look at the Huskers before fall camp begins Aug. 3. This week, Steven M. Sipple counts down five veteran players who should be on the verge of their most productive seasons.
Today, we continue with a battle-tested senior who's started 19 games over the past two seasons, and may have a new role in 2018.
3. Tanner Farmer, offensive lineman
6-4 | 310 | Highland, Illinois
Farmer clearly adapted well during the spring to Nebraska's new coaching staff.
He may soon be adapting to a new position.
During spring practices, three Huskers — Farmer, fellow senior Cole Conrad and redshirt freshman Hunter Miller — played center, with Farmer sliding over from his starting right guard spot. Decker watched the action as he recovered from a knee injury. Then, in May, Decker decided to retire from the sport.
It's easy to imagine Farmer taking over at center during preseason camp next month. Stay tuned.
This much is certain: He has bought into new head coach Scott Frost's culture, which espouses a mindset in which players enthusiastically chase ambitious goals without fear of failure.
"I would like to be an All-American — that's a dream of mine," said Farmer, the No. 4 guard prospect in the nation in the class of 2014, according to Rivals.com.
He started 11 games in 2016 as Nebraska finished 9-4, then the bottom fell out last season. He started the first eight games before missing the final four, waylaid by a high ankle sprain — a miserable development in a miserable season that ended with a 4-8 record and the entire coaching staff's dismissal.
Enter ex-Husker great Frost along with his fast-paced spread offense. Maligned last season, NU's offensive line hopes for massive improvement. Farmer playing at an All-American level certainly would help matters.