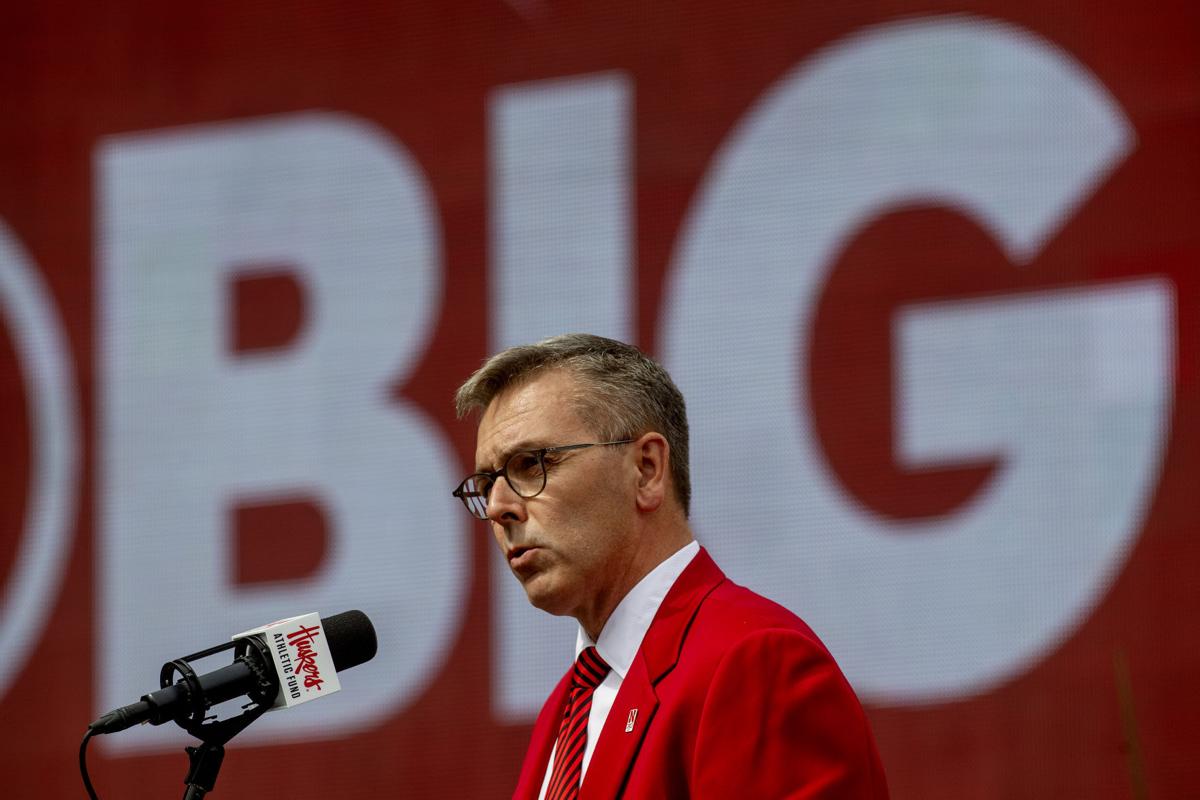 If you were still holding out hope that Nebraska might play football, or volleyball, or any other sport this fall, you can pretty much put those hopes to bed.
"I think it was made pretty clear, pretty quick that there was not an avenue to do that," University of Nebraska-Lincoln Chancellor Ronnie Green said Wednesday during an interview on KLIN radio.
But, the potential for the Huskers suiting up and playing this winter grows stronger by the day.
Big Ten Commissioner Kevin Warren outlined in more detail the reasons behind the conference's postponement of fall sports.
Green covered a number of topics during his 20-minute appearance, his first since the Big Ten announced it was postponing the fall season.
Among those topics, Green said the hope for a football season starting in January 2021 continues to grow stronger.
"There is a growing level of enthusiasm for what a winter schedule could look like, and how that could be put together; how that could look," Green said. "There's a growing level of enthusiasm that this could work and we could pull it off, and ... retain a Big Ten season with a Big Ten championship and have a real apples-to-apples comparison to the other conferences and where they may end up."
Myriad details remain to be worked out, from schedules, to eligibility to where the games would even be played. But that work has started, Green said, and began the same day the conference shuttered its fall season.
As Big Ten Commissioner Kevin Warren stated in his open letter to the Big Ten community that was released just minutes before Green went on the air, a Return to Competition task force consisting of everyone from coaches to senior women administrators to medical experts to athletic directors has been formed and is looking at just how the league might pull off a winter season.
Warren said that the league has begun looking toward the feasibility of holding a football season in the winter/spring. That plan was reported Tuesday in the Milwaukee Journal Sentinel, which said Wisconsin football players had already been briefed on a proposal that would include a season beginning in January and running through early March.
Warren did not provide that level of detail, only saying that a task force of administrators and medical personnel has been convened, "to plan for the return of fall sports competition as soon as possible."
And Nebraska has a seat at that table.
Football coach Scott Frost is a member of the task force, Green said, and NU athletic director Bill Moos is on a subgroup focused on scheduling.
"That group has already started to work. Heavily focused on what we will do post-January 1 with all of these sports," Green said. "And of course a lot of focus obviously on football and basketball, around how you can do that within a calendar year."
Part of the enthusiasm, Green said, comes from the potential for faster, more readily available testing than what is currently available. Specifically, the ability to use saliva tests that can return results more quickly than current methods.
"I expect that we will actually see that come to a firm conclusion ... over the course of this fall," Green said. "This would be a game-changer for us. If the FDA and the CDC recognize this is a valid individual testing mechanism where now you can actually make that work, and you can make it work regularly."
There remains, though, a one big question as it regards playing in early 2021 that no one has an answer for yet.
"The big question initially was, how are we going to have players able to compete in two seasons, effectively in one year," Green said. "That's before you get to eligibility, and NFL eligibility and all those kind of questions that are even different beyond that."
Green also commented on the conference needing more data on potential COVID-19 complications, including the heart condition myocarditis, that could come to light in the coming months.
"I don't think there are dots that connect there at this point in time based on the science — that's too early, and there's not data there to reflect that," Green said.
"I think we need more information there; I think we're going to see that develop over the next few months in a way that solidifies what we should or should not be concerned about there."