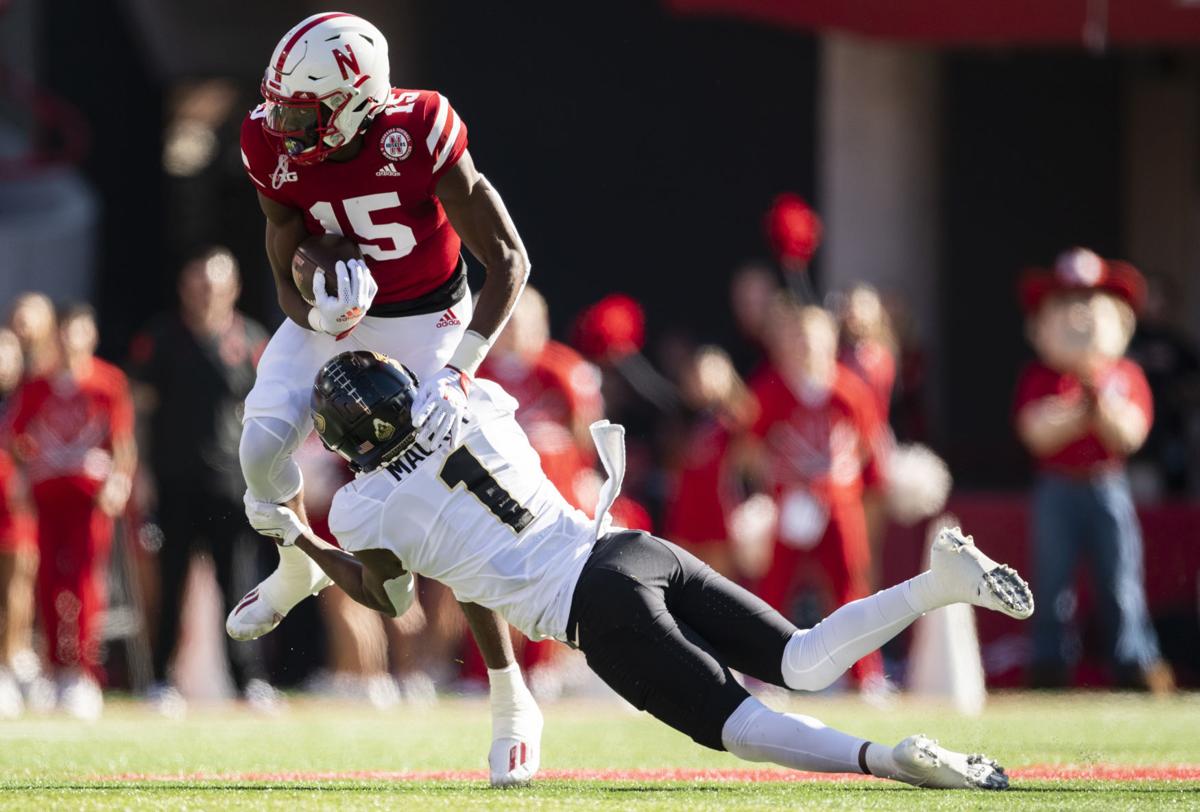 Steven M. Sipple weighs in with his report card from the Huskers' game against Purdue.
The crowd cheered as Adrian Martinez went under center — that's right, under center — on third-and-1 at Purdue's 18-yard line on Nebraska's game-opening touchdown drive. He bulled forward for 2 yards and the Huskers scored on the next play. Rahmir Johnson had runs of 7 and 10 yards on the first drive before Jaquez Yant broke free for second-quarter runs of 18 and 33 yards. A tone was set — or so we thought. NU rushed 10 times for 15 yards in an awful second half. 
Martinez finished 14-for-29 for 269 yards and two touchdowns, with four interceptions. His second-quarter interception was returned 45 yards for a touchdown by linebacker Jalen Graham for Purdue's first points. Late in the second, Martinez's deep pass barely eluded Samori Toure on what would've surely been a touchdown. Martinez's second interception occurred as he tried to pitch the ball forward — just trying too hard to make a play, he said. His third interception was the result of a bad overthrow. You get the picture. It might have been Martinez's worst day in four years as the starter. 
Deontre Thomas and JoJo Domann came up with a huge stop on fourth-and-1 late in the first half. However, by midway through the second quarter, it had become clear Purdue's offensive line was asserting itself fairly well in the run game. The Boilermakers finished with 116 yards on 2.8 per carry. Keep in mind, though, they entered the day ranked 129th out of 130 FBS teams in rushing at 74.3 yards per game.
Purdue standout David Bell finished with nine catches (on 14 targets) for 74 yards — that's acceptable for Nebraska's defense. Husker standout corner Cam Taylor-Britt had great coverage on a deep ball to Bell late in the second. Caleb Tannor's stop for a 4-yard loss on a swing pass early in the third quarter was a momentum-booster for the home team. But Nebraska's pass rush was generally ineffective, and Aidan O'Connell in the second half too often was playing a game of pitch-and-catch. It looked a little too easy. 
William Przystup's booming 62-yard punt was downed at the 4-yard line early in the third quarter. Przystup, though, hit punts of just 38, 29 and 37 yards during the second half. Sophomore Chase Contreraz booted a 33-yard field goal in the second quarter, the first FG of his collegiate career. Nebraska caught a break early in the second quarter when Mitchell Fineran's 36-yard field goal sailed wide left. 
Nice wrinkle by Nebraska with the direct snap to Yant on the opening possession. Yant bulled forward for 8 yards. The QB draw in the waning moments of the second quarter seemed overly conservative. In a general sense, coach Scott Frost should be able to coax much more out of this offense. 
Matt Sichterman's holding penalty negated a 10-yard gain on a speed-option play in the second quarter. On the next play, Martinez threw his big interception. A holding call on Husker center Cam Jurgens led to his team being pinned at its 11-yard line. Those are mistakes that tend to be crushing for a Nebraska team that has little margin for error. 
"We have a good enough team to win these games, and we're not winning them," Frost said. That sounds like a coaching issue more than anything.