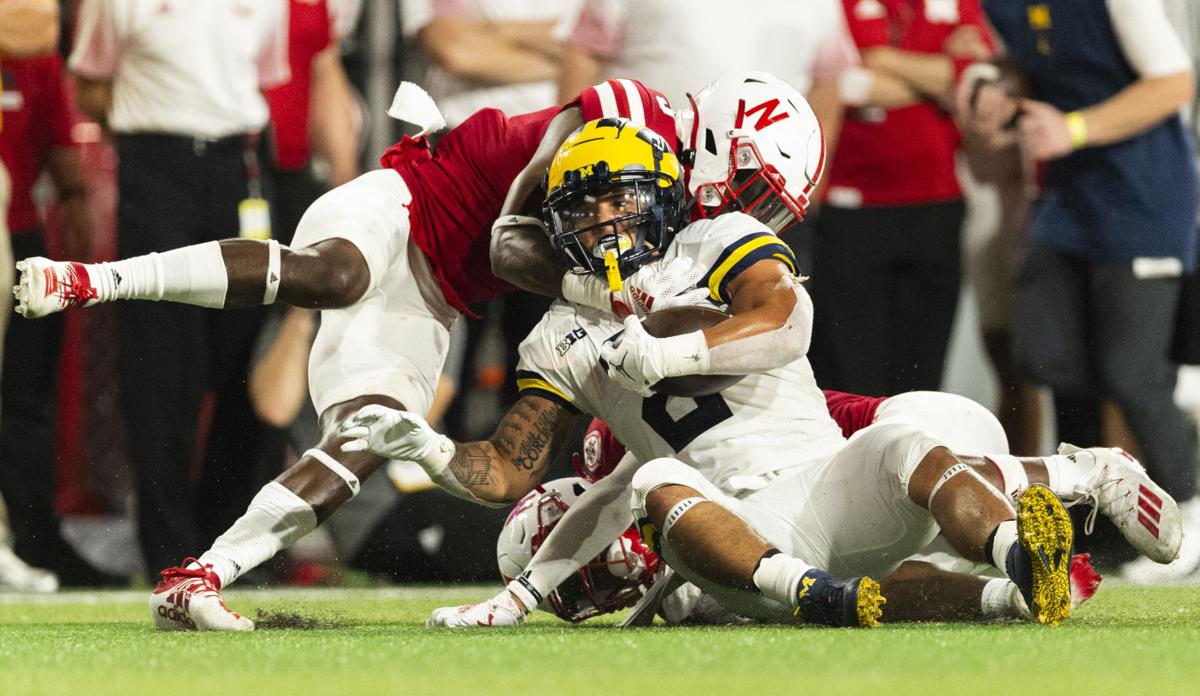 Chris Basnett weighs in with his report card from the Huskers' game against Michigan.
Nebraska didn't generate much of anything on the ground in the first half, going into the locker room with just 39 rushing yards. Adrian Martinez's 20-yard scramble on third-and-11 set up the 46-yard touchdown pass to Austin Allen to get NU back in the game, and NU appeared to find a little something in the option game in the second half, running for more than 100 yards after the break.
Martinez showed toughness in the pocket, taking a shot on a 24-yard completion to Omar Manning on a fourth-and-6 play in the first quarter, and standing in to deliver an incredible throw to Rahmir Johnson for a 41-yard scoring strike. Martinez tried to find a well-covered Allen, leading to a diving interception by Daxton Hill that set Michigan up at the Nebraska 35 early in the second quarter.
Michigan averaged nearly 6 yards per carry, running for more than 200 yards. The Blackshirts appeared to tire as the second half wore on, giving up a 29-yard touchdown run to Blake Corum and a 50-yard dash to Hassan Haskins during which he hurdled Marquel Dismuke. The Wolverines also popped a 26-yard Corum run on a draw play on their touchdown drive to end the first half.
Some boom or bust here. Deontai Williams was the first player to pick off McNamara this season, lighting Memorial Stadium on fire and setting up NU's go-ahead touchdown late in the third quarter. But Michigan also caught NU three times with the same play — a tight end delay that resulted in three catches and three first downs.
Nebraska did its job against Michigan's dangerous return men, corralling everything on both kickoffs and punts. Will Przystup hit a great first punt that nearly pinned Michigan inside its own 5-yard line, but NU's gunners couldn't get the ball downed before it trickled into the end zone. A 53-yard punt by Przystup led to a 5-yard loss on the return as Marques Buford and Isaac Gifford closed down quickly on return man A.J. Henning midway through the second quarter to pin Michigan at its own 10-yard-line.
An illegal block below the waist penalty on Cam Jurgens on NU's second drive wiped out a 9-yard run and put the Huskers behind schedule, eventually leading to a punt. Illegal formation canceled out a 13-yard completion to Jaquez Yant early in the second quarter as Turner Corcoran lined up too far off the line of scrimmage. Great eye by Scott Frost to catch McNamara's knee being down before a handoff that was originally ruled a touchdown. The coach called timeout, got the review, and got a Michigan touchdown taken off the board in exchange for a field goal.
A perfectly executed screen pass off Nebraska's option look to open the game went for 43 yards, and NU appeared to be off and running. Later, however, the Huskers eschewed the chip-shot field goal on fourth-and-2 from the Michigan 3-yard line, and lost a yard on a quarterback sweep. What a call on the pop pass to Austin Allen that resulted in a 46-yard touchdown to open the third quarter. The play-action sucked Michigan's linebackers forward and left Allen all alone.
It is a cruel, cruel game. Nebraska battled back, and had everything in front of it with three minutes to play before Martinez's fumble gave Michigan the ball already in field goal range. But getting next to nothing offensively in the first half put the Huskers in a hole, and NU's defense couldn't get off the field enough after halftime.