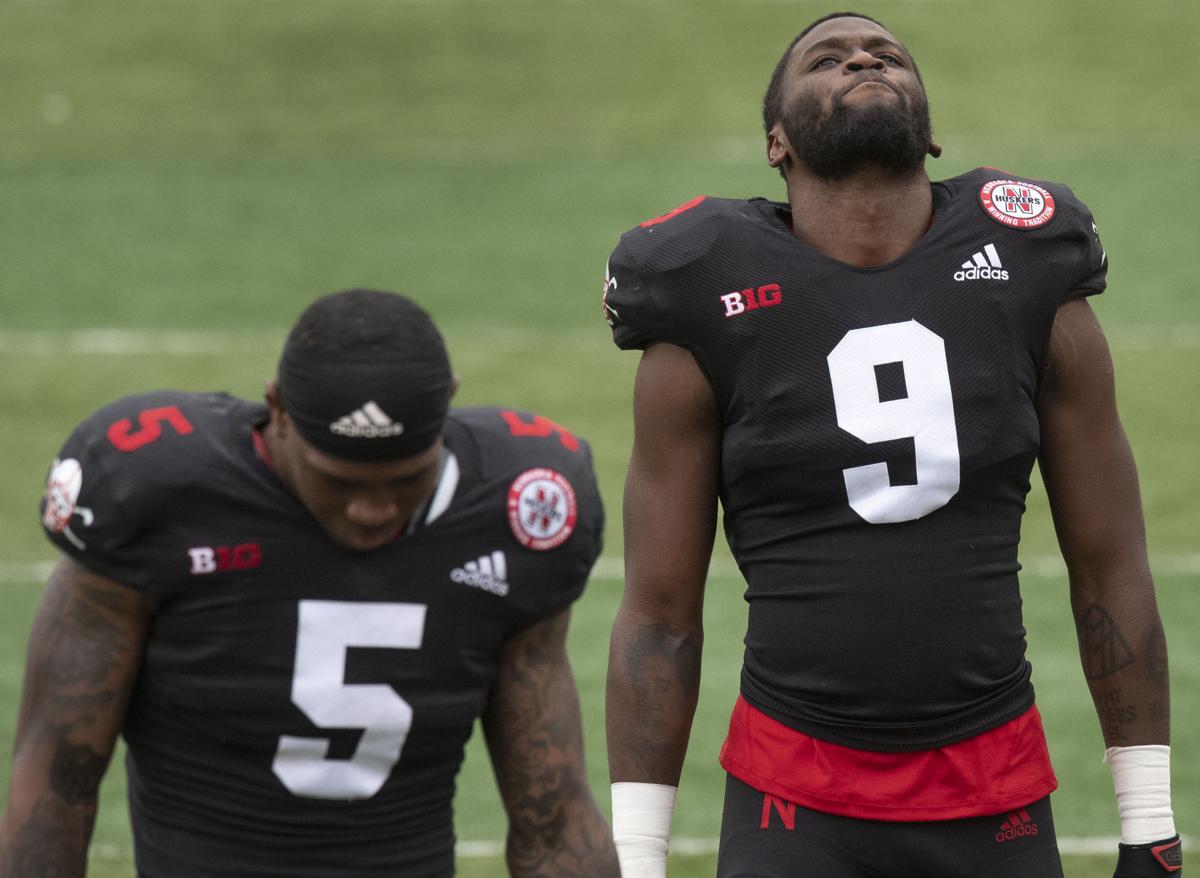 Steven M. Sipple weighs in with his report card from the Huskers' loss to Illinois.
Wan'Dale Robinson's 32-yard run set up a third-quarter touchdown. But his lost fumble at the end of a 10-yard run late in the third was an absolute gut-punch blow to a Nebraska team that already was reeling. The Huskers leaned hard on quarterback Luke McCaffrey in the run game — too hard, actually — as he carried 24 times for 121 yards during the first three quarters, before Illinois had taken full control. Marvin Scott found some rhythm on NU's first scoring drive, with four carries for 20 yards. The Huskers averaged 4.9 per carry.
McCaffrey got off to a rocky start with a terrible fumble call on the first play from scrimmage, but he admitted he made a bad decision on the play. He misfired on five of his first eight pass attempts and finished with three interceptions. Alante Brown had a drop on a pass that was a little high and wide. NU often had receivers running open that McCaffrey apparently just didn't see. He ended up 15-for-26 for 134 yards and no touchdowns. 
Illinois gashed Nebraska to the tune of 51 yards on five carries on its nine-play, first-quarter TD drive to make it 14-7. NU appeared to have a bust on Chase Brown's 35-yard dash. In the second quarter, Mike Epstein raced 58 yards to set up a score. Illinois had two 100-yard rushers in Epstein (13 carries for 113) and Brown (26 for 110). 
Senior quarterback Brandon Peters had all day in the pocket when he hit Josh Imatorbhebhe with a 28-yard TD strike in the second quarter. On the other hand, Nebraska linebacker Will Honas hammered Peters from the blind side for a sack late in the first half. Peters, though, came back strong. He gunned completions of 25 and 23 yards during a 10-play, 75-yard touchdown march that made it 38-17 late in the third quarter. He finished 18-for-25 for 205 yards and a TD, often making it look easy. 
Not sure what to say about Illinois punter Blake Hayes gaining 14 yards on a fourth-and-8 early in the second half. He looked up and saw only open field. You just don't see that very often. It was sort of embarrassing for the home team. Good to see the true freshman Brown finally get to return a kickoff. Not great that he made it to only the 17-yard line to start the game. He made it to the 29 on his second try. He cuts loose well. William Przystup boomed a 56-yard punt in the second quarter.
Cameron Jurgens fired a snap high and wide on a fourth-and-2 at Illinois' 42 in the first quarter, leading to a broken play (and an interception). Jurgens' rough day continued when he was called for holding, nullifying Scott's 1-yard touchdown run. Casey Rogers' face-mask penalty let Illinois off the hook on a second-and-15 in the first quarter, and a holding penalty nullified a 30-plus yard punt return by Cam Taylor-Britt. NU finished with seven penalties for 66 yards. 
Without running back Dedrick Mills (out due to injury), and with McCaffrey struggling mightily in the passing game, Scott Frost didn't exactly have an overwhelming amount of options. McCaffrey running 19 times in the first half was a bad sign. As has been the case most of the season, Nebraska never really settled into any sort of rhythm. 
Frost said he was embarrassed by his team's level of execution in all three phases. Enough said.