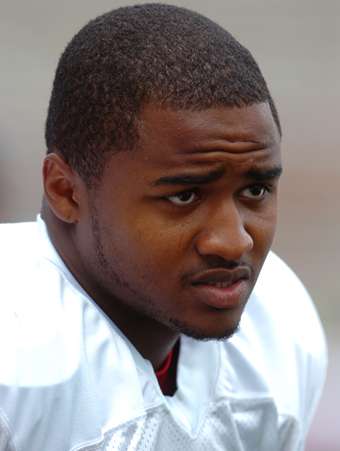 After three years playing running back, Cody Glenn has moved to linebacker.
Glenn approached the coaching staff about a possible position change on Saturday, and on Monday spent 30 minutes addressing a potential move in a phone call with his high school coach.
"He called basically looking for a sounding board on some ideas," said Wayne Mahaffey, who coached Glenn in high school in Rusk, Texas. "We talked about it for a while and I said it's a decision he's going to have to make, something he's going to have to be content with what he wants to do."
The Husker senior attended linebacker meetings earlier this week, and was working out in a red defensive practice jersey at Wednesday's practice.
"I think this is something he can do that will help the team. His statement to me was he just wants to play, he just wants to win, he wants a ring," Mahaffey said. "I don't think it's a move out of frustration at running back. I think it's more a move out of the performance of the team last year, and he wants to do what he can to help."
Glenn had been having a strong camp at running back, but there is a logjam at the position — with returning starter Marlon Lucky, plus a strong cast of young talent led by Roy Helu and Quentin Castille. The Huskers return no starters at linebacker.
Mahaffey said he thinks Glenn is intrigued by the idea of playing 50 or 60 plays a game on defense instead of getting just 10 to 15 carries on offense.
Because he was so important to his high school offense, Mahaffey mostly used Glenn at running back, but sometimes played him on defense in the playoffs, occasionally putting him up on the line of scrimmage like a defensive end.
"He was always very aggressive, a very sure tackler, always able to get to the ball very well," Mahaffey said.
Glenn has rushed for 594 yards in his Husker career, with his best numbers coming his sophomore year, when he had 375 yards on the ground despite missing five games because of injury.
Mahaffey said Glenn told him he got the impression from coaches that he could move back to running back if a change to linebacker didn't seem to be working out.
But Mahaffey said both he and Glenn agreed: "If he's going to do it, make it a full-force approach."