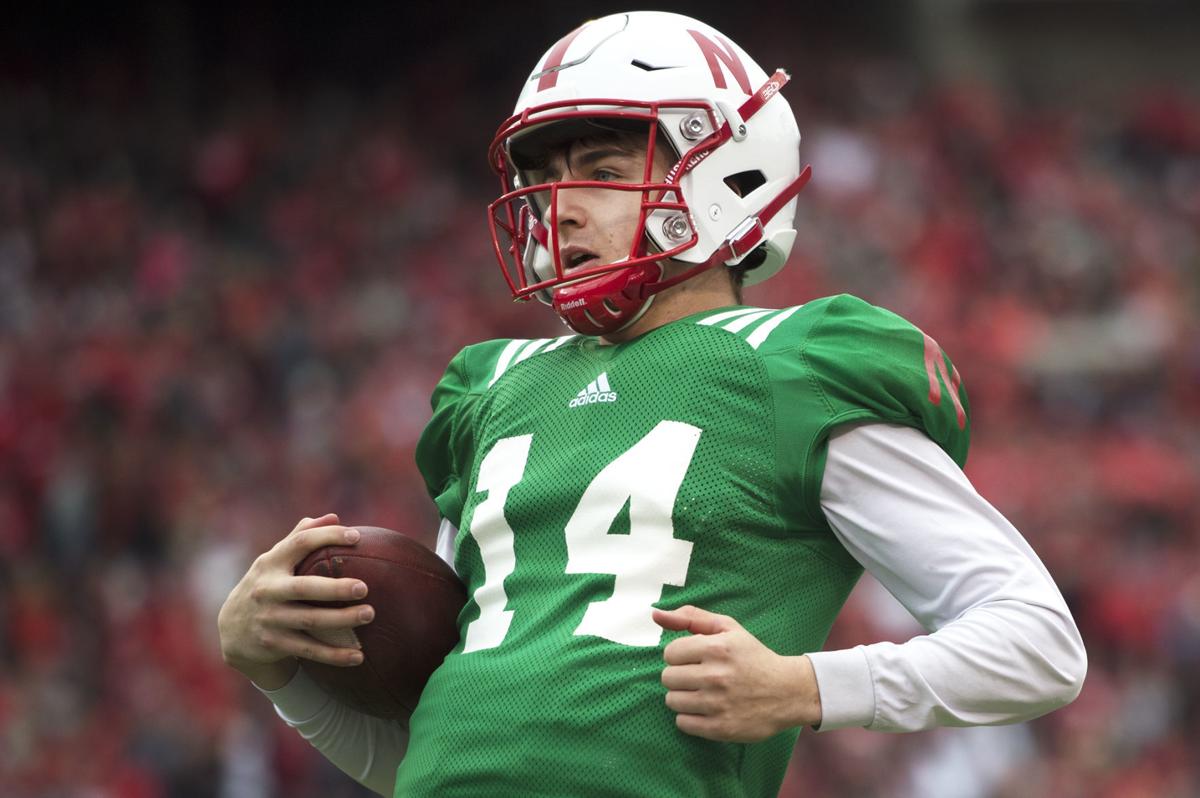 Nebraska quarterback Tristan Gebbia embraces the coming heat of preseason camp, which for the Huskers begins Aug. 3.
As for that little quarterback battle set to ensue, well, some folks consider Gebbia to be the underdog. A true freshman, Adrian Martinez, has captured the imagination of many Husker fans.
Does Gebbia, a redshirt freshman from Calabasas, California, feel like an underdog in a competition that also will include sophomore walk-on Andrew Bunch?
"No, I just think we all bring really important traits to the race, and we're all just trying to be the best guy for the team. Whoever can put the most wins on the scoreboard, that's what's most important," said Gebbia, who will take time out of preparation for the season to take part Sunday in the Nebraska Football Road Race, set for 8 a.m. on the west side of Memorial Stadium.
There will be a one-mile fun run and a 5K race, with 100 percent of proceeds going to pediatric brain cancer research at the Buffett Cancer Center at UNMC in Omaha. Husker players will be on hand for photos, autographs and general interaction.
Although only a redshirt freshman, the 6-foot-3, 185-pound Gebbia should count on signing plenty of autographs. After all, he has a legitimate chance to be under center at the start of NU's Sept. 1 opener against Akron in Lincoln.
He does in fact bring key traits to the quarterback equation, including a strong right arm and a work ethic that draws raves from coaches. He doesn't necessarily like talking about himself, preferring to shift conversation toward teammates — a trait of a leader.
"At the end of the day, it's not about me, it's not about Adrian, it's not about Andrew, it's not about Noah (Vedral) — it's about the wins and losses columns and advancing people's careers," Gebbia said. "A lot of guys on this team have dreams and aspirations of becoming NFL players. There are guys with really important goals. A lot of guys are playing for their families. They love the game and want to play as long as they can, just like all of us quarterbacks."
Although he isn't exactly a veteran, Gebbia thinks his experience last season in the program was crucial in his development. He traveled and suited up for all of Nebraska's away games. In addition, he's already experienced the grind of preseason camp. In that regard, he understands the importance of what lies ahead in August.
"Everybody understands that fall camp is when you really define who you are as a team going into the season," he said. "It's a lot of hard work. It's 95 degrees. It's 90 percent humidity. It really puts you to the test. It's going to be really important. The process is really important. We have an entirely new coaching staff and everybody's working to become their best in a new system.
"It's going to be really special to see how it all shakes out."
Gebbia said being part of the travel roster last season was "really, really huge" for him.
"Now when I go on the road this year, everything won't be new," he said. "I'll get to a stadium and the first thing I'll check is where the play clocks are. All those types of things are really important."
Gebbia always roomed with 2017 starting quarterback Tanner Lee, a sixth-round NFL Draft pick by the Jacksonville Jaguars. As a result of those weekends on the road, the rookie learned the importance of thoroughly understanding the game plan.
"Everybody at this level is a phenomenal athlete, and every team is worthy of your time and effort," Gebbia said. "It was really important for me to understand our schedule and how things really work when you go on the road. That's something I think I can bring to the table to help Adrian."
Gebbia said that he's locked in hard this summer on getting to know teammates and learning their strengths. He's worked on establishing timing with receivers.
He's optimistic about the offense. He says Scott Frost's staff of offensive coaches is a "dream team."
"I think for the entire team, it's a monumental period," Gebbia said.
He looks forward to Sunday's sixth annual road race. More than $175,000 has been raised in  the first five years of the event.
"This is really a special cause, especially to me, because we have a unique opportunity to come together as an entire team — an entire organization," Gebbia said. "Other sports get involved. And I think it's something that's really important, because the money will stay inside Nebraska."
Bottom line, "We're in need of a cure for an awful disease," he said.
Gebbia will long remember last year's event. He ran the mile "fun run" with a grade-school runner who finished third.
"He must have been training for a long time, because he ran, like, a 6:30 mile," Gebbia said with a chuckle. "I don't really remember the exact time. I don't want to remember. I was a little out of breath. We don't exactly train long distance for football.
"But hopefully this year, I'll get somebody who likes to take in the sights of the stadium a little bit."
The bigger challenges will begin in a few weeks. Gebbia embraces preseason camp, as opposed to dreading it.
"Not a lot of people get to put on a helmet with that red 'N,'" he said. "I think it's a blessing every day I get to lace up the cleats. It's something I won't ever take for granted."
Be the first to know
Get local news delivered to your inbox!