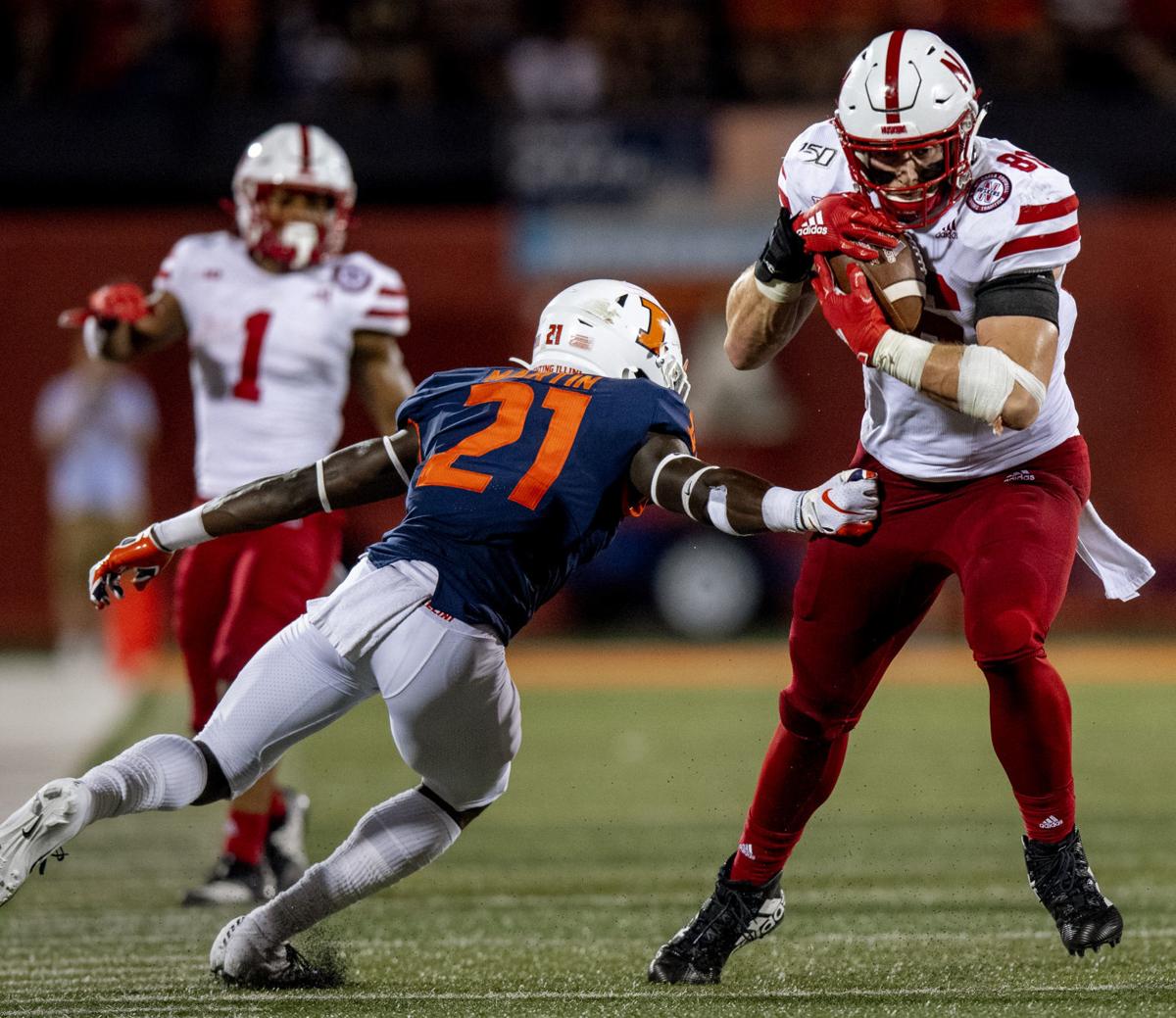 Nebraska hosts Wisconsin to kick off a finishing three-game run to the regular season. Let's take a closer look at how the Huskers and Badgers compare.
How the Huskers light up the scoreboard
1. Hit it big. Nebraska needs to generate big plays against a Wisconsin defense that has proved tough to continually move the ball past. Whether the pass or run game, the Huskers will need to rip off a couple of chunks.
2. Take 2. A year ago, Adrian Martinez rolled up 441 yards of offense against the Badgers. This year's UW defense is better than last, and Martinez hasn't played well as a sophomore, but perhaps Scott Frost and the Huskers have some ideas on how to attack Jim Leonard's defense.
3. Flanks and flankers. Nebraska must protect Martinez, particularly on the edges. Also, its wide receiving corps is going to have to make some plays with or without freshman Wan'Dale Robinson.
4. Converters. Touchdowns in the red zone, moving the sticks on third-and-manageable, completing passes to open receivers and ground yardage when a hole opens at the line. If the Huskers had been better in any of these departments this fall, the team's story would be different. Capitalizing against UW would be a good start to a rewrite.
How the Blackshirts shut 'em down
1. Corral the big horse. Everybody in Memorial Stadium on Saturday knows what's coming. Star UW junior running back Jonathan Taylor has rushed for 100-plus yards in 29 of 36 career games and has gone over the 200 mark 10 times. In two games against Nebraska, he's recorded 470 yards (9.6 per carry) and five touchdowns. It's not about stopping Taylor, it's about not letting him completely take over.
2. Man the perimeter. NU is going to have to devote extra resources to the run, so that means the secondary is going to have to hold up well on the outside against a good set of receivers that is anchored by Quintez Cephus, Danny Davis and AJ Taylor.
3. Life in conflict. UW quarterback Jack Coan is completing 73.6% of his passes, in part because of the looks the Badgers get him. NU's linebackers are going to have to have their best game of the season in terms of being disciplined and handling the run-pass conflict that comes with an effective play-action game.
4. You'll have to take it. Illinois hung around by turning Wisconsin over before beating the Badgers. Iowa got back in the game in part by turnovers. UW is plus-four in turnover margin this fall and NU is minus-three, but the Huskers would do well to win the turnover battle.
Defensive coordinator Erik Chinander shares news on the blackshirts and talks about preparing for Wisconsin after practice on Nov. 12, 2019.
Three numbers to know
8.1: Wisconsin's average yards per rush over a six-game winning streak against Nebraska.
13: NU's rank against the run in Big Ten play. The Huskers are giving up 5.3 per carry and 219.5 per game on the ground.
You have free articles remaining.
1,015: All-purpose yards for Robinson, second in the nation among freshmen. Robinson is just the fourth NU freshman to hit that mark, joining Ahman Green, Ameer Abdullah and De'Mornay Pierson-El.
Under the radar
TE | No. 86 | Jr.: Stoll has turned in a solid season but a quiet one as of late. Scott Frost said on the radio Thursday that Stoll has been beat up physically, but if there ever was a week to have a breakout performance, this would be a good one. The Colorado native has been a dependable blocker and has 19 catches for 183 yards and a touchdown this season.
DL | No. 4 | Jr.: The junior-college transfer has appeared in only one game so far and is on track to redshirt, but that means he's at NU's disposal for the final three games of the season. Green, listed at 6-foot-5 and 315 pounds, might be asked to help against UW this week. That need only goes up if senior captain Darrion Daniels is unable to play due to injury.
Marquee matchup
Wisconsin's receiving corps against Nebraska's secondary
There aren't any big stars on either side, but there are a lot of good Big Ten players.
Dicaprio Bootle, Lamar Jackson and Cam Taylor-Britt on one side, Cephus, Taylor, Davis and Kendrick Pryor on the other.
If one side or the other can create a big advantage — UW stretching the field or NU taking the passing game out of the equation — it can change the complexion of this game.
Biggest mismatch
UW's run game against Nebraska's run defense
Until it's proved otherwise, this looks like a one-sided matchup. It's not just that the Badgers are second in the Big Ten in rushing and the Huskers are 13th in rushing defense, and it's not just that Jonathan Taylor has rushed for more than 9 yards per carry in his career against the Huskers. It's not just that UW has averaged 370 yards and 4.2 rushing touchdowns per game over a six-game winning streak against the Blackshirts. It's all of it. Perhaps Nebraska has a spirited performance in the holster, but on paper it looks like a major mismatch.
Prediction
Wisconsin 41, Nebraska 17
Nebraska's weaknesses are Wisconsin's strengths. The Huskers have struggled to stop the run in Big Ten play and they've struggled to protect against dynamic pass-rush outfits. Wisconsin possesses both. Nebraska's been turnover-prone, the Badger defense forces a lot of big plays. The equalizer could be sophomore NU quarterback Adrian Martinez, who ripped up this defense a year ago. The question is if he has enough help around him, though, and 10 games into the season, the Huskers haven't shown they can be relied upon offensively, particularly if freshman Wan'Dale Robinson doesn't play. This looks like a bad matchup on paper. That doesn't always equal a blowout, but it sort of feels like one's brewing.