HOW THE HUSKERS LIGHT UP THE SCOREBOARD
1. The kid lights it up. Adrian Martinez makes history as the first true freshman to start a season opener for Nebraska. Now, what's he got in store once the ball is kicked? Martinez has breakaway speed and is growing more confident by the day in his throwing stroke. If he starts fast, NU starts fast.
2. Play with the toys. The strength of this team is its depth and variety of offensive skill-position players. Let's see how many different guys can make a big play.
3. The newcomers produce. We know what Stanley Morgan and JD Spielman can do. We've heard Devine Ozigbo has transformed his body and Jack Stoll is primed for a big year. But what about Greg Bell and Maurice Washington and Mike Williams? The newcomers will be involved early and often.
4. The big boys dominate. This could well be No. 1 on order of importance. NU has five experienced players back on the offensive line. It needs to play like one of the most grizzled units in the Big Ten rather than the lackluster performance put forth in 2017.
HOW THE BLACKSHIRTS (WELL, POTENTIALLY FUTURE BLACKSHIRTS) SHUT 'EM DOWN
1. Turnovers, turnovers, turnovers. Defensive coordinator Erik Chinander lives by them. Scott Frost says they make up the most important stat in football. It's simple: Take the ball away and get it back to the offense.
2. Dial it up. Husker fans grew far too used to seeing NU play, by design, don't-get-beat defense last year, only to see teams feel no pressure and drive up and down the field. That style has no place in Chinander's mind. NU's going to bring defenders from every which way this fall.
3. Up the field. The Huskers' defensive line is among the most experienced units on the roster. Now, they'll be asked to wreak havoc, create disruption and play up the field rather than along the line of scrimmage. Talk to any one of them over the past eight months, and you quickly realize they relish the change.
4. Keep the door revolving. This will develop as the season does, but watch how many players NU uses on defense. Chinander's group will be asked to defend a ton of plays given the offense's pace, and the more players the coaching staff can count on, the more fresh everybody will stay late in games and late in the year.
You have free articles remaining.
LT, No. 76: The starting left tackle at Nebraska isn't typically under the radar, and Jaimes has been written about this offseason, of course. But the Austin, Texas, native is less talked about as part of NU's young core than some others. He's put on 20 pounds this offseason after playing nine games as a true freshman, and he will be a linchpin in the Huskers' offensive operation.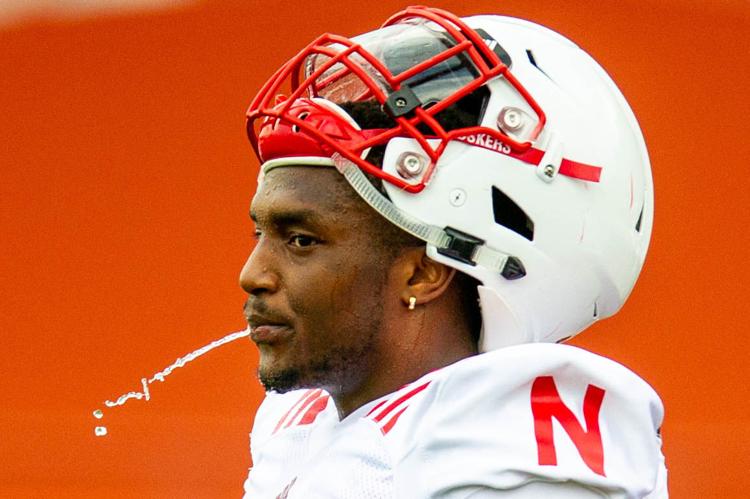 OLB, No. 43: The junior has been heralded as one of the biggest risers of camp. But in terms of on-field production, Ferguson is just starting to build his profile. The New Orleans native opted not to talk with reporters until after he played in a game. He's going to start for Jovan Dewitt opposite Luke Gifford, and if Dewitt is right, the playmaking will come soon after.
619: Average total yards in Scott Frost's debut as a playcaller at Oregon (2013) and Central Florida (2016), including 772 for the Ducks against FCS Nicholls State.
2: Zip defenders on Athlon's preseason first-team All-MAC defense: LB Ulysees Gilbert and DE Jamal Davis.
10: Paltry number of 20-plus-yard runs for NU in 12 games in 2017.
Nebraska WR Stanley Morgan against Akron CB Kyron Brown: The pair of accomplished seniors may not line up across from each other all the time, but they are each all-conference-caliber players. Brown is 6-foot-1 and 195 and will have to use all of it to hold up against Morgan, a physical, polished pass-catcher.
Akron's offensive line against Nebraska's defensive front: The Zips break in three new starters and feature a redshirt freshman and two sophomores. NU will roll through as many as nine players, seven of whom have extensive game experience. Martinez said he's glad he doesn't have to face his own defensive line during the season. This should be an area of sizable advantage for the Huskers.
Nebraska 41, Akron 17: There's too much excitement, too much buildup, too much offensive potential in this Nebraska team to fall completely flat in Week One. It won't be perfect, but the Huskers will produce big plays — including a couple from the defense — and handle their season-opening business, allowing the night to be a continuation of a nine-month celebration since Scott Frost's hire.