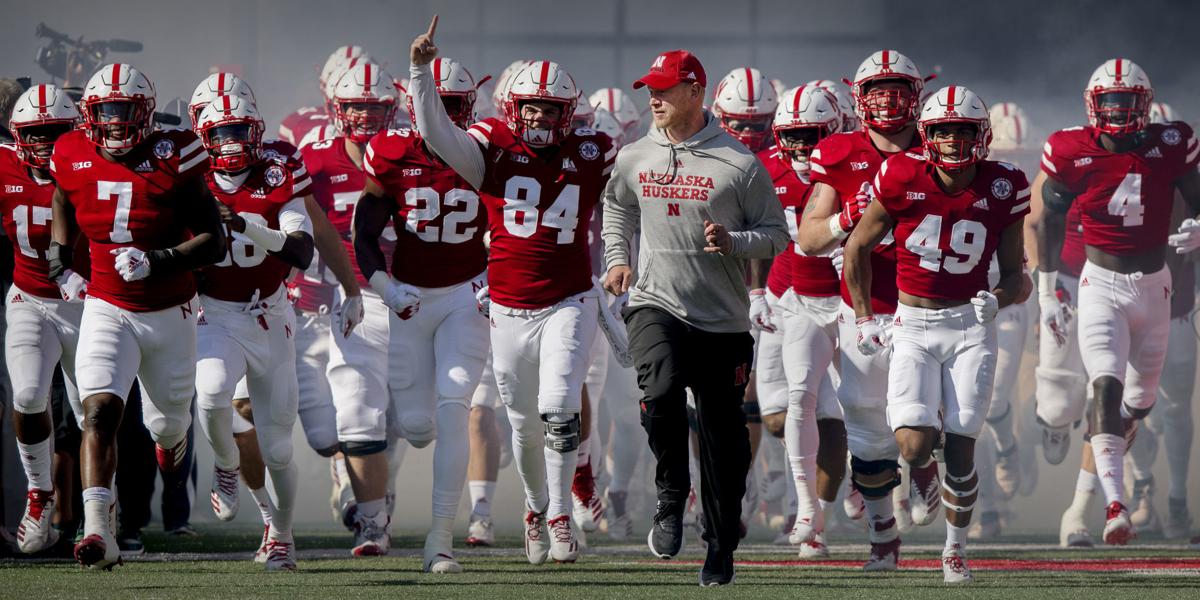 HOW THE HUSKERS LIGHT UP THE SCOREBOARD
1. Early and often. The ideal situation for Nebraska is to put a lot of points on the board early and then let some young guys play and some regular guys rest as the afternoon progresses. In order to do that, the Huskers have to score early and often.
2. Martinez continues pace. Adrian Martinez has three 400-plus-yard outings in NU's past four games, a remarkable clip for the freshman signal-caller. Let's see how he handles a situation in which he should be able to play efficiently, make good decisions and run the show. A bonus would be if he avoids taking many (or any) hits.
3. Backfield bonanza. Devine Ozigbo and Maurice Washington are rounding into form as a dangerous 1-2 punch. Or maybe it's a 1-2-3 punch with Martinez. Against Minnesota, Martinez had 15 carries, Ozigbo 12 and Washington 14.
4. No giveaways. Nebraska has not yet played a turnover-free game in 2018. This would be a good time to put No. 1 on the board.
HOW THE BLACKSHIRTS SHUT 'EM DOWN
1. No daylight. The Huskers did a good job of slowing Minnesota from the start, forcing five punts and a turnover on downs in the first six possessions. That's the kind of start needed against Bethune-Cookman. Don't let the Wildcats get any kind of good feeling.
2. See ball, grab ball. Nebraska's secondary has got its hands on a good number of passes this fall but has not turned that into many interceptions. Dicaprio Bootle, in particular, who has 11 break-ups and no picks. Like a shooter seeing a free-throw go through to get out of a slump, maybe Bootle and the Huskers grab a few Saturday.
3. Work fast. This game represents an opportunity to perhaps get some rest for guys like Carlos Davis or Mohamed Barry, who have played a ton over the opening weeks. But that requires putting the game out of reach in decent time. Let's see if the Huskers are up to that challenge.
4. Run stuffers. The Blackshirts haven't exactly faced a murderer's row of rushing attacks the past two weeks, but they've done exactly what they needed to do. NU hasn't given up a running play of more than 11 yards against Northwestern or Minnesota. Keep that up, and the Wildcats will be in for a long day Saturday.
You have free articles remaining.
219.9/5.4: Rushing yards per game and per carry for the Huskers, good for fifth and fourth, respectively, in the Big Ten. The Huskers had 1,290 yards on the ground in 12 games in 2017. They have 1,539 through seven games this year.
249: More rushing yards through seven games (1,539) for the Huskers than they had in 12 games last fall. Quite a turnaround for the program, which also already has more rushing touchdowns this year (14) than last (13).
6: Devine Ozigbo's Big Ten rank in rushing yards per game (85.7), despite rushing totals of 25 against Troy, 5 against Michigan and 29 against Wisconsin.
RB, No. 26, fr.: A different lens on the Under the Radar section this week. Jones hasn't appeared in a game yet this year, but this could be the week. The staff loves the Florida native's tantalizing speed and quickness, but he hasn't been deemed "ready" yet. Perhaps he gets his feet wet — and moving fast — against the Wildcats.
OLB, No. 34, so: The Ole Miss transfer gained immediate eligibility in May and then … hasn't appeared in a game yet. He's obviously tracking toward a redshirt season but still has four games to potentially use. He's practicing and apparently healthy, so let's see if he gets some game action.
Nebraska's front seven against BC-U quarterback Akevious Williams. The Huskers have not allowed a rushing play of longer than 11 yards in the past two games. Williams not only has thrown for 12 touchdowns this fall, but he's the Wildcats' leading rusher at 347 yards and he's added eight more scores on the ground.
OK, it's a stretch, but B-CU's kick return unit against NU's kickoff team. The Wildcats have three return touchdowns this fall, two from Jimmie Robinson and one from Que'shaun Byrd — and are averaging 27 per return. Only two Big Ten teams net fewer yards on kickoffs than the Huskers' 39.6.
Nebraska 59, Bethune-Cookman 17. This game is exactly what it looks like: An emergency schedule-completer for the Huskers and an unexpected payday (and a unique opportunity) for Bethune-Cookman. There have been small-school disasters in the past. To a lesser degree, we've seen them each of the past two years with Troy and Northern Illinois.  This ain't that. Nebraska gets its work done and gets young guys in the game and takes two wins and at least somewhat fresher legs to Ohio State next week.